With modern technology, mowing the lawn can be a "set it and forget it" affair, but which robot lawn mower is right for you and your yard?
We've researched and ranked the five best robot lawn mowers based on value, size, and performance so you won't have to sift through the dozens of options on the market.
Even though they aren't as much of a novelty as they once were, robot lawn mowers are still pretty new to the power tool scene and therefore can be hard to shop for.
LawnStarter has you covered with these high-quality suggestions, followed by a buyers guide with more information on how to find the best robot lawn mower for you.
1. Redback MowRo RM24
Best Overall
Redback MowRo RM24
The MowRo RM24 is loaded with safety features. It handles lawns up to 1/4-acre and slopes up to 30-degrees with ease.
The MowRo RM24 from Redback is the best robotic lawn mower for the average homeowner because it's affordable without sacrificing quality or functionality.
This mower is primarily for small lawns since it mows an area of up to a quarter acre on one charge of its 28-volt lithium-ion battery from Samsung. It can mow on slopes of up to 30 degrees (which you'll find is significantly steeper than any of our other top picks can handle).
MowRo will cut your grass once every 48 hours, at a time set by you. Its brushless motor is quiet, producing just 65 decibels of sound (about the volume of a normal conversation), so you might even be able to run it at night without disturbing yourself or your neighbors.
Most importantly for families with young children or pets, the MowRo is safe. It runs only at your scheduled time, so you can rest assured that it won't start mowing unexpectedly while kids or animals are playing in the yard.
If a little one does get their hands on your autonomous lawn mower, he or she will still be OK. The MowRo's blades are protected by a guard that lets grass in but keeps fingers out.
Bonus points: If the mower comes in contact with an object or someone lifts it off the ground, safety sensors make the blades stop immediately.
Specifications:
Voltage: 28 volts
Mowing area: 0.25 acres
Cutting width: 9.5 inches
Cutting incline: Up to 30-degree slope
Cutting heights: 1-2.5 inches
Noise level: 65 decibels
Pros:

✓ Inexpensive compared to others
✓ Powerful battery compared to others
✓ Can mow on steeper slopes than our other top picks
✓ Easy to set up and program
✓ Lots of safety features
Cons:

✗ Not good for large lawns
✗ Brand isn't well-known
2. WORX WR150 Landroid L
'Smartest' Robot Mower
WORX WR150 Landroid L
The WR150 Landroid L is one of the smartest picks on our list and is great for lawns with a lot of landscaping.
If your yard is too big for the MowRo RM24, your best bet is the WR150 Landroid L from WORX. This mower can handle yards of up to a half-acre and slopes of up to 20 degrees.
The Landroid is "smarter" than many of our other top picks, with built-in Wi-Fi control and an app for your mobile phone that lets you check the mower's progress, measure your lawn, or edit your custom mowing schedule from anywhere.
The custom scheduling option is an improvement on the MowRo's pre-programmed 48-hour schedule. With the Landroid, you can choose to cut your grass every day, every other day, or whenever you want.
The Landroid is smart enough that it can even recommend a schedule designed for your lawn, based on size and other conditions.
Thanks to the mower's rain sensor, it will never run in the rain (even though its casing is waterproof) to avoid the sloppier cut that comes from cutting wet grass.
Precision cutting is better with the Landroid than many of our other top picks, so it might be the best choice for yards with lots of landscaping and other obstacles. When the Landroid encounters any obstacle, it will bump it gently and then turn around.
Plus, with advanced AI technology, it can navigate narrow passages better than other robot mowers. Because of the "cut to edge" blade design, Landroid mows closer to borders and leaves you with less edge trimming to do later.
Specifications:
Voltage: 20 volts
Mowing area: 0.5 acres
Cutting width: 9 inches
Cutting incline: Up to 20-degree slope
Cutting heights: 1.5-4 inches
Noise level: 63 decibels
Pros:

✓ Smart AI technology
✓ Good at maneuvering around obstacles and getting out of tight spots on its own
✓ Wide range of cutting heights to handle different types of grass and different terrain
✓ Power Share battery compatible with all 20V and 40V tools from WORX
Cons:

✗ Sometimes gets stuck in thick grass
✗ Some users reported difficulties with installing the boundary wire
✗ Some users reported the WR150 takes a while to be able to navigate the yard properly on its own and needs "babysitting" at first
3. Robomow RS622
Best for Larger Yards
Robomow RS622
The Robomow RS622's 22-inch wide base means it cuts faster than other options. Downside: it's one of the louder options.
Like the Landroid, the Robomow RS622 is a good option for larger yards of up to half an acre with slopes of up to 20 degrees. The most impressive thing about the RS622 is its 22-inch cutting width, which is more than twice as large as typical robot mowers.
Essentially, the larger cutting deck means the RS622 will finish mowing your lawn much faster than the other options on this list. The deck also has a noteworthy cutting height range of 0.8 to 3.5 inches, so it can handle versatile terrain.
While the RS622 doesn't connect to Wi-Fi, it does connect to Bluetooth and has an accompanying mobile app that lets you adjust the mower's settings remotely.
Along with the app, the RS622 can connect to Amazon's Alexa virtual assistant, meaning it responds to voice commands like other "smart home" devices.
One major disadvantage of the RS622 from Robomow is its noise level. At full power, it can produce up to 74 decibels of sound. While that's still significantly quieter than a gas lawn mower, it's much louder than our other top picks.
That being said, the RS622 has an ECO mode setting that saves energy, extends battery life, and results in quieter operation.
Specifications:
Voltage: 26 volts
Mowing area: 0.5 acres
Cutting width: 22 inches
Cutting incline: Up to 20 degree slope
Cutting heights: 0.8-3.5 inches
Noise level: 74 decibels
Pros:

✓ Large cutting width for faster mowing
✓ Wide cutting height range
✓ Powerful battery compared to others
✓ Connects to Amazon Alexa
✓ Has an ECO mode that uses less power and extends battery life
Cons:

✗ Loud operation compared to others
✗ Users reported that Robomow's customer support isn't helpful if you have issues with your mower
4. Husqvarna Automower 450X
Husqvarna Automower 450X
The Husqvarna Automower 450X is expensive but covers over an acre at a time. It's also quiet and uses GPS-assisted navigation.
The Automower 450X from Husqvarna is the best robot lawn mower for people with big properties who don't mind splurging on a power tool. This mower can handle more than an acre in one cutting session, and it cuts on inclines of up to 24 degrees.
You have to pay a premium price for this heavy-duty robot mower, though. The machine alone costs more than $3,000, and that doesn't include the kit needed to install the boundary wire (which you'll have to buy separately).
Of course, Husqvarna is a high-quality brand you know you can trust, and they packed the Automower 450X with features that make it worth its high price tag.
The mower's GPS-assisted navigation helps it maneuver around narrow passages, complicated obstacles, and uneven terrain on its own.
If you want to check in on your 450X anyway, you can do so from anywhere with the Automower Connect app. The app lets you not only track but control the mower from afar.
Aside from being capable of tackling large and intricate yards, the Husqvarna Automower 450X is extremely quiet. With a maximum noise output of 59 decibels, it's the quietest mower on this list, meaning you can most likely run it at any time of the day or night without disturbing anyone.
Specifications:
Voltage: 18 volts
Mowing area: 1.25 acres
Cutting width: 9.4 inches
Cutting incline: Up to 24 degree slope
Cutting heights: 0.8-2.4 inches
Noise level: 59 decibels
Pros:

✓ Works for large lawns of more than an acre
✓ Top-notch GPS-assisted navigation
✓ Quiet operation
Cons:

✗ Expensive
✗ Have to purchase installation kit separately
✗ Weak battery compared to others
5. Husqvarna Automower 310
Best for Small Yards
Westinghouse 2030 PSI & 1.76 GPM 
The Husqvarna Automower 310 is a high-quality robot mower at a lower price. It's good for small yards but doesn't have GPS.
Want the benefits of a Husqvarna brand product without the high price? The Automower 310 model, with a price tag of less than $1,000, might be for you. This model is suited for small lawns of up to a quarter of an acre, and it climbs slopes up to 22 degrees.
While the 310 isn't anywhere near as heavy-duty as the 450X, you can still count on Husqvarna's superior engineering and decades of experience building all kinds of high-quality lawn mowers.
Unlike the 450X, you can't control the Automower 310 from anywhere in the world.
It does connect to Bluetooth, though, and you can change settings from within 100 feet of the docking station with the accompanying Connect@Home app.
The 310 doesn't have built-in GPS, either, which is a disadvantage in terms of both navigation and security.
Even though it isn't as fancy as our premium pick from Husqvarna, the Automower 310 is a reliable mower for small yards. You can rest assured that it will give you a clean cut, and it even returns fine grass clippings to your yard as mulch to enrich the soil.
Plus, just like its cousin the 450X, this mower runs quietly enough (maximum 60 decibels) to run it any time you want.
Specifications:
Voltage: 18 volts
Mowing area: 0.25 acres
Cutting width: 8.7 inches
Cutting incline: Up to 22 degree slope
Cutting heights: 0.8-2.4 inches
Noise level: 60 decibels
Pros:

✓ Inexpensive compared to others
✓ Quiet operation
✓ Reliable Husqvarna name
Cons:

✗ Not good for large lawns
✗ Weak battery compared to others
Buyer's Guide
How does a robot lawn mower work?
Having a little robot to do your yard work for you might sound too good to be true, but how a robot lawn mower works is really quite simple. All robot lawn mowers run on rechargeable batteries, so you never have to worry about refueling them.
How do they find their way around your yard? They respond to a perimeter wire, much like a dog with a shock collar responds to an invisible pet fence.
Here's how it works: To set up a robotic lawn mower, you install a wire around the area you want the robot to mow. Sometimes you bury the perimeter wire, and sometimes you secure it to the ground with pegs, depending on the specific brand of mower and your own preferences.
The wire sends out a signal which the mower receives. When it gets close to the boundary wire, the mower will turn around, ensuring that it doesn't leave your property or damage landscape features such as flower beds.
Depending on the mower, it might run a pre-set amount of times per week, or you might be able to set up a completely customized mowing schedule.
Either way, when the robot mower is out working and the battery runs low, it will return to the docking station on its own to recharge. This is a standard feature, so no matter which mower you choose, you won't have to worry about it dying in the middle of the lawn.
Factors to consider while shopping
Robot lawn mowers haven't been around all that long, and no one can blame you if you aren't familiar enough to know exactly what you're looking for.
While we can't tell you definitively which option would be best for your lawn, we can explain some of the specs you'll find on a robot mower's product page and what those numbers actually mean.
These are the factors we used to choose our top picks, and they're the ones you should pay attention to when comparing various models:
Voltage: First, you want to know the battery power of a robot mower. The higher the battery's voltage, the higher your mower's power output will be.
More power means the mower will be able to take on thicker and longer grass. So, a mower with a 28-volt battery (like our top pick) would be better at mowing overgrown lawns than one with, say, an 18-volt battery.
Mowing area: When we're talking about robotic mowers, this might be the most important number for you to pay attention to. A robot mower's mowing area is the maximum yard size it can handle.
If your yard is a full acre and you choose a robot mower with a mowing area of a quarter of an acre, only part of your lawn will get cut.
On the other hand, if your yard is only a quarter of an acre and you buy a mower suited for an acre or more, you're probably spending a lot more money than you need to, as smaller mowing areas usually mean lower prices.
Cutting width: Like with any other lawn mower, the cutting width (the size of the cutting deck) tells you how much ground a robot mower will be able to cover in one pass.
Larger cutting widths mean getting through with the job faster.
Of course, with a robot lawn mower, the speed of the job doesn't matter as much as it does with other mowers, since you won't be doing any of the work yourself.
Cutting incline: A robotic lawn mower's maximum cutting incline is how steep of a slope it can climb.
For our purposes, we measured slope in degrees, but you'll find that some product pages give a percentage instead (which you can easily convert to degrees with an online calculator if needed).
If you have any incline in your yard, make sure you know its slope so you can choose a robot mower that will be able to climb it.
Cutting heights: Most lawn mowers, robotic or not, have multiple cutting height adjustments so you can choose how tall you want your grass to be.
To change the cutting height, you raise or lower the cutting deck, usually with a simple lever or dial on the mower.
Some mowers have a wider range of cutting heights than others, which means they're suited for more diverse terrain and types of grass.
Noise level: How much noise your lawn mower makes is especially important if you live in a neighborhood with close neighbors.
Since all robot lawn mowers run on batteries, any of them would be much quieter than a gas mower. While gas lawn mowers tend to produce about 90 decibels of sound, robot mowers range from around 60 dB to around 75 dB.
Even louder models (such as the Robomow RS622 from our list) are quieter than the level at which OSHA recommends hearing protection (85 dB).
Even though all robot lawn mowers are fairly quiet, you'll want to go with one of the quietest models if you plan to schedule your automatic mowing for nighttime (unless you want to interrupt your own sleep).
Price: As you probably already know, robot lawn mowers are much more expensive than any type of push lawn mower or self-propelled lawn mower.
You've got to pay a hefty price for the convenience of never having to mow the lawn again — it's only fair. Most robotic lawn mowers cost over $1,000, and some are even more than $5,000.
The higher-end mowers usually cost more because they have a larger mowing area and/or lots of high-tech features.
Special features to look out for
Aside from these basic specifications, robotic lawn mowers can have lots of special features. Here are some of the most common ones you might want to check:
GPS tracking: GPS in a robotic mower serves a few purposes. It can help the mower navigate your lawn more accurately, and it's useful for security.
If someone steals your mower, you'll be able to track it down easily, get it back, and catch the thief.
Even if your mower isn't stolen, GPS tracking lets you keep an eye on where it is at all times for any reason you might need.
All-wheel drive: All-wheel drive isn't very common in robot mowers, and none of our top picks has this feature.
However, if your yard has a lot of rugged terrain, steep slopes, or other complications, you might need to spend the extra money for a premium model with all-wheel drive.
Wifi connectivity: Most robot mowers connect to their respective mobile apps through Bluetooth, which is fine, but it usually doesn't allow you to control the mower when you're away from home.
When a mower can connect to your Wi-Fi, you'll usually be able to access it from anywhere in the world.
Even if a mower doesn't come with built-in Wi-Fi capabilities, it may be compatible with an extra attachment (sold separately) that lets it connect to the internet.
Virtual assistant compatibility: Some robot lawn mowers can connect to "smart home" virtual assistant systems such as Amazon Alexa or Google Home.
With this feature, you should be able to give a voice command like "Alexa, mow the lawn" and deploy your robot lawn mower on demand.
Security PIN code: For extra security, some robot lawn mowers only run after you've entered a confidential PIN, similar to unlocking your phone with a passcode.
Just like a locked phone would be useless to a thief, a robot mower with a PIN wouldn't work for anyone but you.
FAQs About Robot Lawn Mowers
1. How long do robot lawn mowers last?

It's hard to know for sure how long robot lawn mowers actually last, since modern ones have only been around for a few years. With proper maintenance, there's no reason a robot mower shouldn't last for 10 years or more.

The batteries will go out much sooner, though, and you'll probably have to buy replacements about every two to three years.
2. What maintenance does a robot lawn mower need?

Similar to other lawn mowers, you'll need to clean the underside of your robot mower regularly so grass clippings, caked-on dirt, and other debris doesn't build up around the wheels and other moving parts, slowing your robot mower down and potentially causing mechanical issues.

You'll also need to replace the blades regularly for maximum cutting performance, though how often you replace them will depend on the specific model. 
3. Do robot lawn mowers get stolen?

Unfortunately, yes, robotic lawn mowers can be stolen. However, many models have security features to prevent theft, such as GPS tracking, requiring a PIN code, or having an alarm go off if someone lifts the mower unexpectedly. 
Conclusion
If you're sick of spending your summer Saturdays on yard work, a robot lawn mower could be an easy (if expensive) fix. Another option, of course, is to hire a professional lawn care service instead of a robot to tend to your yard.
If you decide a robotic lawn mower is the right choice for you, our top picks are some of the best options on the market.
Using what you know about your own lawn and the information from our buyers guide, you should be able to select a robot lawn mower that will let you set it and forget it when it comes to mowing your yard.
LawnStarter participates in the Amazon Services LLC Associates Program and other retailer affiliate programs. LawnStarter may earn revenue from products promoted in this article.
Note: Amazon star ratings and the number of reviews for the products listed above may have changed since that material was collected.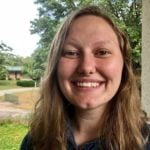 Jordan Ardoin
Jordan Ardoin is a writer, editor, and classical literature student based in Colorado. When she isn't reading or writing, she enjoys goofing off with her cats and spending time in nature.