Even among the best grass fertilizers on the market, there's no one-size-fits-all-lawns formula. One lawn's needs will vary from another's for a variety of reasons, from different grass types to rainfall to erosion to nutrient deficiencies in the soil.
Still, the following fertilizers give you a great value for your money, and they're a good fit for most lawns. Here's the "dirt" on the 7 best fertilizers for grass you can buy today.
Sunday Smart Lawn Plan
Tailored specifically for your lawn

No nasty chemicals

Easily attach to your hose for application
Sunday makes a green lawn easy.  Just type in your address, and Sunday will formulate a Smart Lawn plan custom to your soil.  Once you sign up, you get fertilizer delivered seasonally.
Sunday is easy to apply – all you have to do is attach it to your hose and spray.  No messy granules.
And most importantly, Sunday is environmentally safe.
Top 7 Lawn Fertilizers – Reviews
1. Milorganite 0636 Nitrogen Fertilizer
For the environmentally-minded homeowner, Milorganite's nitrogen fertilizer is a great choice of lawn food. This fertilizer isn't certified as organic, but it's eco-friendly nonetheless because it remains in the root zone instead of being watered into the ground, so there's no risk of contaminating underground water sources.
The non-burning nitrogen and iron content will make your grass greener and support healthy root growth without damaging nearby flowers, vegetable gardens, or other landscape plants. Milorganite's formula contains NO salts, which means it won't dry out your soil and make your lawn thirstier.
Specifications:
Type: Granular fertilizer
NPK ratio: 6-4-0
Time release: Slow-release
Effective period: Up to 10 weeks
Package size: 32 lbs
Coverage area: 2,500 square feet
Pros
Cons
✓ Long-lasting feeding
✓ Won't burn vegetables or other plants near your lawn
✓ Doesn't dry out soil
✓ Iron won't stain the lawn
✓ Affordable
✗ Contains no potassium, so not good for soils with a potassium deficiency
✗ Not listed by the Organic Materials Review Institute (OMRI) as approved for organic gardening
Where to buy:
2. Jonathan Green Winter Survival Fall Fertilizer
The Winter Survival fertilizer from Jonathan Green is ideal for feeding your lawn from September through November. Its nutrient formula is designed to stimulate deep root growth, which will help your lawn withstand winter-related stress (frost, lack of irrigation, weed germination, fungus development, etc) and green up sooner in spring.
After applying Winter Survival fertilizer in the fall, your lawn will appear brighter and greener in the moment and be healthier the next spring. This is an especially helpful product if you live in an area with harsh winters.
Specifications:
Type: Granular fertilizer
NPK ratio: 10-0-20
Time release: Slow-release
Effective period: Up to 12 weeks
Package size: 45 lbs
Coverage area: 15,000 square feet
Pros
Cons
✓ Great for establishing new cool-season lawns from seed or sod
✓ Continues feeding the lawn for up to 3 months (12 weeks)
✓ One bag covers a large area when used as directed
✗ Not appropriate for spring or summer feeding, only fall
✗ If applied in early fall, you'll have to apply again in November for best results
✗ Expensive compared to other fertilizers
Where to buy:
3. GreenView Lawn Food
GreenView's lawn food formula has the best of both worlds. It includes quick-release nitrogen to give your grass an instant growth boost and slow-release nitrogen that continuously feeds your lawn for up to 8 weeks.
While this nitrogen-rich formula helps your lawn grow greener and faster, it also encourages healthy and quick root growth to make your lawn more drought- and stress-tolerant. It promotes root growth without containing any phosphorus (the nutrient usually included in fertilizers for root growth) to prevent phosphate contamination in natural bodies of water.
Specifications:
Type: Granular fertilizer
NPK ratio: 22-0-4
Time release: Quick-release and slow-release
Effective period: Up to 8 weeks
Package size: 48 lbs
Coverage area: 15,000 square feet
Pros
Cons
✓ Features slow-release and quick-release nitrogen for a thicker lawn now and later
✓ Perfect for states with bans on phosphorus fertilizers because it contains no phosphorus
✓ One bag covers a large area (if applied according to the instructions on the package)
✗ Will not help lawns that have a phosphorus deficiency
✗ High nitrogen content can burn your lawn if you apply too much fertilizer or apply it unevenly
Where to buy:
4. Scotts Natural Lawn Food
Scotts is one of the most trusted brands in lawn care, and this OMRI-listed organic lawn fertilizer is a good example of why. Just about anyone who has used this product will tell you it's impressively effective for helping grass green up and grow thicker, especially for a natural fertilizer. You'll usually see substantial results in 10 to 14 days.
Because this formula uses all-natural ingredients, you can use it around pets and small children without worrying. Immediately after applying Scotts Natural Lawn Food, it's safe for you and your family to walk on the lawn again.
Some users even reported that their pets ate grass treated with this fertilizer and had no problems worse than mild gastrointestinal upset.
Specifications:
Type: Granular fertilizer
NPK ratio: 11-2-2
Time release: Slow-release
Effective period: Up to 8 weeks
Package size: 29 lbs
Coverage area: 4,000 square feet
Pros
Cons
— Safe for pets, children, and the environment
— OMRI listed as approved for organic gardening
— Contains all three of the most important plant nutrients (nitrogen, phosphorus, and potassium)
— Leaves a strong, unpleasant scent for about a week after applying
— Not available in CT, FL, ME, MD, MN, NY, WA, and WI
Where to buy:
5. GreenView Fairway Formula Spring Fertilizer + Crabgrass Preventer
Do broadleaf weeds and/or crabgrass take over your lawn year after year? The best lawn fertilizer for you might be GreenView's Fairway Formula with crabgrass preventer. It contains herbicides that kill more than 200 common lawn weeds (listed on the product label) and prevent crabgrass up to four weeks after the seeds have already germinated.
On the "feed" side of this weed-and-feed combination, your grass gets quick-release nitrogen to perk it up immediately and slow-release nitrogen to continue feeding it for up to 12 weeks. This fertilizer's formula includes a high amount of nitrogen for rich, green color and zero phosphorus to prevent water pollution.
Specifications:
Type: Granular fertilizer
NPK ratio: 24-0-6
Time release: Quick-release and slow-release
Effective period: Up to 12 weeks
Package size: 36 lbs
Coverage area: 10,000 square feet
Pros
Cons
✓ Includes weed preventer and killer
✓ Quick-release and slow-release nitrogen to feed your lawn now and later
✓ Don't have to worry about phosphorus bans because it doesn't contain phosphorus
✓ Keeps feeding your lawn for a long time after application
✗ Not good for lawns with phosphorus deficiencies
✗ Expensive compared to other fertilizers
✗ High level of nitrogen can burn your grass if you overfertilize an area
✗ Not for use on St. Augustinegrass or carpetgrass
✗ Not available in AK, CA, and HI
Where to buy:
6. Safer Brand Lawn Restore Fertilizer
Safer Brand's Lawn Restore is another organic fertilizer with ingredients that won't pollute the environment or harm pets or small children. The nutrient formula includes enough nitrogen to give you a greener lawn in just three to five days but not so much nitrogen that you're likely to burn your grass. It's also phosphorus-free.
The natural ingredients used in Lawn Restore are good for your soil in addition to your grass. While the natural ingredients make your lawn thicker and greener with healthier grassroots, they also support populations of beneficial microorganisms in your soil (which chemical fertilizers don't do).
Specifications:
Type: Granular fertilizer
NPK ratio: 9-0-2
Time release: Slow-release
Effective period: Up to 8 weeks
Package size: 20 lbs
Coverage area: 5,000 square feet
Pros
Cons
✓ Safe around children and pets as soon as you apply it to the lawn
✓ Promotes healthier soil
✓ Small amount of nitrogen so it won't burn the lawn
✓ Good for states with phosphorus fertilizer bans
✗ Not suitable for soils low in phosphorus
✗ Newest formula of Lawn Restore III has a foul odor and dusty consistency
Where to buy:
7. Scotts Turf Builder Lawn Food
Scotts Turf Builder gives your lawn a huge boost of nitrogen to promote fast growth and deep green color.
Apply Scotts Turf Builder to any grass type during any season when it's actively growing to green up the grass, promote deeper grassroots, and improve your lawn's ability to absorb water and nutrients.
Note: When using a fertilizer with such high nitrogen content, you must be careful to follow the instructions on the label and apply the product evenly to avoid burning and killing patches of your grass.
Specifications:
Type: Granular fertilizer
NPK ratio: 32-0-4
Time release: Slow-release
Effective period: Up to 6 weeks
Package size: 12.5 lbs
Coverage area: 5,000 square feet
Pros
Cons
✓ Greens and thickens the lawn quickly
✓ Phosphate-free
✓ For use on all grass types in all seasons (except winter, when grass is dormant and shouldn't be fertilized)
✗ High nitrogen content can burn the lawn if applied unevenly
✗ Won't be effective if soil has a phosphorus deficiency
Where to buy:
Buyers Guide: How to Choose the Best Lawn Fertilizer For You
In this guide, we'll help you figure out which type of fertilizer is best for your specific lawn.
Get the Right Nutrients With a Soil Test
The first step in choosing the right lawn fertilizer is to get your soil tested. A soil test will tell you which essential plant nutrients your soil is lacking, which will lead you to the fertilizer your lawn could benefit from most.
For example, if a soil test shows your soil has a potassium deficiency, you can choose a fertilizer with a high potassium content. Likewise, if your soil test shows an excess of nitrogen, you can avoid nitrogen-heavy fertilizers to prevent lawn burn.
You can get a soil test from your state's university extension service, which you can look up on the U.S. Department of Agriculture's website.
What is NPK?
A fertilizer's NPK ratio tells you how much of the three most important nutrients that fertilizer contains.
The nutrients that your grass needs in the highest quantities to grow, also called macronutrients, are:
Nitrogen (N) for fast growth and deep green color
Phosphorus (P) for deep, strong root development
Potassium (K) for overall health and hardiness
In an NPK ratio, the first number (N) tells you the percentage of nitrogen in the fertilizer. The second number (P) tells you the percentage of phosphorus. You'll notice the second number is often 0 because phosphorus fertilizer can pollute waterways and is banned in several states. The third number in a fertilizer's NPK ratio (K) tells you the percentage of potassium in that fertilizer.
There are many other plant nutrients, classified as secondary nutrients and micronutrients, but the three macronutrients are usually the only ones you need to worry about for healthy lawn growth. When you get a soil test, depending on where you get it from, your results may tell you the best NPK ratio to look for in a fertilizer for your lawn.
Liquid Fertilizer vs. Granular Fertilizer
Fertilizers come in two forms: liquid or granular.
Liquid fertilizers come in liquid form in a bottle or as a water-soluble material that you mix yourself. You apply liquid fertilizers by spraying them across the lawn. They're usually easier to apply and more fast-acting than granular fertilizers, but their results don't last as long.
Granular fertilizers come in tiny solid particles, aka granules. You apply them to the lawn using a fertilizer spreader, and you typically need to water the lawn right after to help the granules sink down into the soil. Most granular fertilizers are slow-release, which means they continue to feed the lawn for several weeks after application. The tradeoff is a more labor-intensive application process.
Slow-Release Fertilizer vs. Quick-Release Fertilizer
Another factor to pay attention to when choosing a fertilizer is whether it's "slow-release" or "quick-release."
Slow-release fertilizer, also called controlled-release fertilizer, breaks down into the soil slowly, releasing nutrients for your grass over time instead of all at once. These fertilizers continuously feed your lawn for several weeks after application, maintaining consistent lush, green grass for longer.
Quick-release fertilizer, also called fast-release or immediate-release fertilizer, dissolves into the soil immediately, releasing a burst of nutrients upfront. You get an instantly greener and lusher lawn, but that bright green color will fade faster than with slow-release fertilizer. You'll have to apply quick-release fertilizer more often for lasting results.
Some of the best grass fertilizers contain part slow-release and part quick-release, so you get green grass faster and the effects last longer.
For an illustration of how slow-release fertilizer works as opposed to quick-release, watch this video from Haifa Group:
Organic Fertilizer vs. Synthetic Fertilizer
Organic lawn fertilizers typically cost more than their synthetic counterparts and may take longer to give you the lush lawn you're looking for, but they provide several advantages for the environment and your lawn's health.
Benefits of organic fertilizer
Improves soil structure: The organic materials break down into the soil to improve drainage, aeration, and organic matter content in addition to adding nutrients.

Supports beneficial microorganisms: Your soil is full of tiny organisms, such as earthworms and beneficial bacteria, that are essential for plant health. These organisms thrive on organic matter, while synthetic fertilizers can kill them.

Reduces water pollution: One of the biggest problems with synthetic fertilizers is that the chemicals contained in them often end up in groundwater, lakes, rivers, and other natural water resources. The materials in organic fertilizers are natural, so they don't cause pollution or harm aquatic ecosystems.

Safe for pets and small children: Chemical fertilizers can be dangerous if you have a pet that eats grass or a small child who likes to play outside without washing his or her hands. Fertilizers with natural ingredients are safe for pets and people to touch immediately after applying.
Additional Benefits of Some Fertilizers
Many fertilizers do more than just fertilizing your grass. They might contain add-ons such as:
Pesticides to kill and prevent common lawn pests (grubs, armyworms, sod webworms, chinch bugs, etc)
Herbicides for weed control
Fungicides to prevent lawn diseases (brown patch, dollar spot, red thread, etc)
If your lawn has historically had problems with a particular weed, pest, or disease, it might be a good idea to use a fertilizer with the appropriate add-on. That way, you don't have to purchase and apply another product separately. Just be prepared to pay more for fertilizers with add-ons than for standard fertilizers.
There are also special fertilizers called starter fertilizers designed specifically for new lawns. These fertilizers contain high amounts of phosphorus to help the new grass establish strong roots. If you're spreading grass seed or laying new sod, you want a starter fertilizer.
FAQ About Lawn Fertilizers
1. What fertilizer makes grass dark green?
Nitrogen-heavy fertilizer makes grass dark green because nitrogen is the nutrient that contributes to the grass's color. That means any fertilizer in which the first number in the NPK ratio (the N) is high. 

Out of our top picks, the ones with the highest nitrogen content (and the best ones for turning your grass dark green) are Scotts Turf Builder Lawn Food (32% nitrogen), GreenView Fairway Formula Spring Fertilizer + Crabgrass Preventer (24% nitrogen), and GreenView Lawn Food (22% nitrogen). 

Be careful not to overfertilize any areas of your lawn when using high-nitrogen fertilizer, as too much nitrogen will burn the grass and kill it, turning it brown. 
2. What month should you fertilize your grass?
The best fertilization schedule for your lawn depends on whether you have a cool-season or warm-season grass type. You should fertilize at least three times a year either way, but the best month to do so varies. 

Fertilize cool-season grasses once in April, once in September, and once in November. Cool-season grasses grow in the North of the United States. Some popular cool-season grasses are Kentucky bluegrass, perennial ryegrass, and any type of fescue. 

Fertilize warm-season grasses once in April, once in June, and once in September. Warm-season grasses grow in the South of the United States. Some popular warm-season grasses are Bermuda, St. Augustine, Zoysia, and centipede. 

Pro Tip: Check out our top picks for the Best Fertilizers for Bermudagrass and the Best Fertilizers for St. Augustinegrass if you have either of these grass types to help you choose the best lawn fertilizer for you. 
3. Should you fertilize your lawn before or after rain?
The best answer is neither. Fertilizing your lawn right before or right after heavy rain can cause the fertilizer to wash away with stormwater runoff before it has a chance to sink into the soil. 

Ideally, you should fertilize your lawn at least two days after heavy rain and when the forecast shows no heavy rain for at least two more days. It's OK to fertilize right before rain if you're only expecting a light sprinkle — although you never truly know what to expect from Mother Nature, so use caution. 
4. Should you fertilize before or after cutting the lawn? 
Mow the lawn before fertilizing. Shorter grass exposes more soil, meaning the fertilizer will have an easier time reaching the soil right after a fresh cut. 

Don't mow your lawn for at least a few days after fertilizing. This gives the fertilizer plenty of time to soak into the soil, so you don't accidentally remove it with the mower.
Professional Lawn Fertilization Costs
In 2021, rising demand and limited supply led to soaring prices for a variety of household products, and fertilizer prices are at a record high. So, you'll need some extra money in your lawn care budget in 2022. Still, though, you can save significantly by purchasing one of the best fertilizers for grass and applying it yourself as opposed to hiring a professional.
The cost of professional lawn fertilization in the United States is about 2 cents to 5 cents per square foot, or an average of $380 total per service for an average-sized yard (these prices will likely be higher this year, too, because of the rising cost of fertilizer). Based on that average price, you can expect to spend more than $1,000 to have your lawn professionally fertilized three times per year.
To compare, you can get three bags of the most expensive lawn fertilizer on this list for less than $200. That equals more than $800 in savings per year if you have a regular lawn fertilization schedule.
When to Hire a Lawn Care Pro
Even with the cost difference, it might be worth it to hire one of LawnStarter's local lawn care pros to fertilize your lawn for you. For one thing, fertilizing the lawn takes a lot of time and effort. For another, pros know what they're doing, and you run the risk of missing or overfertilizing spots if you do the job yourself, leading to a patchy and unattractive lawn.
Main Photo Credit: Shutterstock
LawnStarter participates in the Amazon Services LLC Associates Program, an affiliate advertising program. LawnStarter may earn revenue from products promoted in this article.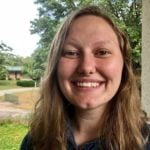 Jordan Ardoin
Jordan Ardoin is a writer, editor, and classical literature student based in Colorado. When she isn't reading or writing, she enjoys goofing off with her cats and spending time in nature.