Spreading fertilizer by hand leads to uneven coverage and missed spots. With a fertilizer spreader, you are much more likely to get the right amount of fertilizer in all your lawn's nooks and crannies.
Fertilizer isn't all these spreaders are good for. You also can use fertilizer spreaders to spread granular pesticides, herbicides, lime treatments, and even ice melt in winter.
Are you in the market for a tool to help you evenly spread different lawn products? Here are the best fertilizer spreaders on the market, including:
Top Handheld Fertilizer Spreaders – Reviews
1. Scotts Whirl Hand-Powered Spreader
Best Handheld
Scotts Whirl Hand-Powered Spreader
The Scotts® Whirl™ Hand-Powered Spreader is perfect for small yards and spreads fine and coarse materials.
The Scotts Whirl Spreader holds enough material to cover 1,500 square feet. It has a small rotary plate that broadcasts the material in a radius up to about 5 or 6 feet. By turning the hand crank faster or slower, you can control how far the material goes.
Works for a variety of materials: This spreader is designed to work with fine and coarse materials, including granular fertilizers and herbicides, grass seed, and ice melt. Different settings allow larger or smaller openings for materials of varying sizes.
Even though it holds up to 8 pounds and can get heavy, this spreader isn't too cumbersome. An adjustable support bar helps keep your wrist and upper arm comfortable while you carry the spreader around. Users with carpal tunnel and arthritis reported it was easy for them to operate.
Specifications:
Holding capacity: 8 pounds
Product weight: 1.15 pounds
Pros:
✓ Adjustable wrist/arm support bar for more comfortable carrying
✓ Easy to use
✓ Lightweight (before filling with materials)
Cons:
✗ Can be annoying to fill
✗ Sometimes clogs when dispersing material
2. Stalwart 82-YJ487 Spreader
Stalwart 82-YJ487 Spreader
The Stalwart 82-YJ487 is affordable, simple to use, and lightweight. It's best for spreading material on small areas.
If you're looking for a super affordable spreader and you don't need anything fancy, this handheld spreader from Stalwart could be for you. It works like a salt or pepper shaker with a large handle on the side to make carrying more convenient.
Best option for very smaller yards: This small, lightweight Stalwart spreader holds only about 5 pounds of material at a time, so it's not a good choice for a whole yard. However, it's the perfect size for de-icing steps and sidewalks or spreading chemicals in tight spots between obstacles.
Because it's so small and simple, this spreader is easy enough for anyone to use. It's a good option for senior citizens and people with limited upper body strength.
Disadvantages: Simplicity has a downside, too. This spreader doesn't have any special features or adjustable settings. One common complaint is you can't close the holes on top when not in use, which means any materials you try to store in the container will likely be ruined.
Specifications:
Holding capacity: 4.86 pounds
Product weight: 0.31 pounds
Pros:
✓ Very easy to use
✓ Extra lightweight
✓ Twist-off lid for easy refilling
✓ Ergonomic handle for small or large hands
Cons:
✗ Doesn't hold much
✗ Holes in the lid may not be large enough for ice melt
✗ Can't store product in the shaker because you can't close the holes in the lid
✗ Made of thin plastic
Top Shoulder/Chest-Mounted Fertilizer Spreaders – Reviews
1. Yard Tuff YTF-25SS Shoulder Spreader
2. Solo 421 Portable Chest-Mount Spreader
1. Yard Tuff YTF-25SS Shoulder Spreader
Top Shoulder/Chest-Mounted
Yard Tuff YTF-25SS
The Yard Tuff YTF-25SS is affordable, durable, and can handle large yards. It also lets you adjust the flow rate of the material.
This shoulder spreader from Yard Tuff can hold up to 25 pounds of material but is lightweight on its own because it includes a canvas bag instead of a hopper made of metal or plastic. The bag unzips for easy refilling.
Along with the thick canvas bag, the other parts of this spreader are made of durable materials, too. The gears and hand crank mechanism are all metal, so they're more durable and long-lasting than plastic.
The shoulder strap is comfortable and easy to adjust for users of all shapes and sizes. There's also an easy-to-use adjuster that lets you control the material's flow rate while you work.
Budget-friendly: For a mounted spreader with such a large hopper capacity, this Yard Tuff model is super affordable. If you have a small budget but a larger yard, this option could be right for you.
Specifications:
Holding capacity: 25 pounds
Product weight: 3.5 pounds
Pros:
✓ All metal gears
✓ Adjustable material flow rate
✓ Easy to use
Cons:
✗ Bag sometimes leaks
✗ Gears sometimes lock up
2. Solo 421 Portable Chest-Mount Spreader
Solo, Inc. Solo 421 Portable Chest-Mount Spreader
The Solo 421 is a commercial-grade spreader that spreads multiple granule sizes. Downsides? It's expensive and awkward.
If you have the money to splurge on a commercial-grade chest-mounted spreader, the Solo 421 model is a great option. This spreader is durable and long-lasting, with parts made of premium polyethylene and stainless steel (which won't rust).
Reliable gear mechanism: The gears in the Solo 421 spreader are lubricated, so they won't lock up. They're also enclosed in a gearbox to protect them from the elements and keep out stray granules that could clog them.
Control at your fingertips: Another great feature is the control lever on the side of the spreader that lets you determine the flow and direction of material while you work. The lever is easy to reach while you're strapped into the spreader.
Users reported the Solo 421 works well for several different lawn products of different granule sizes, from fertilizer to ice melt to pelletized lime treatments.
The only significant downside to this otherwise impressive spreader is that the strap isn't very comfortable and can make the tool awkward to handle.
Specifications:
Holding capacity: 20 pounds
Product weight: 6.74 pounds
Pros:
✓ Rust-resistant stainless steel parts
✓ "Fingertip" levers let you control how much material to disperse and where it goes
✓ Works for materials of all grain sizes (fertilizer, grass seed, rock salt, etc)
✓ Easy to use
Cons:
✗ Not comfortable
Top Walk-Behind Fertilizer Spreaders – Reviews
1. Scotts 76565 Turf Builder Classic Drop Spreader
2. Scotts 75902 Elite Broadcast Spreader
1. Scotts 76565 Turf Builder Classic Drop Spreader
Top Walk-Behind
Scotts 76565 Turf Builder Classic Drop Spreader
The Scotts 76565 allows for precise spreading –– great for yards with landscaping. It's durable, lightweight, and compact.
As one of the biggest brands in the lawn care industry, Scotts has another product in our top picks with the Turf Builder Classic Drop Spreader. This drop spreader is perfect for yards with lots of landscaping and other obstacles, where precision is more important than spreading product as far and fast as you can.
The Turf Builder is also good for large lawns because its spread pattern is wide for a drop spreader at 22 inches. Beware that the hopper holds only 32 pounds of material at a time, which isn't that much more than a typical shoulder or chest-mounted spreader.
Ready to go right out of the box: This spreader comes fully assembled and pre-calibrated. That means you don't have to put anything together yourself and run the risk of doing something wrong or causing damage.
If durability is important to you, the Scotts Turf Builder could be perfect. Its heavy-duty all-metal frame is built to last through several years of use. Users report that the frame stands the test of time as advertised.
Specifications:
Holding capacity: 32 pounds
Wheel size: 12 inches
Product weight: 12.2 pounds
Pros:
✓ Multiple spread settings for different products
✓ Lightweight and compact for easy storage
Cons:
✗ Difficult to navigate on built-up ice pack
✗ Gears and other parts are made of plastic instead of more durable metal
2. Scotts 75902 Elite Broadcast Spreader
Scotts Elite Spreader
The Scotts 75902 covers a whopping 20,000 sq. ft. in one load. Its edge guard helps with accuracy of product placement.
Another tried and true Scotts product, the Elite Broadcast Spreader holds 80 pounds of material, which should be enough to cover about 20,000 square feet without having to refill. It broadcasts up to 6 feet in each direction, which means you can fertilize your whole lawn in fewer passes.
Time saver: If you have a large yard and spreading chemicals takes forever, the Elite's large capacity and wide radius can help cut back on that time.
Scotts boasts the Elite is its "best spreader ever" because it's as accurate as it is speedy. The dual rotors (as opposed to a single rotating plate) spread your chemicals with more precision than a typical broadcast spreader.
The EdgeGuard technology (patented by Scotts) keeps materials from spreading into plant beds or going to waste on sidewalks and driveways.
Specifications:
Holding capacity: 80 pounds
Wheel size: 10 inches
Product weight: 19.75 pounds
Pros:
✓ Edgeguard to keep products off driveways, sidewalks, landscaping, etc.
✓ Dual rotors for more accurate spreading
✓ Foam-filled tires that won't go flat
Cons:
✗ Wheels can collect the product you're spreading and then distribute it in the wrong places
✗ Wheels sometimes snap off
Top Tow-Behind Fertilizer Spreaders – Reviews
1. Chapin 8620B Tow-Behind Broadcast Spreader
45-0463 Tow-Behind Broadcast Spreader
1. Chapin 8620B Tow-Behind Broadcast Spreader
Top Tow-Behind
Chapin 8620B Tow-Behind Broadcast Spreader
The Chapin 8620B has an auto-stop feature and durable all-steel frame. It can be used with multiple types of materials.
Chapin's 8620B tow-behind model is great for large lawns. It holds up to 150 pounds of fertilizer or other granular chemicals.
Stops spreading when you stop driving: This model's most significant feature is its auto-stop dual impeller. When you stop driving, the spreader automatically stops dispersing materials. You don't have to worry about dumping too much in one spot and burning your grass every time you pause.
Want to use your spreader for several different applications? The 8620B has you covered with 11 settings for different types of material and areas of different sizes.
Heavy-duty construction: Even if you ignore the special features, this spreader's basic construction is still the best. Its all-steel frame is durable and long-lasting, and the 14-inch pneumatic tires are stable on rough terrain.
The gears for the rotary mechanism are contained in a gearbox for protection. Oiled bronze bearings reduce friction on the axle and gears to help them last longer.
Specifications:
Holding capacity: 150 pounds
Wheel size: 14 inches
Pros:
✓ Dual impeller stops spreading when you stop the vehicle towing it
✓ Durable steel frame
✓ Variable spread settings
✓ Wide pneumatic tires for rugged terrain
Cons:
✗ Can't be used for lime treatments
✗ Products sometimes get clogged up
2. Agri-Fab 45-0463 Tow-Behind Broadcast Spreader
Agri-Fab 45-0463 130-Pound Tow Behind Broadcast Spreader
The Agri-Fab 45-0463 is a professional-grade spreader for large yards. It's a great value but is prone to tipping over.
Agri-Fab is another top-notch brand when it comes to professional-grade lawn care equipment. This tow-behind broadcast spreader holds up to 130 pounds and throws material in a wide 10- to 12-foot radius. It's perfect for large yards.
Great value: At less than $200, this spreader is inexpensive for one of its caliber. The mechanized parts are made of high-quality, heat-treated metal and enclosed in a gear box to protect them from corrosion and debris. With proper care, this is the last tow-behind spreader you'll have to buy. Even so, it comes with a 3-year warranty.
Another notable feature is the on-off control rod you can operate from the driver's seat. There's also a special grate in the hopper that keeps materials from clumping and clogging.
Specifications:
Holding capacity: 130 pounds
Wheel size: 13 inches
Pros:
✓ Universal hitch
✓ Enclosed gear box keeps material like fertilizer or seed out of the gears
✓ Control material flow from the driver seat
✓ Hopper grate prevents material from clumping
Cons:
✗ Sometimes dumps fertilizer instead of broadcasting
✗ High center of gravity causes it to tip over when turning occasionally
✗ Assembly required
Buyers Guide
In this guide, we'll go into more detail about the different categories of spreaders. That way, you can decide which type of spreader is best for you and then choose the best option in that category.
Handheld Spreaders
Handheld spreaders are best for small lawns of 1,500 square feet or less. These spreaders are designed for you to hold in your hand and carry around, fertilizing one small area of the lawn at a time.
There are some handheld broadcast spreaders that can throw fertilizer and other materials in a radius of up to 5 feet. These are a bit heavier and more complicated than salt-shaker style spreaders that cover only the immediate spot where you stand while using them.
Because they're so small, handheld spreaders are the most affordable option. Do you have a low budget and a small yard? A handheld spreader might be the best choice for you.
Shoulder or Chest-Mounted Spreaders
Shoulder and chest-mounted spreaders are best for yards of about 1,500 square feet to a quarter acre.
These are the next level up from handheld spreaders. They're larger and heavier than the handheld versions, so they include shoulder and chest straps to counteract the extra weight.
Mounted spreaders typically hold a lot more material than their handheld counterparts, so you can cover a larger area without stopping to refill. They usually have a wider broadcast range than handhelds, too. For these reasons, they cost more, sometimes close to $100.
Walk-Behind Spreaders
If your property is a half acre or more, you need something larger than a handheld or chest-mounted spreader. Walk-behind (aka "cart") spreaders can hold more material, so they're better for larger yards.
Walk-behind spreaders are mounted on wheels and have a long handle for you to push them around the yard. You would operate one of these similarly to how you operate a lawn mower.
Walk-behind spreaders typically hold between 30 and 100 pounds of material. They vary in price depending on how large they are. Some cost less than $50, while others cost around $200.
Tow-Behind Spreaders
For large properties of an acre to several acres, a tow-behind spreader will make fertilizing, seeding, and similar chores much easier on you.
Tow-behind spreaders hook up to the back of your riding lawn mower, golf cart, ATV, etc. These spreaders hold between 100 and 200 pounds, so you won't have to refill them unless you have a very large property.
A tow-behind spreader will typically be the most expensive option. Most cost around $150 to $200.
Broadcast Spreaders Vs. Drop Spreaders
All the different sizes of spreaders we've talked about will fall into one of two categories: broadcast spreaders or drop spreaders. The difference between the two lies in how they disperse material.
How broadcast spreaders work: Granules pour from the hopper (the part that holds the fertilizer or other material) onto a rotating plate, which throws or "broadcasts" the material several feet in all directions.
Broadcast spreaders (aka rotary spreaders) are the fastest way to spread fertilizer or other materials. They're not very accurate, though, because they throw material indiscriminately, even in places that might not need it (such as a garden or driveway).
How drop spreaders work: Instead of throwing material in a wide radius, drop spreaders literally "drop" the material in one spot right below the hopper.
Drop spreaders are more accurate and give you more control over where the material goes. A drop spreader is perfect if you have a lot of flower beds or other obstacles you want to maneuver around while spreading fertilizer, weed killer, or other lawn treatments.
The flip side of that accuracy is that it can take a long time to cover the whole yard with a drop spreader, and you have to be careful not to miss any spots.
For a more visual explanation of the difference between a drop and broadcast spreader, watch this video from Grass Daddy:

FAQ About Fertilizer Spreaders
1. Can you use a spreader for liquid fertilizer?
Some spreaders work for both granule and liquid fertilizers. There are also spray spreaders that connect right onto the end of your garden hose and automatically mix the right proportion of liquid fertilizer (or other chemicals) and water as you spray the lawn. 
2. What should I look for in a broadcast spreader?
When shopping for a broadcast spreader, pay attention to:

Construction materials: Look for a hopper and broadcasting plate made of durable, rust-proof material such as heavy-duty plastic or steel with a corrosion-resistant coating. 

Holding capacity: Choose a spreader that holds enough material to cover your yard so you don't have to stop and refill in the middle of working.

Broadcasting range: The farther a spreader can throw material, the less time it will take to cover your yard.  

Wheel diameter: Larger, higher wheels allow your spreader to maneuver over roots, uneven ground, and other obstacles easily. 

Weight: If you're looking for a walk-behind broadcast spreader, make sure you choose one that isn't too heavy for you to push comfortably. 
3. How do you maintain a fertilizer spreader?
Clean your spreader a few times per season if you use it regularly. Empty out the hopper first. Use compressed air to remove all the tiny granules stuck in small spaces. Once the hopper is empty, wash the spreader with soap and water, including all the small moving parts. 

Store your spreader in a dry location out of the wind, sun, and rain, such as a garage or shed. 
How to Use a Fertilizer Spreader
Remember, you can use a spreader for a lot more than just fertilizer. Pull out the spreader when you:
Fertilize your lawn once or twice a year.
Apply preventive pesticides in early spring, early summer, and fall to keep common lawn pests away.
Apply pre-emergent herbicides in early spring and early fall to prevent summer and winter weeds.
Apply post-emergent herbicides whenever you have weeds in your lawn to kill them.
Apply lime treatments if a soil test shows you need to adjust the soil pH.
Spread ice melt on sidewalks and driveways to melt snow in winter.
Don't have time to do these and other lawn care chores yourself? No worries. LawnStarter can connect you with a local lawn care pro to mow the lawn and beyond so you don't have to.
LawnStarter participates in the Amazon Services LLC Associates Program and other retailer affiliate programs. LawnStarter may earn revenue from products promoted in this article.
Note: Amazon star ratings and the number of reviews for the products listed above may have changed since that material was collected.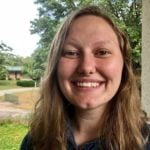 Jordan Ardoin
Jordan Ardoin is a writer and editor with a passion for sustainable, earth-friendly gardening and lawn care practices. When she isn't sharing her knowledge about lawn care and landscaping, you can find her curled up with a good book and a cat in her lap.