Transform your backyard pool into a Miami beach oasis. Add bright lights, low-maintenance plants, and outdoor entertainment for a warm and inviting living space. These tips and tricks for how to landscape around a pool in Miami will help you relax after work and party on the weekends.
10 Ways to Landscape Around Your Miami Pool
1. Build a Patio or Deck
In Miami, revamping your pool area with a new patio or deck is an excellent way to make your backyard more inviting and perfect for outdoor entertainment. Not only will a patio or deck provide a comfortable area to lounge and relax, but it may also increase the overall value of your property.
Coordinate the materials surrounding your pool to create a backyard patio that wows. For example, if natural stone retaining walls are present, natural stone may be the best option for the patio's hardscape. Size and materials are two of the most significant factors for deck or patio prices.
Other options for patio and deck materials include:
Wood: Due to its warm and natural appearance, wood is a popular choice for pool decks. However, wood needs regular maintenance to keep its color and texture. On average, wood decking costs range from $2 to $19 per square foot (materials only).
Poured concrete: This option is durable, versatile, and customizable with different textures, colors, and finishes. It's low-maintenance and slip-resistant, making it a safe choice for pool patios. Concrete patios range between $4.40 and $16 per square foot, depending on various factors.
Stone pavers: Create a unique design and a luxurious ambiance with a variety of shapes, patterns, and colors. Maintenance is needed to prevent weeds and stains. Installing a paver patio costs, on average, $11.34 per square foot.
Effort: High. Your new pool deck or patio is usually ready in one to two weeks. The hardest part here is patience and not getting to use the pool.
Cost: High. A new pool deck costs between $3,600 and $15,733 for materials and labor. An average patio installation costs around $3,994, but typically ranges between $2,363 to $5,909.
2. Install New Turf
Your feet will love transitioning from a hot, steaming patio to cool, soft grass. But first, you'll need to consider South Florida's climate and your lifestyle before you spend the big bucks on new green. You may like the look of tall fescue grasses, but that won't fly here in Miami.
Warm-season vs. cool-season grasses
You'll want to go with a warm-season grass type. These grasses grow best in the Southern states, where temperatures are relatively warm throughout the year.
Cool-season grasses, like tall fescue, will struggle in Miami's heat. They much prefer the cooler temperatures in the Northern states.
Wear-tolerance
If you plan on hosting any pool parties (that's why you're revamping your pool, right?), you may want a grass that can withstand heavy foot traffic. With partiers coming and going, the last thing you want is their feet to tear up your turf!
Best grass for Miami
What kind of grass should you get? The best grass types for Miami and southeast Florida are:
Zoysiagrass: A popular warm-season grass known for its ability to tolerate drought and heat.
Bermudagrass: A warm-season turfgrass that can withstand heavy foot traffic with a high heat and drought tolerance.
St. Augustinegrass: A warm-season grass known for its lush, green appearance and durability, but regular watering, fertilization, and mowing are essential.
Bahiagrass: An attractive, drought-tolerant, warm-season grass that is ideal for Miami lawns due to its hardiness and low maintenance needs.
Effort: Easy-Medium. Your effort depends on whether you buy sod or plant from seed. Lay down sod, and your new turf will be ready quickly; no waiting period is needed.
You will need to water and wait for seeds to germinate if you are planting from seed. This process can take between five and 30 days.
Cost: Medium. On average, sod costs between $0.30 to $0.83 per square foot. If professionally installed, the cost increases to around $0.87 to $1.76 per square foot, including labor and materials.
Hiring a lawn care professional to seed or reseed a lawn costs between $0.10 and $0.19 per square foot, with the total cost depending on the size and complexity of the job. For a typical lawn, the cost ranges from $680 to $1,815.
3. Light Up the Night
Just as every nightclub needs a disco ball, your Miami pool area needs colorful landscaping lights. With well-designed landscape lighting, you can turn a quiet evening by the pool into a romantic night or switch on those wild colors for a weekend pool party.
Looking for some inspiration to brighten up your outdoor space? Check out our 20 Outdoor Landscape Lighting Ideas for creative and practical ways to add light to your pool or yard.
Effort: Low. If you're adding landscape lighting, you can quickly visit the store for string lights and clips to hang around your pool area, making sure the cords stay dry.
Cost: Low-High. Professionally installed landscape lighting can cost an average of $3,250. Homeowners can expect to pay $100 to $200 per installed fixture.
Budget-friendly options include simple string lights for $15 to $50 at dollar stores, outlets, or the seasonal aisle at your grocery store
4. Grill in an Outdoor Kitchen
Enhance your Miami oasis by installing an outdoor kitchen near your pool. This not only provides additional cooking space but also serves as a great entertainment area for family and friends. Enjoy a nice summer afternoon with your loved ones while grilling burgers, preparing cold drinks, and breathing in the fresh air.
Installing an outdoor kitchen can help save money on utility bills by allowing you to cook outside and giving your air conditioner a break. Cooking outside also keeps strong smells away from confined spaces and sensitive noses.
Effort: High. You may find that with an outdoor kitchen, you need to work closely with the landscaper. You'll want open communication, so you'll likely need to carve out time to explain your vision, what features you want, and what materials you expect for your outdoor space.
Depending on how close construction is to your pool, you may have to wait three weeks to 4 months before using your pool and new kitchen.
Cost: High. A typical outdoor kitchen costs between $5,057 and $17,276. A luxury kitchen can cost up to $40,750 or more.
5. Add a Low-Maintenance Garden
With a fresh garden design, you can bring the natural beauty of Florida landscapes to your outdoor living space. Low-maintenance landscaping uses native plants, ornamental grass, and potted perennials to add greenery to your backyard landscaping.
But what kind of garden would you like to add? Here are some ideas:
Succulent Gardens
Succulents are easy to maintain, and their exotic textures and shapes will be a highlight in your Miami pool landscaping. These fleshy plants typically exist in arid or semi-arid climates.
While Miami doesn't have much of a dry season, you can still have these low-maintenance plants surrounding your pool deck. Grow your succulent garden in containers to better control its irrigation and soil needs. Buy a few charming containers or pots, plant some succulents, and your landscape will have a new look.
Rock Gardens
Rock gardens accentuate stones of various shapes, sizes, and colors and are another excellent, low-maintenance garden near the pool. You won't have to spend much time mowing or watering, and you can feature all of your favorite stones (big, small, bumpy, smooth).
When designed right, a rock garden can provide a calming space that soothes you at the end of the day and brings you back to the present. With the fast-paced city on your doorstep, a rock garden by the pool can offer serenity.
Plants to Avoid
If you plan to build a garden around your pool, knowing which plants to avoid is essential. For example, evergreens have needles that may poke your skin on the way to the pool and should be skipped.
You should also avoid planting a garden with many flowering plants that create debris. These plants will litter your pool landscape and create a thick blanket of flowers over your pool water, making maintaining your pool more difficult. Avoid plants like:
Crape myrtle (Lagerstroemia indica)
Azalea (Rhododendron)
Honeysuckle (Lonicera)
Ash Trees (Fraxinus)
Effort: Low. We're recommending low-maintenance gardens for a reason. We want you relaxing by the poolside instead of pulling weeds.
Cost: Low-Medium. Succulent prices may vary, depending on size. A miniature succulent plant can cost between $2 and $6.
Landscaping rock garden projects cost an average of $600 to $700. But there are many ways to find free rocks for your rock garden. Consider asking friends and family if they have any rocks they plan to remove. You may find yourself coming home with a giant, new rock.
6. Plant Some Palms
For a slice of paradise, add some palm trees around your Miami pool. Just remember to opt for hurricane-resistant palm trees. You won't want to ruin your new landscape design with fallen trees and broken windows.
According to the University of Florida IFAS Extension, palm trees survive hurricanes better than woody, broad-leaved trees and conifers. Yet some palm trees, like Washington and Queen, are not a good choice for hurricane-resistant landscaping. Palm trees recommended for this area include:
Pindo (Butia capitata)
Date (Phoenix dactylifera)
Pygmy date (Phoenix roebelenii)
Areca (Dypsis lutescens)
Canary Island date (Phoenix canariensis)
Sabal palms (Sabal palmetto)
When planting a tree near your inground pool, consider the root system. Palm trees have small roots, but keep them at least 5-6 feet from the pool's edge. Consult with arborists to find the safest place to plant your palm.
Effort: Low-Medium. Your palm tree may require regular maintenance to ensure it's healthy.
Cost: Low-Medium. Selecting and planting a palm tree can cost anywhere from $15 to $2,000 depending on your tree's species and height.
7. Beat the Heat
A pool can help you handle Miami's heat with ease. However, once you step out of the pool, the last thing you want is to start sweating again. To combat this issue, consider installing a pergola or umbrellas.
With the perfect amount of shade, you can beat the boiling sun and enjoy spending more time outdoors. Moreover, a shaded area provides a dry spot for cooling off and shelters you from a passing rain cloud.
Effort: Medium. The time it takes to build a pergola varies. It can be as little as one week to as long as 12 weeks. Installing umbrellas around the pool is a faster solution for instant shade.
Cost: Low-High. The cost of a pergola can range from $1,050 to $11,000. On average, it costs around $4,000. In contrast, pool umbrellas usually cost between $50 and $400.
8. Get Some Sun
When landscaping around your Miami pool, ensuring enough space for sunbathing is essential. Make sure your patio has enough space for laying out a towel, or purchase stylish lounge chairs that complement your landscape's aesthetic.
By creating a designated sunbathing area, you'll enhance the enjoyment of your poolside space.
Effort: Low-Medium. If you love shopping, you'll love picking out your stylish lounger. If shopping gives you a headache, this task may take a little energy.
Cost: Medium-High. Outdoor lounge chairs come in a variety of shapes and styles and as individuals or sets. Prices range widely, between $250 and $2,000 per chair.
9. Watch a Water Feature
Wind down the workday lounging by the pool with a cold drink in hand and listening to the pool's trickling water. Water features will have you relaxed in no time and transfixed by the flowing, splashing water.
Turn any pool into a tranquil backyard oasis with water features and impress your guests with water fountains, waterfalls, and water walls. With these 20 Water Feature Ideas, you can DIY many water features yourself.
Effort: Low-Medium. The time spent installing your water feature will largely depend on the scale of the project. A simple water feature can take as little as one day to install, while a more complicated pool fountain may require more construction time.
Cost: Medium-HIgh. Installing a backyard water fountain or waterfall typically ranges between $940 and $4,500.
10. Landscape for Privacy
If you're planning for some sunbathing or weekend parties, you might want to consider landscaping for privacy. Nothing like onlookers, nosy neighbors, or the wandering eyes from that apartment complex to ruin a good time.
Privacy landscapes not only help create an intimate space; they also absorb sound and help control the guest list by keeping out unwanted visitors. Some privacy barriers, like trees and hedges, are excellent for blocking out noisy and nosy neighbors.
Effort: Low-High. The time and commitment invested in your private pool landscape will vary dramatically depending on your project plans and vision.
Cost: Low-High. Professionally designed and installed landscapes can cost anywhere between $4,000 and $20,317, depending on the size and scope of your project.
An Instagram-Perfect Pool
With a stunning landscape around your swimming pool — complete with an elegant patio, simple gardens, and beautiful trees — you won't resist taking a dip. Plus, your Instagram backgrounds will never look better.
FAQ: Landscaping Around a Miami Pool
How Do I Choose Plants for Around My Pool?
It's essential to consider factors such as the amount of sunlight the area receives, the soil type, and the maintenance each plant requires. You'll also want to choose Florida native plants that are not too messy, as fallen leaves and flowers can clog the pool filter.
How Do I Make My Pool Area and Backyard Look Cohesive?
Using similar materials and colors throughout your landscaping is one way to create a cohesive look. For example, you could use the same type of stone for your pool deck and walkways and choose plants that complement the color scheme. You can also use outdoor lighting to highlight specific areas and create a unified look.
How Can I Make My Pool Safer For My Kids and Pets?
Make sure to choose non-slip materials for the pool deck and surrounding areas, and keep any sharp or potentially dangerous objects out of reach. You can also install a fence or other barrier to protect children and pets from the water when the pool is not in use.
When to Call a Professional Landscaper
Call a Miami landscaping professional to turn your backyard pool into the getaway of your dreams. Need a whole new pool? Discuss potential swimming pool designs with a professional. Hiring a professional to design your landscape or pool may help save time, energy, and money.
Swimming pool landscaping with a budget? No worries. Many landscapers market themselves as budget-friendly and are happy to work within a budget to give you the poolscape of your dreams.
Main Image Credit: Pexels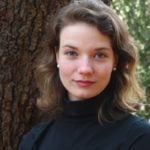 Jane Purnell
Jane Purnell is an artist, writer, and nature lover. She enjoys teaching readers about the importance of eco-friendly lawn care, integrated pest management, biodiversity, and sustainable landscaping.