If your backyard needs an outdoor living space but you're on a tight budget, a pergola might be your solution. Pergolas are cheaper and easier to build than similar backyard structures such as gazebos and pavilions. With pre-cut pergola kits, the construction process is even easier.
Because of their open roof design, pergolas are great for defining and framing spaces without blocking the sunlight. Some attachable accessories even let you use a pergola as a shade structure. Whatever you want to use your pergola for, we'll help you figure out what kind of pergola kit is the right fit for you.
Attached vs. Freestanding Pergolas
There are two main types of pergolas: attached and freestanding. Attached pergolas extend directly from an exterior wall of your home. Freestanding pergolas can create an outdoor living space away from the house.
Most people who build attached pergolas use them as a patio cover. They often give the impression of extending an indoor kitchen or living room into an outdoor space.
But you may prefer a freestanding pergola in the garden, to cover a hot tub, or to frame a more secluded seating area separate from your home.
Sizes and Shapes
Whether you have a sprawling or small backyard, you can find a DIY kit for a pergola that's the right size for your space. Some are as small as 6 feet by 6 feet, while others cover a space of 12 feet by 20 feet.
Pergola kits also come in different shapes to suit different purposes. The most popular shapes are square and rectangular, but there are other specialized styles, as well.
For example, a brim pergola is thin and freestanding. It doesn't cover much space, but it makes a great frame for a walkway or entryway. 
Another specialty shape is the visor pergola, which is a small covering for a window or door. A visor pergola attaches directly to the house without support posts, so you can use it to enhance your landscaping even if you don't have the space. You can even find small triangular pergolas built specifically for tight corners.
When you buy a pergola kit directly from the manufacturer online, you usually have lots of customization options. It's easy to create a custom pergola in the perfect size, shape, and style for your needs.
Construction Materials
Just as they come in different shapes and sizes, pergola kits also come in different materials. The price, durability, and required maintenance of your pergola will vary depending on the material you choose.
Wood
Wood pergola kits are the most popular. They add a classic, rustic look to any garden or patio. You can stain or paint them in any color you want, so they can match any landscaping or outdoor furniture.
You'll typically find redwood, pressure-treated pine, or cedar pergola kits. Pressure-treated lumber is the cheapest option, while redwood is the most expensive and the hardiest.
If you choose a wooden pergola, you'll have to paint, stain, or seal it every few years to prevent pests, rot, and warping from water damage.
Vinyl
Vinyl pergola kits have lots of benefits. They're super durable and can easily last the lifetime of your home. They're almost maintenance-free: a little power-washing to get rid of the dirt and grime is all they need to stay in prime condition.
But the durability comes at a price. Vinyl pergola kits are typically more expensive than their wooden counterparts.
Metal
If you're going for a more modern design, you can find many steel or aluminum pergola kits.
Aluminum is a great choice because it doesn't rust and won't require maintenance. But aluminum is also very lightweight, so you'll have to anchor your pergola to keep it from blowing away at the first strong gust of wind.
Steel is durable and heavy. That's great in the long run, but it can make the installation process difficult. Since steel is susceptible to rust (even stainless steel isn't completely immune), you'll need to apply a rust protection coating every few years to keep a steel pergola in tip-top shape.
Fiberglass
Fiberglass pergolas have a long lifespan since they won't rust or corrode, don't absorb water, and are weather-resistant. Fiberglass is like vinyl in that the only maintenance it requires is occasional washing.
Another perk of fiberglass is that it holds paint well (and for a long time). Your color options are limitless if you choose a fiberglass pergola kit.
Fiberglass pergola kits are also the most expensive option. They're relatively rare compared to the other types listed here, so they might prove difficult to find in the style you want.
Shade Coverage
A pergola doesn't provide much shade on its own. However, different pergola kits can provide more or less shade.
The more slats a pergola's roof has and the closer they are together, the more shade that pergola will cast. In turn, fewer slats spaced far apart will create less shade.
There are accessories available that can give your outdoor living space more shade. A shade tarp attaches over the top of the pergola's canopy to block out the sun. You would typically leave a shade tarp on during the hotter seasons, then remove it when the weather cools.
A more convenient (and more expensive) option is a retractable shade canopy. A retractable shade canopy attaches to the underside of the pergola's slats. You can extend or retract it for whatever level of shade you want.
If you're going for a more natural look, you can always grow vines or climbing plants along your pergola's roof. Some of the best plants for pergolas include honeysuckle, grapevines, and ivy.
You'll need to buy a shade tarp, retractable canopy, or plants separately from your pergola kit. If you want the extra shade, make sure you leave extra room in your budget for it.
Tips for Assembly
Most pergola kits are lightweight, so you'll need to anchor them to the ground with concrete footing or an anchor kit. Some kits come with their own anchors, but others require you to purchase them separately. Make sure you have everything you need to anchor your pergola kit before putting it together.
Keep in mind: Even though easy assembly is a major draw of pergola kits, you will need at least one extra set of hands to help you put together your pergola. For most DIY-ers, the project will take a full weekend, so leave enough time.
Most importantly, follow the instructions that come with your kit. The directions are there to make your life easier, and if you follow them carefully, you should have no problems with your finished pergola.
FAQ About Pergola Kits
How much does a pergola kit cost?
Depending on the size and material of the pergola, a high-quality kit can run anywhere from about $400 to $8,000.
Is it cheaper to build your own pergola?
Typically, yes, it would be cheaper to build a pergola from scratch than to buy a kit. Of course, the cost of a homemade pergola will also depend on the materials you use.
Keep in mind, building from scratch will require a lot more time and labor, and there is no guarantee of what the finished product will look like.
Does a pergola add value to a home?
Yes, most outdoor living spaces will add value to a home if installed and maintained properly. Outdoor structures are especially valuable in warmer climates, where spending time outdoors is more common.
Do I need a permit to build a pergola in my yard?
Check your local city and county ordinances about outdoor structures. You may need a building permit, or you may have certain restrictions when it comes to the height and size of your pergola.
If your neighborhood has a homeowners association, you may need its approval, as well. 
When to Hire a Landscaping Professional
Pergola kits are good DIY projects because of their easy assembly, but they still might be a hassle for some people. Maybe you don't have a whole weekend of free time, or maybe you've massacred one too many IKEA dressers to be comfortable assembling something as large as a pergola.
If you don't want to put together your pergola kit yourself, you can always hire a professional landscaper to do the job. While you're browsing pergola kits, you might want to leave room in your budget for a contractor.
Whatever your landscaping needs, there's a pergola kit out there with your name on it. In any size or style, your new pergola is sure to create an outdoor living space that's perfect for enjoying the fresh air and spending time with family and friends.
Main Photo Credit: Pixabay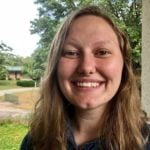 Jordan Ardoin
Jordan Ardoin is a writer and editor with a passion for sustainable, earth-friendly gardening and lawn care practices. When she isn't sharing her knowledge about lawn care and landscaping, you can find her curled up with a good book and a cat in her lap.