It's time to let the deer know, once and for all, that your yard is not Reading Terminal Market. How can you do this? You can start by trading in your hosta and daylilies for these 21 deer-resistant plants and trees to grow in Philadelphia.
Of course, no plant is completely deer-proof — if food is scarce, they'll eat just about anything. But by incorporating more deer-resistant plants into the mix, you can shut grazing traffic down like West River Drive on a weekend.
Landscaping and more at the click of a button
With LawnStarter
Below, we list plants that will help keep those white-tails at bay, because the greenery and flowers are too fragrant, too bitter, too toxic, or too textured for these woodland creatures' appetites.
Use these deer-resistant plants in your Philadelphia lawn:
Trees
Colorado Blue Spruce (Picea pungens)
Beloved for their pyramidal shape and blue-green hue, blue spruces can grow up to 60 feet tall and 20 feet wide. Their stiff needle texture causes deer to steer clear, so plant these majestic trees freely for shade, privacy screens, or accent pieces in your landscaping.
Examples of Colorado blue spruce cultivars: Baby Blue Eyes, Montgomery, and Fat Albert
Care: Low, once established. Water regularly and use mulch to maintain moisture. Drought tolerant, blue spruces thrive in full sun and well-drained soil. Blue spruces may be susceptible to some diseases.
Flowering: Small, subtle, yellow flowers in late spring/early summer.
Cost: You can get a bare root tree for $7 and a potted one for around $53.
Japanese Maple (Acer Palmatum)
Japanese maples are an excellent choice for a landscape accent, as they are on the smaller side, provide brilliant color in summer and fall, and feature leaves that are red, purple, yellow, or gold. Their sap deters deer, but these ornamental trees attract pollinators, such as moths and songbirds.
Examples of Japanese maple cultivars: Bloodgood, Crimson Queen, and Garnet
Care: Plant in fall in well-drained soil. No need to prune. Water regularly, and fertilize in spring.
Flowering: Spring blooms are golden, purple, or red.
Cost: Get a bare-root tree for around $18.
Southern Magnolia (Magnolia grandiflora)
The only evergreen among magnolia trees, this type keeps deer at bay with its super-fragrant white flowers. Reaching up to 80 feet in height and 40 feet in width, Southern magnolias work perfectly as shade trees and as specimen trees.
Examples of Southern magnolia cultivars: Blanchard, Greenback, and Little Gem
Care: Plant in full sun or partial shade in well-drained soil. Fertilize regularly during the growing season.
Flowering: White blooms in spring and summer
Cost: Buy a bare-root plant for about $11.
Shrubs
Barberry (Berberis)
No matter the type — Japanese barberry, Allegheny barberry, paleleaf barberry, or others — this plant is not a favorite of deer because of the spines and thorns many barberries have. Evergreen or deciduous shrubs, depending on the variety, barberries work well as living privacy screens, ornamental specimens, or foundation plants.
Examples of barberry cultivars: Orange Flame, Soft Caress, and Spring Glory
Care: Low-maintenance. Prune twice yearly and mulch to maintain moisture.
Flowering: Yes; yellow flowers in spring. Some barberry plants also produce red berries.
Cost: Live plants can range in price from $40 and $75.
Common Boxwood (Buxus Sempervirens)
Boxwood shrubs are perfect as foundation plants, privacy hedges (aka living fences), and walkway borders. Boxwoods can also protect plants deer tend to love, such as hostas, roses, and daylilies. How do boxwoods fend off these woodland creatures? By emanating a strong fragrance, which is caused by the sun heating the oil in their leaves.
Examples of boxwood cultivars: Fastigiata, Vardar Valley, and Pyramidalis
Care: Low-maintenance. Boxwood shrubs do best in partial shade and well-drained soil. Water weekly and trim as needed in warmer months.
Flowering: Sometimes; may produce small, white flowers.
Cost: Live plants cost around $100 each.
Spirea (Spiraea)
Perhaps it's the sweet smell of spirea's spring and summer blooms that deter deer. Offering colorful, showy flowers in blue, pink, or white, this deciduous shrub attracts pollinators and is also resistant to drought and disease. Plant in full sun and well-drained soil for best results.
Examples of spirea cultivars: Bridal Wreath, Longwood Blue, and Mellow Yellow
Care: Low-maintenance. Spirea doesn't need much fertilizer. Cut it back in winter.
Flowering: Yes. Pink, blue, or white flowers in spring and summer.
Cost: Purchase a potted plant for a little more than $40.
Get quality landscaping at an affordable cost
With LawnStarter
Redtwig Dogwood (Cornus sericea)
The deciduous red-twig dogwood tree boasts flashy red branches; berries; green foliage; and white, green, or yellow flowers in spring and summer. This dogwood, incorporated in landscape designs as ornamental specimens, privacy screens, and living hedges, can handle wet or dry soil conditions and is also tolerant of drought, air pollution, and wind.
Examples of redtwig dogwood cultivars: Arctic Fire, Silver and Gold, and Cardinal
Care: Plant in full sun or partial shade, water regularly, and fertilize annually.
Flowering: Yes; yellow, green, or white flowers in spring and summer
Cost: Depending on the size, you can buy live plants between $40 and $100.
Heavenly Bamboo (Nandina domestica)
For a brilliant display of red berries set against vivid green foliage, look no further than heavenly bamboo. Perfect as a landscape border or privacy screen, this evergreen shrub flourishes in well-drained soil in areas with full sun or partial shade. Deer tend to avoid this plant, as the berries and leaves are toxic.
Examples of heavenly bamboo cultivars: Fire Power, Flirt, and Harbor Belle
Care: Low-maintenance. Heavenly bamboo is resistant to pests, disease, and drought. Prune as needed.
Flowering: Yes, white flowers in spring.
Cost: Get potted plants for between $25 and $75.
Andromeda (Pieris japonica)
The andromeda evergreen shrub is known for its long blooming season, in which aromatic, white or pink flowers artfully reveal their beauty from early spring through winter. The strong scent repels deer, leaving this plant to thrive as a border or landscape accent.
Beware, though: Andromeda is poisonous to humans and animals, so keep that in mind if you have kids and pets.
Examples of andromeda cultivars: Cavatine, Flaming Silver, and Temple Bells
Care: Plant in full sun/partial shade and well-drained soil. Prune to maintain andromeda's shape.
Flowering: Yes, white, fragrant flowers beginning in early spring.
Cost: Live plants cost between $20 and $40.
Japanese Plum Yew (Cephalotaxus harringtonia)
The Japanese plum yew is an evergreen shrub that is avoided by deer due to its needle-textured leaves. Japanese plum yew is an excellent choice for an accent plant or privacy screen. Using well-drained soil, locate your Japanese plum yew in full sun or partial shade.
Examples of Japanese plum yew cultivars: Duke Gardens, Mary Fleming, and Prostrata
Care: Water regularly until established, and then Japanese plum yew is pretty drought-resistant. Prune to shape if desired.
Flowering: Inconspicuous yellow flowers on male plants.
Cost: Purchase potted plants for about $60 to $70 each.
Mountain Laurel (Kalmia latifolia)
The Pennsylvania state flower, mountain laurel is one of the most beautiful deer-resistant shrubs. It is beloved for its showy flowers that bloom in late spring and early summer. Mountain laurel is an evergreen shrub and deterrent to deer because its waxy leaves contain glycosides, a toxic substance that can burn the mouths of deer and other animals.
Examples of mountain laurel cultivars: Carousel, Elf, and Olympic Fire
Care: Best in partial shade and well-drained soil; mulch to maintain moisture.
Flowering: Yes; bell-shaped flowers are pink, purple, or white.
Cost: On average, you can purchase live plants for around $60.
Ornamental Grasses
Ribbon Grass (Pharlaris arundinacea)
Overall, ornamental grasses, such as ribbon grass, aren't a favorite deer food — this may be due to the texture of the blades. A cool-season variety, ribbon grass (aka reed canary grass) is drought-tolerant, and it adds depth and greenery to garden beds and landscapes. Note: Ribbon grass can become invasive, so be on guard as it can easily spread from the area where it is planted.
Examples of ribbon grass cultivars: Feesey, Picta, or Strawberries & Cream
Care: Plant in full sun or partial shade. Ribbon grass can tolerate just about any soil type.
Flowering: Almost never. If it does flower, the blooms are small and barely noticeable.
Cost: Buy a live plant for close to $40.
Variegated Liriope (Liriope muscari)
Variegated liriope is an evergreen, grass-like plant that works well as a ground cover or ornamental grass because it is tolerant of drought, salt, and heat. Like other ornamental grasses, this one's texture could be the reason deer steer clear.
Examples of variegated liriope cultivars: Majestic, Christmas Tree, and Densifolia
Care: Space 1 foot apart and water weekly, but do not over-mulch or over-fertilize.
Flowering: Yes; spikes of purple, pink, or white flowers.
Cost: Depending on the amount you want, live plants range in price from $7 to $50.
Perennials
Salvia (Salvia officinalis)
When crushed, salvia, aka "sage," emits an aroma similar to that of mint — and deer are not fans of this at all. Consider using this plant as a ground cover in your butterfly garden or xeriscape, as salvia attracts various pollinators and is drought-tolerant.
Examples of salvia cultivars: Amistad, Silver Sage, and Indian Fire
Care: Low-maintenance. Salvia needs little watering, is not susceptible to disease, and is not attractive to pests.
Flowering: Yes, purple flowers. Also possible: red, pink, and white flowers.
Cost: You can get live plants for around $2 (for a tray) and $7 (for a potted plant).
Order top-notch landscaping service with easy online booking
With LawnStarter
Bee Balm (Monarda)
To deer, the odors of most herbs, including thyme, tarragon, rosemary, and mint reek of an unpleasant stench. And mint is the very scent bee balm gives off. Border your front walks or garden paths with this perennial and marvel at its flashy blooms from April to May.
Examples of bee balm cultivars: Fireball, Marshall's Delight, and Violet Queen
Care: Plant in well-drained soil in full sun or partial shade.
Flowering: Yes, pink or white spring blooms.
Cost: Live plants can cost around $12 to $15 each.
Bleeding Heart (Dicentra spectabilis)
Bleeding heart's blooms dangle in groups, like lanterns from stems. This sets it apart from other perennials. Bleeding heart's typically pink flowers "bleed" white from their centers and attract pollinators, such as hummingbirds and bees. Deer, on the other hand, avoid this plant because of its toxic isoquinoline alkaloids, which can cause liver damage.
Examples of bleeding heart cultivars: Amore Pink, Alba, and Gold Heart
Care: Low-maintenance. There's no need to deadhead or prune bleeding heart. Drought-tolerant, bleeding heart thrives in partial shade.
Flowering: Yes; pink, white, or red flowers.
Cost: Bare-root plants cost around $12 each.
Catmint (Nepeta)
Adding catmint to your garden will ensure pops of color all year long. Lavender, blue, or white flowers will bloom in early spring and last well into fall. Come winter, after the flowers are gone, its foliage will start to show off, turning from a grayish green to a more silvery color. As with other strongly scented herbs, deer refrain from feeding on this plant.
Examples of catmint cultivars: Blue Wonder, Walker's Low, and Snowflake
Care: Low-maintenance. Plant catmint in full sun or partial shade and well-drained soil. Water catmint regularly, deadhead spent blooms to encourage new growth, and use mulch to maintain moisture.
Flowering: Blue, lavender, or white, depending on the type.
Cost: Potted plant prices are about $10 each.
Hellebores (Helleborus)
Hellebores, aka Christmas roses, Lenten roses, and winter roses, are flowering perennials that are typically white or cream-colored. Lovers of full or partial shade, these plants are toxic all over, and therefore, avoided by deer and other animals. Hellebores pair well with other deer-resistant plants, including daffodils, phlox, and bleeding hearts.
Examples of hellebore cultivars: Wester Flisk, Citron, Black Hellebore
Care: Low-maintenance. Fertilize annually and water regularly during the growing season.
Flowering: Yes; typically white, but flowers can also be pink, green, red, yellow, black, or purple.
Cost: Buy live plants for $20 to $30.
Creeping Phlox (Phlox subulata)
Creeping phlox is the perfect option when xeriscaping because this ground cover prospers in full sun and is resistant to drought, pollution, and poor soil conditions. The fragrance this plant gives off makes it a popular choice among deer-resistant perennials. Reaching a height of 4 to 6 inches, creeping phlox produces a carpet-like look.
Examples of creeping phlox varieties: Candy Stripe, Emerald Blue, Scarlet Flame
Care: Low-maintenance. Trim phlox in winter.
Flowering: Yes; spring blooms can be red, white, pink, purple, blue, or yellow.
Cost: From $4 (seed packet) to $10 (trays) to $14 (potted).
Threadleaf Coreopsis (Coreopsis verticillata)
Catching a whiff of threadleaf coreopsis' herbal-like scent is enough to keep deer from making a meal of this plant. Resistant to pests and disease, as well, this perennial works well as a ground cover and attracts pollinators, such as bees and butterflies.
Examples of threadleaf coreopsis cultivars: Heaven's Gate, Moonbeam, and Rosea
Care: Low-maintenance. Cut back threadleaf coreopsis in late fall to encourage new growth. Plant in full sun or partial shade, and use well-drained soil.
Flowering: Vibrant yellow blooms in spring and summer.
Cost: Get one plant for around $15.
One Annual
Zonal Geraniums (Pelargonium zonale)
You probably know them as common geraniums, as these annuals are popular picks for gardens. Named for the circular mark, or "zone," found on some of their kidney-shaped leaves, these flowers come in a variety of colors and can smell of lemon, lime, peppermint, or rose. These scents, along with the spicy fragrance and soft feel of the foliage, help deter deer.
Examples of zonal geranium cultivars: Boldly Burgundy, Caliente Coral, and Calypso
Care: Grow in full sun or partial shade and well-drained, nutrient-rich soil. Fertilize weekly, and deadhead spent blooms at the base of the stalk.
Flowering: Showy red, pink, or salmon-colored flowers.
Cost: Purchase live plants for around $8 each.
FAQ About Deer-Resistant Plants
What Plants are Deer More Likely to Eat?

Plants that aren't highly scented, don't contain sap, and have a non-sticky or prickly texture are more likely to be eaten by deer. Try to avoid:

● Hydrangeas
● Daylilies
● Hostas
● Roses
● Pansies
What Trees are Deer-Resistant?

Typically deer will avoid trees with a lot of sap, strong fragrances, and textured trees like evergreens with strong needles.

● Southern magnolias are beautiful flowering trees with large white flowers that homeowners love and deer would rather avoid the scent of.

● Japanese maples provide the best of both worlds by attracting pollinators with their sap while not attracting deer.

● Colorado blue spruce trees are loved for their majestic, tall stance and blue coloring, but deer are less likely to go anywhere near them due to their needles.
How Do You Keep Deer Out of Your Yard?

Your neighbor might be using strobe lights and fire-related resistance methods to keep deer away, but there are better, more natural ways to deer-proof your yard.

● Start by replacing your current flower bed with deer-resistant plants from the above list like boxwood shrubs, salvia, and blue spruce.

● Try deer repellents like contact and area repellents. You can hang or apply repellents that emit foul smells and tastes, as these are sure to keep deer sniffing elsewhere.

● Add netting and tubing around trees to effectively reduce damage to the trunks of small or young trees.

● Put up a fence to exclude deer and control damage. Conventional deer-proof fences are around 8 feet high and made of wire, but there are other fencing options that involve mesh or single-wire.
When to Call in the Pros
Hit up your local garden store — Robert J. Kleinberg Landscape Design in Newtown Square is a favorite — and DIY your landscape design. Or, if you'd prefer a more professional approach to laying out your garden, hire help from a landscaping expert.
Together, you can determine the best location for your deer-resistant plants and ensure they're installed correctly.
For garden and yard design – find landscaping pros near you
With LawnStarter
Main Photo Credit: Unsplash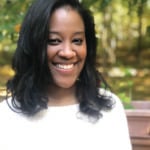 Andréa Butler
Andréa Butler is a writer and editor who loves crafting witty turns of phrase and informative, compelling copy on various topics. She especially enjoys sharing her knowledge of landscaping and pest management to help others create the outdoor spaces of their dreams.