San Diego CA, Weed Control Service at the Click of a Button
Weed control, fertilization, and other lawn treatment services from reliable pros in San Diego, CA - order online in minutes.
What services are you looking for?
As seen in...
These San Diego lawn treatment professionals are ready for work
Top Performer

Mw Steele Group
1805 Newton Ave Ste A, San Diego, CA 92113
"Established in 1983, M.W. Steele Group is an award-winning architecture, planning, and urban design firm. The firm works on a wide range of projects, including commercial, civic, and housing design jobs. The company employs a team of experts in their respective fields. "
6 yrs experience
1 Employee
In High Demand

Lopez Landscape Contractor
641 64Th St, San Diego, CA 92114
"Serving both commercial and residential clients, Lopez Landscape Contractor Inc. is a full-service landscaping company. They create landscape enhancements, install keystone block walls, work with railroad ties, install paver patios, place decorative rock, construct drainage systems, and build wood fencing. "
10 yrs experience
2 Employees
Fast Response

Obdel Ventura Landscape
265 55Th St, San Diego, CA 92114
"Offering full landscaping services to residents throughout the San Diego area, Obdel Ventura Landscape has been in operation since 1994. Their professional services include tree trimming, flower planting, yard cleanup, standard landscape and lawn care services, and comprehensive maintenance programs. "
34 yrs experience
3 Employees
San Diego, CA - Dec 10, 2023

San Diego Lawn Treatment Facts
Demand for Lawn Treatment by Month
| | |
| --- | --- |
| January | |
| February | |
| March | |
| April | |
| May | |
| June | |
| July | |
| August | |
| September | |
| October | |
| November | |
| December | |
Lawn Treatment Services & Avg Pricing
| | |
| --- | --- |
| Lawn Treatment | $82 |
| Lawn Fertilizing | $74 |
| Lawn Aeration | $121 |
| Weed Control | $59 |
| Mulching | $294 |
| Lime Addition | $75 |
| Lawn Reseeding | $687 |
| Dethatching | $221 |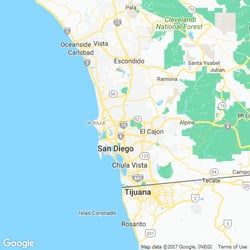 Neighborhoods we service in

San Diego

,

CA
Carlsbad, CA
Escondido, CA
Del Mar, CA
Chula Vista, CA
San Marcos, CA
Poway, CA
Solano Beach, CA
Kate Sessions
Scripps Legacy
Park Village
O'Farrell
Normal Heights Central
Rancho Bernardo Rd
Maddox Park
Logan Heights
Chollas View
Fox Canyon
San Carlos-East
Zip Codes
92101
92102
92103
92104
92105
92106
92107
92108
92109
92110
92111
92112
92113
92114
92115
92116
92117
92118
92119
92120
92121
92122
92123
92124
92126
92127
92128
92129
92130
92131
92132
92134
92135
92136
92137
92138
92139
92140
92142
92143
92145
92147
92149
92150
92152
92153
92154
92155
92158
92159
92160
92161
92162
92163
92164
92165
92166
92167
92168
92169
92170
92171
92172
92173
92174
92175
92176
92177
92178
92179
92182
92184
92186
92187
92190
92191
92192
92193
92195
92196
92197
92198
92199
Other Services