Cleveland OH, Leaf Removal Service at the Click of a Button
Leaf removal and yard cleanup service from reliable pros in Cleveland, OH - order online in minutes.
What services are you looking for?
As seen in...
These Cleveland leaf removal professionals are ready for work
Top Performer

Great Lakes Landscaping
14000 Keystone Pkwy, Cleveland, OH 44135
"Specializing in commercial landscaping and snow removal, if your workplace needs outdoor care, look no further than Great Lakes Landscaping. Located in Cleveland, this team offers full-service lawn maintenance, landscape design, seasonal colors and cleanups, fertilization, and property maintenance. "
11 yrs experience
7 Employees
In High Demand

Celeste Frate
305 Miner Rd, Cleveland, OH 44143
"With 60 years of experience under their belt, Frate Landscaping is dedicated to providing the Cleveland area with quality residential and commercial lawn care. Their offerings include landscape design, outdoor living installations, and grounds maintenance services. "
12 yrs experience
9 Employees
Fast Response

Green Ideas Landscaping
4115 W 58Th St, Cleveland, OH 44144
"Green Ideas Landscaping a landscaping design and maintenance company, located in Cleveland. With a passion for ornamental plants, this team also provides landscape master plans and consultations, tree and shrub installation, weekly lawn and bed maintenance, and organic fertilizer programs. "
11 yrs experience
2 Employees
Cleveland, OH - Dec 9, 2023

Cleveland Leaf Removal Facts
Demand for Leaf Removal by Month
| | |
| --- | --- |
| January | |
| February | |
| March | |
| April | |
| May | |
| June | |
| July | |
| August | |
| September | |
| October | |
| November | |
| December | |
Leaf Removal Services & Avg Pricing
| | |
| --- | --- |
| Leaf Cleanup and Removal | $275 |
| Bagged Leaves Removal | $47 |
| Lawn Aeration | $123 |
| Leaf Mulching | $100 |
| Garden Bed Cleanup | $100 |
| Gutter Cleaning | $180 |
| Spring Yard Cleanup | $212 |
| Fall Yard Cleanup | $350 |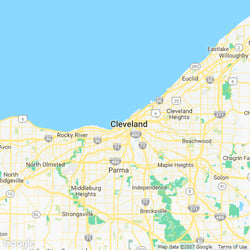 Neighborhoods we service in

Cleveland

,

OH
University
Euclid Lakeshore
Linden Park
Lorain-Denison
Variety Theater District
West 80S
Georgetown Lyndhurst
Cuyahoga Heights
Lakeview Ridge
Hough
Sprague Rd
St Clair
Kinsman
Westown
South Snow Rd
Zip Codes
44101
44102
44103
44104
44105
44106
44108
44109
44110
44111
44112
44113
44114
44115
44118
44119
44120
44121
44124
44125
44126
44127
44128
44129
44130
44134
44135
44143
44144
44181
44188
44190
44191
44192
44193
44194
44195
44197
44198
44199
Other Services