Trees can help fulfill your landscaping goals — be it shade, privacy, accent for your outdoor space, or a splash of color from cherry tree blossoms in your own Washington, D.C., area yard.
And here in the District, planting your own trees will not only elevate your home's aesthetics, but it will also put money back in your pocket.
Let's take a look at the best ways to landscape with trees around your urban, Washington, D.C., home.
1. Plant Trees for Shade
Shade trees, specifically, are valued by the D.C. Department of Energy because they help control stormwater runoff, lower heating and cooling costs, promote health benefits, reduce crime, provide wildlife habitats, increase privacy, and lessen air and noise pollution.
These trees are so valued, residents can qualify for free tree installations or rebates on trees they've purchased and planted themselves. The list of eligible trees includes various oaks and hickories, as well as other varieties — think American elms, bald cypresses, river birch trees, and red maple trees.
2. Use Trees to Add Beauty
Besides shade, privacy, and ecological benefits, trees can also augment your curb appeal, serve as a focal point, frame a house, or spruce up your perimeter. The Arbor Day Foundation has design plans ready-made for those who would like to DIY their tree landscaping job.
Maturing at a height of 15 to 25 feet, a flowering tree, such as the kousa dogwood (cornus kousa) is the perfect focal point for small yards. It grows best in partial shade (but tolerates full sun), and provides blooms of white flowers in spring; an edible fruit in late summer, and fall color as the year progresses. Bonus: Unlike traditional dogwood trees, the kousa is resistant to borers and anthracnose.
3. Grow Trees for Food
If you'd like to try your hand at growing fruit trees, there are several that thrive in our region, including European and Asian pears, peaches, apples, figs, and cherries.  Start by finding a reputable garden center and purchase plants that show no signs of disease or stress. Be aware: Only pear trees and fig trees are considered easy to care for. The others require a lot more work.
You also can try growing olive trees in Zone 7, as long as they are of a cold-hardy variety, such as the arbequina olive tree.
4. Choose the Right Tree for the Right Place
Located in the warmer part of Plant Hardiness Zone 7, meaning our summers aren't too hot and our winters aren't too cold, Washington, D.C., proves hospitable to a range of tree species, including these native ones. (On the other hand, these trees should be avoided.)
There's also the subjects of shade versus sun and spacing — trees that work in larger yards won't fit well in small yards occupied by row houses. In addition to the popular native trees, such as Eastern redbuds, other small trees suited for limited outdoor spaces include "Little Gem" Southern magnolias (magnolia grandiflora), crabapple trees (malus), and Japanese maples (acer palmatum).
5. Select Companion Plants
After installing your new trees, add no more than 3 inches of mulch around them. This helps maintain moisture and soil temperature, and it protects trees from accidental equipment damage. Be careful not to over-mulch.
Next, consider incorporating companion plants around your tree. Great options are shrubs (hydrangeas, azaleas, or spirea), perennials and annuals (hellebore, lirope, salvia, or ornamental grasses), and groundcovers (lilac, shore juniper, and winter jasmine).
FAQ about Landscaping with Trees in Washington, D.C.
What small fast-growing trees are also good for shade?
The Arbor Day Foundation suggests fruit trees, such as red delicious apple and Bartlett pear or flowering trees, such as crepe myrtles and magnolias.
What are the best privacy trees to plant?
The best trees to plant for privacy are evergreen trees, as they keep their needles all year long. One such tree that grows well in the District is the emerald arborvitae. A low-maintenance conifer with dark green foliage, this tree matures at a height of 10 to 15 feet.
Where should a tree be planted in a front yard?
Before planting a tree in your front yard, locate all underground utilities and take into consideration overhead power lines. It's also important to plant trees far enough away from your house, so the tree's roots won't eventually disturb your foundation or its leaves and branches won't interfere with your roof.
When is the best time to plant in D.C.?
The International Society of Arboriculture recommends planting trees in autumn, after leaves have fallen and trees are dormant, or in spring before buds open. The Urban Forestry Division of the District's Department of Transportation, which is responsible for planting approximately half of the trees in the city's limits, begins planting in October and continues through March.
What are the best trees to grow in Washington, D.C.?
This region's humid-subtropical climate can support a variety of tree types, including:
Sakura (Japanese cherry trees)
American linden trees
Oak trees
Magnolia trees
Fruit trees
Witch hazel
Red maples
River birches
Bald cypresses
Dogwoods, serviceberries, and other native trees
When to Call a Landscaping Professional
Introducing landscape trees is a big job, but don't be overwhelmed. Ask your local landscape architects for guidance. They'll survey your outdoor space and help you select trees appropriate for your urban yard.
And if you or your landscaper plants one or more cherry trees in your yard? Well, since you have your own cherry trees, you won't be one of the tens of thousands who flock to D.C. every year to see the blossoms.
And if the time comes when you need to remove your cherry tree. Just do it. Don't lie about it, as George Washington did way back when.
Main Photo: jonbilous / Adobe Stock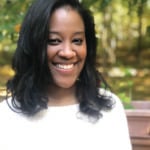 Andréa Butler
Descendant of the Fulani tribe, Gettysburg-obsessed Marine Corps brat, and lover of all things writing and editing, Andréa Butler launched Sesi magazine and has penned articles for sites, such as LivingSocial, Talbot Digital, Xickle, Culturs magazine, and Rachel Ray. Andréa holds a B.A. in English from the University of North Carolina at Greensboro and an M.A. in magazine journalism from Kent State University.