Eco-warriors and thrifty gardeners alike will swear by their compost piles, but uncontained compost can look and smell unsightly and even attract pests. Enter compost bins. These handy (and usually affordable) tools will protect your compost pile from rodents and other wildlife while protecting your home and yard from the odor of all that waste.
Shopping for a compost bin can be difficult for a beginner since there are so many different types, some for use outside the house and some for inside. We've researched many of the most popular compost bins among homeowners, and the final result is this list of the 5 best compost bins on the market today.
If you choose one of our top picks, you can rest assured you're getting a high-quality compost bin you can rely on for years to come.
Before we get into the best compost bins of the year, let's back up for a moment. What is composting, anyway? How does it work? At the most basic level, composting is a process in which microorganisms break down your organic waste and turn it into a nutrient-rich supplement for your soil.
You can learn more about the whole composting process in our Composting 101 guide.
Top 5 Compost Bins – Reviews
1. VIVOSUN 43-Gallon Dual Batch Tumbling Composter
Best Overall
VIVOSUN 43-Gallon Dual Batch Tumbling Composter
Composting is simple even for inexperienced gardeners, and this composter makes it even easier.
Composting is a pretty easy project even for novice gardeners, but tumbling composters like this one from VIVOSUN make it even more convenient. With a tumbler, you won't have to pull out your pitchfork or get your hands dirty to turn the pile regularly. You simply rotate the bin itself to "tumble" the compost inside for aeration.
This dual-batch VIVOSUN bin further improves your composting experience with two separate chambers so you can start a new compost pile in one side while an older batch continues to break down and ripen in the other. VIVOSUN claims that this compost bin should produce healthy finished compost in just weeks.
There are plenty of compost tumblers with multiple chambers on the market, so what makes this one the best? The main reasons are capacity and value. This VIVOSUN model can hold up to 43 gallons of compost. Most high-quality compost bins of this size get expensive, but this one runs right around $100.
Durable construction and bonus features helped land this bin at the top of our list. For example, its galvanized steel and high-quality PP plastic resist rust, corrosion, and degradation. Plus, because the bin stands well off the ground, it resists rodents and other pests.
Special features like adjustable air vents and deep, strong mixing fins improve air circulation in the compost and effectively break down clumps. Though those details might seem minor, they're part of the reason this bin can finish decomposing a batch of compost in such a short time.
As a small bonus, VIVOSUN throws in a pair of protective and waterproof latex rubber garden gloves with every purchase of this compost bin. The gloves will help you keep your hands clean through more messy outdoor projects than just composting.
Specifications:
Type of compost bin: Tumbler
Capacity: 43 gallons
Special features:
Covered to contain odors and keep pests out
Two chambers for multiple simultaneous batches
Adjustable air vents
2. Good Ideas Compost Collecting Wizard Dual Tumbler Compost Container
Runner-Up
Good Ideas Compost Collecting Wizard Dual Tumbler Compost Container
This dual-chamber compost tumbler has just about all the best features you could want in a composting bin.
The Compost Collecting Wizard from Good Ideas is expensive compared to our other top picks, but you definitely get what you pay for.
This dual-chamber compost tumbler has just about all the best features you could want in a composting bin. The tank rotates for easy compost pile maintenance, and its two 3.5-cubic-foot (about 25-gallon) chambers let you compost more efficiently.
Unlike most other compost bins of this style, the Good Ideas model also collects compost tea in the base — up to 5 gallons. Compost tea is the nutrient-rich water your compost steeps in, just like tea leaves steep in hot water to make real tea.
So, what do you do with compost tea? You can drain this leftover liquid from the bin's base, water it down a little, and use it to fertilize your lawn or potted plants. It's like a bonus batch of compost for which you don't have to do any extra work.
Since composting is all about helping the environment, this bin is made of 100% recycled materials. Its U.S.-made recycled plastic is BPA-free and approved by the FDA. The outside of the container absorbs heat from the sun to raise the inside temperature and speed up the decomposition process.
New composters will love the Compost Collecting Wizard because it's so easy to set up. The bin comes fully assembled, so all you have to do is place it in a sunny spot and fill it with your compostable waste over time.
Bottom Line: Overall, Good Ideas designed this model to make your composting experience easier and better.
Specifications:
Type of compost bin: Tumbler
Capacity: 50 gallons
Special features:
Covered to contain odors and keep out pests
Collects compost tea
Two chambers for multiple simultaneous batches
Absorbs heat for speedier composting
Made of 100% recycled materials
3. FCMP IM4000 Dual Chamber Tumbling Composter
IM4000 Dual Chamber Tumbling Composter
This unique tumbling composter features two chambers – fill one side, while the other side cures.
The IM4000 tumbling composter from FCMP is similar to our top pick in appearance, use, and price point. It stands off the ground on a corrosion-resistant galvanized steel frame to keep out rodents, raccoons, and other wildlife.
Large openings and a sliding door give you easy access to add new food scraps and other compostable waste.
Compost breaks down quickly in this bin. A batch can be ready for use as soon as two weeks after you start the pile. With a capacity of 37 gallons, the IM4000 can't make quite as much compost in one go as our top pick, but the flipside is that it's smaller and takes up less space in your yard.
This tumbler's durable construction includes BPA-free, UV-inhibited recycled polypropylene (one of the most commonly used plastics in the world). And this composting bin will serve you for years since FCMP guarantees its materials won't degrade in the direct sunlight required for proper composting.
Specifications:
Type of compost bin: Tumbler
Capacity: 37 gallons
Special features:
Covered to contain odors and keep pests out
Two chambers for multiple simultaneous batches
Made with post-consumer recycled plastics
4. SCD Probiotics All Seasons Indoor Composter with Bokashi
Best for Indoor Use
SCD Probiotics All Seasons Indoor Composter with Bokashi
This SCD Probiotics indoor composter is compact enough to fit right on the kitchen countertop.
Don't have the time or yard space to set up a large outdoor compost bin? Try this indoor composter from SCD Probiotics, small enough to sit right on the kitchen countertop.
The All Seasons Indoor Composter is intended for food waste only. It comes as a kit with a pack of All Seasons Bokashi, a microbial compost kick-starter that begins the process of fermenting your waste right inside your home.
If you're worried about the odor of fermentation stinking up your house, don't be. The special microbes in Bokashi eliminate the stink. Plus, the airtight lid keeps any lingering smell contained while protecting your compost from fruit flies and other indoor pests.
Keep in mind, this unique kitchen compost bin doesn't work exactly like an outdoor compost bin. It won't break down your waste all the way, but it will start the process and prepare food scraps to add to an outdoor compost pile or apply directly to the soil.
This composter collects compost tea, too. It features a convenient spigot for extracting the nutrient-rich liquid fertilizer. You can use the "tea" to improve your soil or boost the growth of your indoor plants.
The SCD Probiotics system has other perks beyond the convenience of having your composting bin right in the house. Compost treated with Bokashi loses fewer nutrients than traditional methods, so your "black gold" (a fun nickname for compost) will be even more valuable than usual.
Specifications:
Type of compost bin: Kitchen
Capacity: 5 gallons
Special features:
Sealed against odors
Covered to keep out pests
Collects compost tea
Comes with Bokashi microbes that preserve nutrients and prevent odors
5. VermiHut Plus 5-Tray Worm Compost Bin
Best Vericomposting Bin
VermiHut Plus 5-Tray Worm Compost Bin
The VermiHut Plus worm bin converts the kitchen food waste into organic compost full of nutrients for your garden.
Vermicomposting is another popular method of composting that uses worms called red wigglers to decompose waste. You can use this worm farm inside or outside.
The VermiHut Plus 5-Tray Worm Compost Bin uses the vermicomposting method, which is almost odorless. The VermiHut Plus includes a coconut fiber filter to eliminate whatever minimal odor might arise.
Worm bins are super low maintenance. Here's why: You don't have to worry about turning the compost for aeration every few days as you do with other composting methods. Just add the worms and organic material, and the little critters will take care of the rest.
What makes the VermiHut Plus better than other worm composters? It has special features to help the red wigglers with their job of decomposition. The patented "M-board" in the bin improves airflow to the inside of the compost pile while the "V-board" in the lid keeps the environment comfortably moist for the worms.
What's more, the special lid design helps keep fruit flies out of your compost, which can be a problem. Here's why: Fruit fly eggs often hide in fruit peels, which then go into the compost bin. An ant-trap around the bin's base keeps out ants in case you want to keep your compost outdoors.
At the time of purchase, the VermiHut Plus comes with 5 trays for the worms to climb through. It can hold about 10 pounds of worms, which can break down about 5 pounds of food scraps per day. If you produce more kitchen waste than that and need more worms, you can add as many additional trays as you want.
The VermiHut Plus not only produces solid compost — it also has a spigot for collecting compost tea. You can choose to use the tea to enrich your lawn, garden, or indoor plants.
Specifications:
Type of compost bin: Worm bin
Capacity: 40 gallons
Special features:
Coconut fiber filter to prevent odors
Specific features to keep out fruit flies, ants, and other pests
Collects compost tea
Can expand as needed with additional trays
Buyers Guide
Are you new to the world of composting? Maybe you're trying to live "green" for the first time, or maybe you're looking for an affordable way to breathe new life into your garden. Whatever your reason for composting, you have a lot to learn.
Composting might be easy, but figuring out how to make composting work for your specific circumstances can be hard. That includes finding the right composting bin. There are several different types, and even within those types, each individual bin varies.
Before you begin your composting journey, you have to figure out where you want to compost. On the ground or in a bin? Inside or outside? Then you have to figure out how you want to compost. Worms or no worms? What waste material will you throw in your pile?
We can help you find at least some of those answers. We'll go over your many options regarding compost bins. After all, how will you know which is the best compost bin for you if you don't know everything that's out there?
Let's start with the basics: different types of compost bins.
Types of compost bins
Stationary: You have to turn your compost pile regularly, even if you use a stationary bin. Instead of rotating the bin a few times as you would with a tumbler, you'll need to use a pitchfork or similar tool to flip the pile manually — kind of like tossing a salad.

Even though compost in a stationary bin is more work to maintain, you may still find stationary is the better option for you because stationary bins tend to be larger than tumblers. If you plan to compost a lot of yard waste (weeds, leaves, grass clippings, twigs, etc) regularly, you'll probably want to find a large stationary bin that meets your needs.
Tumbler: Tumbling composters are definitely more convenient than their stationary cousins, and they're usually large enough for common household waste. We especially recommend composting tumblers for beginners and people who want to avoid manual labor.

Another benefit of tumblers is that they're usually mounted on stands off the ground, which keeps your compost safe from pests. Because of their more efficient design, tumblers also tend to produce finished compost faster than stationary bins.
Kitchen: Kitchen compost bins are smaller bins designed for indoor use. Most people who use them keep the bin right on the kitchen countertop or under the sink for easy access when throwing out kitchen scraps (thus "kitchen compost bin"). These usually have special odor control features since they stay inside your living space.

Unlike larger outdoor bins, kitchen compost bins don't break down the compost completely. Some indoor bins hold your food waste only until you can transfer it to an outdoor compost pile or community drop-off point. Others (like the SCD Probiotics All Seasons Indoor Composter on our list) partially decompose waste into usable compost.
Worm bin: Worm composting, aka vermicomposting, is an efficient and nearly odorless method of composting. It works indoors or outdoors (as long as you live in a worm-friendly climate with temperatures between about 55 degrees and 77 degrees).

Worm bins are essentially maintenance-free for the homeowner. Most commonly, they use a type of worm called a red wiggler. The red wigglers aerate and take care of your compost for you so you never have to turn the pile.
What to look for in a compost bin
When you're trying to find the perfect compost bin for you, there are many special features you can look out for. Here are some of the characteristics we considered when searching for our top picks:
Capacity: Most product pages on retail websites will list a compost bin's capacity in gallons. You can consider a bin small if it holds 1 to 10 gallons, medium if it holds 11 to 30 gallons, and large if more than 30 gallons.

Small to medium bins usually won't have space for heaps of yard debris, but larger bins have their own drawbacks. Larger compost piles take longer to decompose fully, and they can be more of a hassle to turn.
Material: Many compost bins, including several of the ones on our list, are made of 100% recycled materials. These bins often feature black (or another dark color) plastic because dark colors absorb heat better, and heat is a necessary ingredient for successful composting. Compost bins, especially DIY ones, also can be made from wood, metal, and stone.
Odor control: You should definitely look for a bin with some means of odor control, especially if you plan to keep your compost bin indoors or close to an outdoor living space.

At the very least, that means you need a bin with a cover. Some bins go even further to contain odor with filters made of various materials (charcoal filters are the most common) or an airtight seal around the lid. Reducing odors also means attracting fewer rodents and other wildlife pests.
Indoor vs. outdoor: Depending on where you plan to keep your compost, you'll have different needs for your bin. Most compost bins will be explicitly labeled for indoor or outdoor use, so pay attention to that.

Bins made to use outside likely won't prevent odors as well and could stink up your home. Since they need heat from direct sunlight to promote the bacteria and fungi that break down your waste, these bins won't work as effectively indoors.

On the other hand, bins designed for indoor use likely won't have what it takes to weather the elements. The material of the bin could melt in constant direct sunlight, and wind, rain, or extreme cold might cause damage. You might also have problems with pests, since an indoor bin's lid isn't intended to keep out wildlife.
FAQ About Compost Bins
1. What waste can you put in compost?
Any decomposable material can go in your compost pile, including:

— Fruit and vegetable leftovers
— Coffee grounds and tea bags
— Eggshells
— Leaves
— Wood
— Paper
— Cardboard
2. What waste can't go in compost?
Not all the waste you produce is compostable. Some of the most common waste materials that won't break down into compost include:

— Any kind of plastic
— Animal byproducts (dairy, meat, bones, etc.)
— Foods rich in fat or oil
— Human or pet feces
— Garden waste treated with pesticides
— Garden waste from sick plants
— Weeds
3. Where should you put a compost bin outside?
A compost bin should sit in a sunny spot on bare soil. It should be in an area of the yard where odors or leaking liquids won't cause problems. 
Conclusion
Whatever compost bin you decide to purchase, the most important thing is that you're doing your part to reduce waste and preserve the environment. According to the U.S. Department of Agriculture, about 30% to 40% of the food supply in the United States goes to waste. That waste goes to landfills and contributes to harmful emissions.
When you compost, you turn a good portion of your personal waste into valuable soil food. So, give yourself a pat on the back! You're trying to reduce your carbon footprint, and that matters.
We hope our recommendations of the best compost bins will help you to find the perfect one for your yard or kitchen counter. And if you start composting and end up with a lush, beautiful lawn, LawnStarter can connect you with a local lawn care pro (including eco-conscious pros) to help you keep it that way.
LawnStarter participates in the Amazon Services LLC Associates Program and other retailer affiliate programs. LawnStarter may earn revenue from products promoted in this article.
Note: Amazon star ratings and the number of reviews for the products listed above may have changed since that material was collected.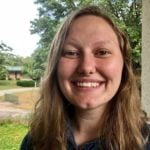 Jordan Ardoin
Jordan Ardoin is a writer and editor with a passion for sustainable, earth-friendly gardening and lawn care practices. When she isn't sharing her knowledge about lawn care and landscaping, you can find her curled up with a good book and a cat in her lap.