Do you have tall trees or shrubs in your garden that you can't trim with short-handled shears or hand pruners? That's where loppers can help, with their extended reach and heavy-duty blades for thick branches.
But which lopper is right for your needs? After combing through many of the most popular loppers on the market, we found the 5 best loppers for home gardeners.
What kind of budget do you have for garden tools? What special features do you need in a pair of loppers? Whether you're looking for something simple and sturdy or an extendable tool for both up-close and overhead jobs, our picks for the best loppers include something for you.
Top 5 Loppers – Reviews
Melnor's telescoping bypass lopper gives you options. You can keep the handles at 28 inches when you're working on branches right in front of you, then extend them up to 37 inches when you need to prune higher branches.
Impressive cutting capacity: You can cut thick branches with this lopper, too. It slices through branches up to 2 inches around, which is thicker than a majority of the other loppers we reviewed.
Plus, this lopper comes with a pair of hand pruners, all for less than $30. You get a real bargain, and Melnor backs both tools with a lifetime warranty.
Specifications:
Cutting mechanism: Manual
Blade type: Bypass
Handle length: 28 – 37 inches
Weight: 3.34 lbs
Cutting capacity: 2 inches
Features at a glance:
Forged steel blades
Rust-resistant titanium coating
Extendable handles
Ergonomic grips
Shock-absorbing bumper
If you don't want a lopper with extendable handles, the 28-inch bypass lopper from Fiskars is the best one you can buy right now, according to our ranking.
Because of the bypass style blades, this lopper cuts cleanly, even when cutting soft, green growth. The blades will stay sharp because they're made of hardened steel, and they won't rust due to the corrosion-resistant, non-stick coating.
This lopper also comes with ergonomic features, including thick, comfortable grips and a bumper between the handles to absorb some of the shock of difficult cuts.
Budget-friendly: Like our top pick, the Fiskars 28-inch lopper is reasonably priced for the average home gardener at less than $30. It even comes with a lifetime warranty from Fiskars.
Specifications:
Cutting mechanism: Manual
Blade type: Bypass
Handle length: 28 inches
Weight: 2.9 lbs
Cutting capacity: 1.5 inches
Features at a glance:
Hardened steel blades
Rust-resistant coating
Ergonomic grips
Shock-absorbing bumper
This compound action lopper from YARTTING is the first tool on our list so far with a cutting mechanism that increases the pressure of the blades so you get more powerful cuts with about 50% less effort. With that pivoting lever ("compound action") mechanism, this lopper can cut through branches up to 1.6 inches thick while going easy on your arms and back.
Best for heavy-duty applications: Unlike the other loppers in our top picks, this one has anvil-style blades, which makes this tool better for heavy-duty jobs like cutting up dead wood or pruning woody branches. The non-slip flat blade (the "anvil") will hold branches in place for precise cuts.
We can't recommend this model for soft green growth, though, as the anvil blades tend to crush and tear those delicate stems.
YARTTING says fruit tree pruning, potted plant pruning, removing thick twigs, and rose bush pruning are some of the best uses for this compound-action lopper.
Specifications:
Cutting mechanism: Compound action
Blade type: Anvil
Handle length: 25 inches
Weight: 2.48 lbs
Cutting capacity: 1.6 inches
Features at a glance:
Hardened SK-5 Japanese steel blades
Rust-resistant coating
Ergonomic grips
The ratchet mechanism in STEELHEAD's heavy-duty lopper gives you three times the cutting force of your strength alone. What this means: You can easily slice through branches up to 1.75 inches thick with much less effort than you would have to put into cutting with a manual lopper.
This lopper's blades, made from high-quality SK-5 Japanese steel, are durable and hold their sharp edge even after heavy use. A corrosion-resistant, low-friction coating prevents rusting and keeps sap, bits of plant matter, and other debris from sticking to the blade.
Because the blades are bypass-style, they make clean cuts on both woody branches and soft green growth.
Telescoping handles: Got tall trees? This lopper could be perfect for you because the handles extend up to 40 inches. Before extension, they're 27 inches long, so you can use them for a wide range of pruning and trimming jobs.
Specifications:
Cutting mechanism: Ratcheting
Blade type: Bypass
Handle length: 27 – 40 inches
Weight: 4.09 lbs
Cutting capacity: 1.75 inches
Features at a glance:
High-carbon SK-5 Japanese steel blades
Rust-resistant coating
Extendable handles
Ergonomic grips
The PowerGear2 lopper from Fiskars packs a lot of power in its 32-inch package. Fiskars' patented PowerGear cutting mechanism uses a modified gears-and-cam system to multiply your strength threefold for each cut. You can cut branches up to 2 inches thick with less muscle than many other loppers would demand.
Designed to reduce fatigue: While the PowerGear cutting mechanism helps you exert less strength, the padded handles keep your hands and wrists comfortable.
The Fiskars PowerGear2 is so good at reducing hand and wrist fatigue that it earned the Arthritis Foundation's Ease of Use Commendation.
If this tool malfunctions or you aren't satisfied with its performance, Fiskars offers a full lifetime warranty.
Specifications:
Cutting mechanism: Geared
Blade type: Bypass
Handle length: 32 inches
Weight: 4 lbs
Cutting capacity: 2 inches
Features at a glance:
Hardened steel blades
Rust-resistant coating
Ergonomic grips
Buyers Guide
More Americans have picked up gardening recently than in the past 20 years or so, partly because people are spending more time at home after the COVID-19 pandemic.
If you're one of those new gardeners, you probably have never purchased a lopper before, and you may not know what kind you need.
What is a lopper? Loppers are designed to "lop" (cut off) large branches from the main trunk of a tree or tall shrub. These tools don't sweat the small stuff — they're for big jobs only.
Even if you're a hardened veteran of lawn and landscape care, keeping up with all the new technologies in the gardening tools industry can be difficult.
In this buyers guide, we'll help you understand the differences between the many types of loppers on the market today. We'll also explain which features you should look for in a lopper to meet your landscape's specific needs.
Cutting Mechanisms: Manual, Geared, Ratcheting, Compound Action
A lopper's cutting mechanism consists of whatever parts the blade uses to open and close. Some are extremely simple, while others include extra parts to increase cutting power and decrease fatigue.
These are the main types of cutting mechanisms in loppers:
Manual: Manual loppers are the simplest type. A screw holds the blades together, and they just open and close like regular scissors. The power of the cut depends entirely on the user's strength, so manual loppers may not be suitable for larger branches.
Geared: Geared loppers include a set of gears near the cutting head. As you open and close the blades, the gears add more pressure and power to the lopper's cut. Geared loppers can be inconvenient in small spaces because you have to open the blades as wide as they'll go to reset the gears.
Ratcheting: Ratcheting loppers add extra pressure to the branch you're cutting every time you squeeze the blades shut. You can open and close the blades to engage the ratchet mechanism several times on the same branch to increase the pressure of the cut. Ratcheting loppers may be the best choice for you if you have limited upper body strength.
Compound action: Also known as lever-action, this cutting mechanism uses a system of pivot points and levers between the handles to add more pressure to cuts and reduce the muscle you have to put in. Beware that compound action systems are usually made of steel, so they add weight to the lopper.
Having a hard time picturing how the different types of loppers work? Check out this video guide from Gardening Products Review for a visual aide:
Blade Types: Bypass vs. Anvil Loppers
Like other kinds of garden shears, loppers can have bypass or anvil blades. Since loppers are usually used for cutting thicker branches, neither blade type is necessarily better or worse. Which blade type you need depends on the job.
Here's the difference between bypass and anvil blades:
Bypass blades have two sharp blades that overlap when closed, just like regular scissors. These blades cut plant matter cleanly and won't damage soft, green new growth.
Anvil blades have one sharp blade and one flat, fixed blade. Think of the cutting blade as the "hammer" that comes down on the flat blade, or "anvil," to crush plant matter until it breaks into two pieces. Anvil blades are better for exerting pressure on thick, woody branches or dead wood, but they don't make clean cuts, so they can tear and damage green growth.
Special Features of the Best Loppers
Once you have a good idea of the specific type of lopper you need, you have to choose which model is best for you. You can make your decision based on the price, size of the tool, and which special features it includes.
We'll give a quick explanation of some of the specifications and features you should look for when shopping for a lopper:
Hardened, heat-treated, or high-carbon steel blades: Steel blades that have been treated with heat (aka hardened, tempered, or forged) are more durable than other blades (including stainless steel). They won't break under pressure, and they won't lose their sharp edge for a long time. Even when they do, you can resharpen them instead of buying a new blade.
Rust-resistant coating: You should never cut plants with a rusty blade, as the rust can cause damage and disease. Find a lopper with a rust- or corrosion-resistant coating on the blades if you don't want to have to replace a rusty blade every 6 months or less. While stainless steel blades resist rust on their own, they don't have the same durability as harder steel.
Extendable handles: Extendable loppers, also known as telescopic loppers, are great because you can use them for a lot of different jobs. You can cut higher branches way over your head or ones right in front of you. The downside is that extendable handles are usually hollow, which makes them a little less sturdy than the solid handles on non-extendable loppers.
Ergonomic handle grips: Pay attention to the grips on a lopper before you buy it. Some "non-slip grips" are nothing more than a thin layer of rubber or PVC, and they don't include any material to cushion your hands. Look for handles with comfort grips made of foam or another soft material to help reduce hand fatigue while you work.
Shock-absorbing bumper: Cutting through thick branches can be jarring, and the shock from those cuts goes straight to your arms, shoulders, and back. Shock-absorbing bumpers between the handles of a lopper will intercept a good portion of that shock before it reaches your body, reducing fatigue and pain caused by trimming and pruning.
Weight: A lot of the time, you'll hold loppers over your head to cut branches on tall trees. If you get a pair that's too heavy, lifting them like that over and over will tire you out quickly. However, a pair that's too light may have hollow or flimsy handles, so read lots of reviews or handle them in the store yourself if possible. We consider a lopper "lightweight" if it weighs 2.5 pounds or less.
Handle length: Loppers aren't one-size-fits-all. When shopping, think about the primary use for your lopper. If you have shorter ornamental trees and shrubs, you're better off with shorter handles around 20 inches or less. If you'll be working on tall trees, you need a longer reach, so loppers of 28 inches or more might be best for you. If you have both tall and short trees, consider an extendable lopper.
Cutting capacity: A lopper's cutting capacity represents the thickest branch you can easily cut with that lopper. Most loppers have a cutting capacity of around 1.5 inches, but some go up to 2 inches or even more in heavy-duty, commercial-grade options.
Price: Some loppers cost more than $100, but that isn't the norm. You can usually expect to pay about $30 to $50 for a good lopper from a premium brand. There are many high-quality loppers (including some options on our list) available for less than $30.
FAQ About Loppers
1. What is better, anvil or bypass loppers?
Anvil loppers are better for chopping thick, woody branches or dead wood, where clean and healthy cuts don't matter as much.

Bypass loppers are better for cutting any green plant matter, as they make cleaner cuts and won't tear the plant as anvil loppers often do. 
2. What's the difference between loppers and pruners?
Loppers and pruners are both types of garden shears. 

Loppers have long handles and larger blades for cutting larger branches. You use two hands to operate loppers. 

Pruners are much smaller, and you typically hold them in one hand. You would use pruners for flowers and other small plants with stems and branches of around half an inch or less.
3. Can loppers be sharpened?
Yes, you can sharpen a lopper instead of replacing the blades when they eventually go dull. Use a flat file, hone, or whetstone to sharpen your lopper's blades.   
What to Do With Your Lopper
When you're done shopping, it's time to get lopping! Use your new lopper to:
Trim mature trees every 3 to 5 years
Trim young trees every 2 to 3 years
Prune shrubs every other month (5 to 6 times per year)
Cut back scraggly trees and shrubs in their dormant season
If trimming and pruning aren't your forte or you don't have time to work on your garden and yard as often as you should, consider hiring a professional landscaping company to do it for you. Pro landscapers can keep your plants healthy and your landscape well-manicured while you rest on your laurels.
Main Photo Credit: Marcel Paschertz / Shutterstock
LawnStarter participates in the Amazon Services LLC Associates Program, an affiliate advertising program. LawnStarter may earn revenue from products promoted in this article.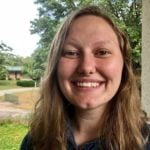 Jordan Ardoin
Jordan Ardoin is a writer and indoor plant enthusiast hailing from Florida. In her spare time, she enjoys chasing her two cats around the house and trying to keep her houseplants alive.