A lawn time ago in a small town not so far away, a sport called lawn mower racing was born. It's exactly what it sounds like: People getting together to see who's faster on their riding lawn mowers.
Today, lawn mower racing is bigger than you would believe if you've never heard of it. There are national leagues, family legacies, and international contests over World Land Speed Records … but that's not how it started. Join us as we trace "the poor man's NASCAR" all the way back to its humble roots. 
Mower Racing's Home Turf
The world's first recorded lawn mower race was little more than something to keep families busy on the Fourth of July. Its organizers and participants could never have imagined the phenome-lawn this zany sport has become.
The year was 1963. The place was Twelve Mile, a town in Indiana with a population of about 1,000 people to this day. The local Lions Club needed an idea for a Fourth of July event. As could only happen in a small town, someone suggested hosting a lawn mower race.
So, on July 4, 1963, the first annual Twelve Mile 500 commenced at Plank Hill Park. The race was a runaway (or mow-away) success, and it's been held every Independence Day since. 2022's race will be the 60th of its kind.
All the competitors of that first race came out to have fun, not to make money, and the same is true today. Just like back then, all proceeds of the race go toward the Twelve Mile Lions Club's community improvement projects.
Across the Pond
It wasn't until a decade later that anyone had the engine-ius idea to organize a national lawn mower racing league. This league was entirely unconnected to the Twelve Mile 500 in Indiana. It was founded about 4,000 miles away and across an ocean, in the United Kingdom.
One fateful night in 1973, Jim Gavin, an Irish motorsport enthusiast, and a group of friends were drinking at a pub in Wisborough Green, a village in West Sussex, England. As they drank, they lamented the rise of commercialism in motorsports and the high cost of racing that barred so many people from being able to participate.
They spent the evening trying to come up with some way to make motorsports more accessible for the Average Joe who wanted to experience the bond between man and machine but didn't have thousands of dollars to drop on a hobby.
At some point, they noticed a groundskeeper mowing the lawn of a nearby cricket pitch. "Everyone has a lawn mower," they thought. And thus, the British Lawn Mower Racing Association (BLMRA) was born.
For that first race, about 80 participants showed up with mowers raring to go. The event, held in a local field, was by all accounts chaotic — disorganized lawn mowers running all over the place, no bathrooms, and a bizarre lawn mower tug-of-war as the grand finale.
But amid the chaos, everyone had great fun. Soon, the young BLMRA was holding races all across Sussex.
In an interview years later, Gavin said the association's most important goals were to have fun and to give back. "The input is coming from the local community anyway, so we give any profits we make back to the community," he said.
In 2022 as in 1973, the BLMRA doesn't give out cash prizes, and all profits go to local charities.
Gavin, widely regarded as the founder of lawn mower racing, passed away on January 10, 2022. His spirit and his values survive him on both sides of the Atlantic in the sport he helped create.
The United States of A-mow-rica
In 1992, fuel stabilizer manufacturer STA-BIL took notice of the booming lawn mower racing scene in the UK and knew such a free-wheeling spectacle would be right at home in the United States.
STA-BIL announced its first lawn mower race as a publicity stunt on April Fool's Day, but it was no joke. The race was a smash hit (as seems to be the pattern), so STA-BIL and founder Bruce Kaufman formed the United States Lawn Mower Racing Association (USLMRA), inspired by the British system.
Now, the USLMRA is the largest mower racing league in the country, with local chapters spanning many states. It hosts races from Florida to Oregon and most places in between. This year, the association celebrates its 30th lawn-iversary on April 1st.
Chuck Miller, a racer who's been around the USLMRA since the inaugural race in 1992, has witnessed the association and the general culture of lawn mower racing grow. What used to be one or two races per year has evolved into a series with 10 or 12 races all over the country in some years.
"Going to a lawn mower race is like going to a family reunion that you want to go to," Miller says, and that seems to be the general consensus among those who have been racing with the USLMRA for a long time.
As with the British league and the original Twelve Mile 500, the USLMRA has always been as much about community as it is about the rush of the race itself. President Kerry Evans, who's been in one role or another for 25 of the association's 30 years, says that no matter which state they're in, the same spirit of camaraderie follows them.
Since the organization's founding, "We've been rocking and mowing," Evans says.
And of course, wherever the USLMRA goes, they find a local cause to raise money for. They've supported local fire departments, Optimist Clubs, and similar organizations that support communities.
Lawn Mower Racing in the 21st Century
Now, people from all walks of life have given in to the need for speed and tried their hand at lawn mower racing. In addition to the USLMRA and BLMRA, there are local racing groups all over the US. Men and women, boys and girls of all ages can join in on the fun.
And what fun it is! You wouldn't believe the current state of lawn mower racing without seeing it. Racers rig their mowers with engines from go-karts and motorcycles to make them go up to 60 mph in most races – and sometimes, even faster than 100 mph.
Anyone who has been to a lawn mower race will tell you it's a thrill, even if you're only watching. The rumble of engines roaring past and the atmosphere of competition is really something to see – and hear.
Even though a lot has changed, the values of the lawn more racing community have stood the test of time. The racers think of each other as family and look forward to seeing each other every year.
They don't race for money or prizes but for love of the race itself – and, of course, the all-important bragging rights.
Want to watch and hear a lawn mower race near you for yourself? Check out our Calendar of Lawn Mower Racing Events across the U.S.
Main Photo Credit: Peter Black / Flickr / CC BY-SA 2.0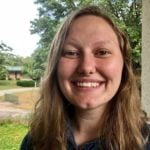 Jordan Ardoin
Jordan Ardoin is a writer and editor with a passion for sustainable, earth-friendly gardening and lawn care practices. When she isn't sharing her knowledge about lawn care and landscaping, you can find her curled up with a good book and a cat in her lap.