A thick, green lawn or crowded, intricate landscaping with trees, hedges and flowering perennials — a backyard in Richmond can be anything. One thing it doesn't have to be is high maintenance.
You want to put a personalized touch on your yard, one that makes it a private oasis. But you want a place to play, not a place that requires a lot of work.
Maintenance: Low, not No
"Some people hope for the magic answer where there's no maintenance," according to Sierra Athey Seekford, an environmental educator with the Chesterfield County office of Virginia Cooperative Extension.
Seekford says she gets questions from homeowners all the time about keeping a great yard with minimal maintenance. Her office offers programs to help get homeowners started. The most popular program? The learn your landscape program, where a master gardener meets homeowners at their property to help them establish a plan.
Seekford points out no landscape is entirely maintenance-free. And nothing adds unexpected work to a project like being unprepared. Here's where a pro can help you map out a plan.
Plan It Out
Before overhauling your backyard, you need to answer some crucial questions. What do you plan to do in the yard? How much sun does it get? Does it drain well or hold water? Is the soil rich, or does it need amendments?
Consolidate bed plantings and areas of open grass or mulch. Seekford says keeping grass areas small and adding perennial beds will limit the amount of mowing, edging, and fertilizing.
Mulched beds with hardy plants need less maintenance, and keeping them together will make your job easier when tending your beds or mowing your grass.
Are there places where gravel or mulch makes more sense than struggling grass? Would a patio be a better fit in that tricky area right by the house?
Go Native
Native plants have evolved over hundreds of years to thrive in the Richmond climate. This means less fertilizer, fewer pests, and, most importantly, less work.
You don't even have to sacrifice beautiful flowers, flowering shrubs or fruit trees. Choosing native plants is also better for the local ecosystem. They attract local wildlife, contribute to biodiversity, and are essential to a healthy watershed. "The native plants have adapted to this environment," Seekford says. "They've evolved with the insects and other wildlife." They can also survive with less water.
And Richmond gardeners have plenty of native choices.
Eastern red columbine
This perennial blooms with spectacular red and yellow bell-like flowers. It grows best in part shade and self-sows, so you don't have to plant it again next year.
Common Jack-in-the-pulpit
This easy-to-cultivate plant loves woody or garden areas, producing berries for local birds and mammals.
Milkweed
Several species of this butterfly favorite are native to Richmond, including ones that boast clusters of white, orange, and pink flowers.
Splitbeard bluestem
This native grass can grow as high as four feet, and bursts in the fall with silvery-white tufts on the tips of its stems.
Sweetbay magnolia
The white fragrant flowers that bloom in the spring are a Southern favorite. Their seeds make them a favorite for local birds.
Flowering dogwood
The dogwood's small stature and long-lasting, aromatic blossoms and bright red fruit make them an easy choice for Richmond.
Seekford also recommends black-eyed Susans, coneflowers, and anise hyssop, a purple-flowering vine that's a favorite for local pollinators. That's why she grows it at the Chesterfield County Extension office. She also grows the anise hyssop in the native plant demonstration garden, which is often crawling with pollinators.
Get more information: In addition to the recommendations above, there are plenty of guides to Virginia natives available online, including:
"Native Plants for Conservation, Restoration and Landscaping" from the Virginia Department of Conservation and Recreation.
"Native Plant Guides" from the Virginia Native Plant Society.
"Plant Virginia Natives" from a partnership of Virginia governmental agencies and environmental groups.
Get Creative With Surfaces
Using hardscapes like paved paths or patios can add interest and functionality to your landscape. And more hardscape means less grass to mow. Hardscaping can include gravel pathways leading to your garden. The rocks and pebbles conserve water, help stave off erosion, and keep weeds from growing. Other hardscaping ideas? Retaining walls, fire pits, pool decks, and seating walls.
Rethink Your Turf
Low-maintenance doesn't mean no lawn. You can cut down on the amount of yard work by choosing the right type of grass. Virginia falls in a transition zone for grasses, thanks to cold winters and hot summers.
"That transition zone," Seekford says, "means you can grow many different types of grass, but for most to do well, they require some work." Cool-season grasses enjoy temperatures from 60 to 75 degrees Fahrenheit and do best in late summer to early winter. The extension co-op recommends tall fescue as "the best-adapted turfgrass across the state," with more than 100 cultivars.
If you prefer a warm-season grass which will look its best during the summer, Seekford says Bermuda is low-maintenance and a local favorite.
Get Help
Still not sure what to plant where? Seekford and the Chesterfield County Extension Office are happy to make recommendations.
Sierra Athey Seekford graduated from Virginia Tech with a bachelor's degree in biochemistry before joining the university as an environmental educator with the Chesterfield County Cooperative Extension.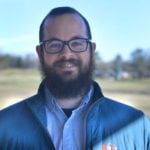 Derek Lacey
Formerly the agriculture writer for the Hendersonville Times-News, Derek Lacey's articles have appeared in U.S. News & World Report, The Charlotte Observer, News & Observer, and The State. He has won 15 awards from the North Carolina Press Association and GateHouse Media, for pieces ranging from news features and investigative reporting to photography and multimedia projects.