A yard is an escape. It's where families spend summer afternoons, where Dad fires up the grill, and where you can leave your worries and enjoy a slice of the peaceful outdoors. That's especially true around Raleigh, where more than 714,000 people run busily to and from work every day. A well-landscaped backyard can provide a much-needed break from that hustle and bustle. The good news is you can have that space without creating another job in keeping it up. No yard, lawn, landscape, or garden is entirely maintenance-free. But some simple steps can significantly reduce how much time and sweat, you have to put into it. Here are some basic steps you can take to have a beautiful backyard escape without too much effort.
Have a Plan
The first step in creating a low-maintenance backyard is planning a low-maintenance landscape. "Knowing all the specific details of your particular site is essential in getting the best return on your landscape investment," says Dr. Bob Polomski, a horticulturist at Clemson Cooperative Extension's Home and Garden Information Center.
"Evaluate the landscape. It's important to know which areas get sun, and which are in the shade," says Dr. Polomski. Soil, water, and slope affect how much work you have to do to keep up your lawn. They also affect which plants will work within the landscape and how it develops over time.
"It's also important to understand the water movement on your land. Do you have areas that pool or slope?" He warns this could affect which plants thrive and which will not. Polomski explains lawns on steep slopes aren't only high-maintenance, they're unsafe.
Check your dirt. A soil test will show what fertilizers or soil amendments you'll need, and how well it will drain or hold water.
Once you've got the lay of your land, it's time to put together a design.
Lay It Out
The second step is to decide what goes where. And if the goal is creating a welcoming, lush landscape without the work, simplicity in design is the key. Limit your plants to a few different species. A short plant list means a shortlist of fertilizers, pesticides, and maintenance tasks. Simple shapes and groupings of beds and turf will also save you time mowing, edging, and mulching. If you're looking to save time and mone, Polomski recommends planting flowers that need frequent watering together, and near a water source. "High-profile plants may require more water. You don't want to have to haul 50 feet of hose to your water bed every day." That goes for your grassy areas, too. Consolidating areas of grass and flowers will streamline the work when mowing or watering. "This not only saves time but increases your sustainability."
The Right Turf
A low-maintenance lawn doesn't mean you can't have grass. But if you want that immaculate carpet of turf, the most important factor is the type of grass you plant. Several types of turf that thrive in the Triangle area also need little water and prefer shady front yards. Bermuda, Zoysia and St. Augustine are hardy, but the best options for a low-maintenance turf are Carpetgrass and Bahiagrass. Both types need less water, mowing, and fertilizing, and will stand up to heavy foot traffic. Find the right type of grass for your property and you'll be spending much more time enjoying that lawn than working on it.
Go Native
Native plants evolved over thousands of years to thrive in the local Raleigh climate, weathering heat, cold, drought, and floods. Filling your yard with native plants will add texture, interest, and body to your landscape. Native plants need less maintenance than exotic plants. They'll also make your yard more eco-friendly by encouraging local wildlife and pollinators to visit. Those native plants don't have to be boring either and include everything from trees to shrubs and flowering perennials. Some examples include:
American Holly – Holly grows wild across North Carolina, provides deep greens and red berries that bluebirds love.
Flowering Dogwood – The North Carolina State Flower is a great candidate for shady spots and another favorite of local birds.
Blueberries provide shrub-like ground cover and a delicious superfood.
Butterfly Weed – The bright yellow and orange flowers are favorites of migrating Monarch butterflies. They're drought-tolerant and can handle full sun.
Passionflower – This vine grows in every county in the state, with purple and white flowers in late summer and early fall.
Hardscaping Makes It Easy
One effective way to add an attractive, usable, and low-maintenance feature to your landscape is by adding hardscape. Pavers, patios, and decks provide spaces to host that weekend tailgate party without having to spend all day working in the yard. Especially useful in high-traffic areas, patios or other hardscaping features mean long-term use with minimal maintenance. Sidewalks, fences, steps, and walls also fall into this category and need little maintenance while adding interest to your landscape. Compare the initial costs of different materials, as well as their long-term cost, maintenance, and durability before installing.
Turning Plans Into (Not Too Much) Action
With an idea, plan, and design, you can make your Raleigh landscape beautiful, usable, sustainable, and most of all, low-maintenance.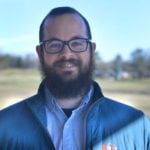 Derek Lacey
Formerly the agriculture writer for the Hendersonville Times-News, Derek Lacey's articles have appeared in U.S. News & World Report, The Charlotte Observer, News & Observer, and The State. He has won 15 awards from the North Carolina Press Association and GateHouse Media, for pieces ranging from news features and investigative reporting to photography and multimedia projects.