Your tree-filled landscape becomes a lot harder to maintain when fall arrives and that perfect lawn becomes a blanket of dead leaves. A leaf blower can make leaf removal much easier — if you get the right kind.
Here's a guide to leaf blowers to make your autumn easier.
The basic categories are:
Which one is best for you? That's what we'll explore in this buyers guide to leaf blowers:
Factors to Consider When Shopping for a Leaf Blower
Power
The industry measures the power of different leaf blowers using two measurements: air speed and air volume.
Air speed determines how well the leaf blower can lift leaves and uses mph (miles per hour).
Air volume uses cfm (cubic feet per minute), and it determines the amount of leaves the leaf blower can move and how far it can move them.
If you have a large property with a lot of trees, you should look for a leaf blower with a lot of power. That way, your job of moving a lot of leaves long distances will be easier and faster.
According to Wirecutter, you should take air speed and air volume measurements with a grain of salt, as there is no industry standard for how to gather these stats. Don't base your decision solely on the manufacturer's claims.
Portability
Think about your property. How much distance will your leaf blower have to cover? Does your yard have obstacles (trees, gardens, swimming pool, etc.) that you'll need to maneuver around?
Your answers to these questions determine how portable you'll need your leaf blower to be. If you have a small, empty property, you won't have to worry about this factor too much.
Cost
The price range of leaf blowers varies greatly depending on the type and the brand. You can get certain models for around $20, while others cost $500, or even more. For more information, see LawnStarter's How Much Does a Leaf Blower Cost? pricing guide.
If you think you'll use your leaf blower year-round for large jobs, you might consider shelling out a lot of cash for this tool. If you anticipate using a leaf blower only a few times a year for your small suburban yard, there's no need to break the bank.
Whatever your budget, there's a leaf blower with the right balance of affordability and quality for you.
Noise
Many cities and neighborhoods have restrictions in place when it comes to a leaf blower's noise level. Some delegate certain hours when leaf blowing is allowed, while others ban louder models altogether.
You'll find the decibel level of most leaf blowers on their product labels. Before you buy a new leaf blower, make sure it meets your community's rules. If you live in a rural area without any close neighbors, you probably won't have to worry about noise (outside of protecting your own ears with ear plugs).
Stihl, a reputable leaf blower manufacturer, has laid out instructions for being courteous to your neighbors while operating a leaf blower.
Let's take a closer look now at the different types of leaf blowers in light of the factors above:
3 Types of Leaf Blowers
1. Gas leaf blowers
Gas-powered leaf blowers come in three different styles: handheld, backpack, and wheeled. Backpack leaf blowers are the most popular of these, since they pack the power while distributing the weight of the heavy gas engine across your back and shoulders.
Gas-powered leaf blowers are your least eco-friendly choice, because of their toxic emissions. For this reason, gas leaf blowers may not even be an option where you live. California is the first state that will ban the sale of new gas-powered lawn care equipment (including leaf blowers) by 2024.
But if you can opt for the generally most powerful type of leaf blower, here's what you need to know:
All gas leaf blowers use either a two-cycle or four-cycle engine.
The two-cycle engine is lighter but requires blended fuel.
A four-cycle engine runs only on gasoline, but it's much heavier.
Gas blowers are the most high maintenance type of leaf blower. They require regular cleaning and oil changes. If you choose a model with a two-cycle engine, you'll have to mix the gas and oil for its fuel yourself or purchase a premixed blend.
Now that you have a general understanding of gas leaf blowers, let's get into the details.
Power: Generally speaking, gas blowers are the most powerful type of leaf blower. They typically have a higher air speed and air volume than their electric counterparts.
Portability: Since gas blowers don't require a cord, they're very mobile. However, gas engines are heavy. A handheld model (and even some backpack blowers) might be difficult to carry for long periods of time. Wheeled gas blowers can be stubborn to push and maneuver, especially if the land isn't flat.
Cost: $90-$220 for handheld, $160-$480 for backpack, $280-$800 for wheeled
Noise: These are by far the loudest leaf blowers. Some communities don't allow gas leaf blowers for this reason. If you use one, make sure to wear ear plugs or another type of ear protection.
Gas leaf blowers are really only worth the price and hassle if your property is an acre or more and you have a lot of trees. In that case, you need the combination of power and portability.
Gas leaf blowers are not a great choice if you have neighbors because of the extreme noise level. They also produce emissions, so this isn't the leaf blower for you if you want to be environmentally conscious.
2. Corded electric leaf blowers
Corded electric hand-held leaf blowers are probably the most popular among homeowners. They're the most lightweight hand-held blowers since the power source isn't attached. They're also low maintenance and relatively inexpensive.
Keep in mind that you'll usually have to purchase an extension cord along with a corded leaf blower if you want it to be able to reach your whole property.
Here's a deeper dive into the world of corded electric leaf blowers:
Power: High-quality models can be as powerful as gas leaf blowers, or even more powerful in some cases.
Portability: Lack of maneuverability is the corded leaf blower's greatest downfall. You'll be limited by the reach of your extension cord. If you have trees or other obstacles in your yard, navigating around them with the cord can be difficult.
Cost: $30 to $110 (definitely the most budget-friendly option)
Noise: Electric motors do produce a lot of noise, but they aren't as loud or as grating as gas engine leaf blowers.
If your yard is a quarter of an acre or smaller, the corded electric leaf blower is the best value for you. It's powerful enough to get the job done, as long as you don't need to use it more than 100 feet away from an outlet.
But if you have a larger property or a lot of structures in your landscape, a corded electric leaf blower isn't an option for you.
3. Cordless leaf blowers
Modern cordless leaf blowers are powered by rechargeable lithium-ion batteries. They're lighter than gas blowers and don't have the drawback of a cord.
In some cases, you have to buy the battery and charger separately from the leaf blower itself, increasing your total cost. According to Lowe's, you should be wary of the phrasing "bare tool only," as this means the blower doesn't come with a battery.
In general, here's what you can expect from a cordless leaf blower:
Power: Cordless blowers are the weakest option when it comes to air speed and air volume. With the convenience of the battery comes the sacrifice of substantial power.
Portability: These are super portable and easy to carry, with most weighing less than 10 pounds. Keep in mind, though, that most leaf blowers' batteries have a run time of only 30 minutes or less at full power.
So, if you have a large property that will take longer to clean up, you'll either need to stop and recharge or keep an extra battery on hand.
Cost: $150 to $300
Noise: Lithium-ion-powered leaf blowers are the quietest option by a long shot.
If you have a smaller property and room in your budget to pay for extra convenience, the cordless blower is a solid option. It's an especially good choice if your neighborhood has tight noise restrictions.
However, if you're working on a large property or trying to save money, you would be better off with a gas-powered or corded electric blower.
Leaf Blower Additional Features and Accessories
Power source isn't the only thing that makes a difference in selecting a leaf blower. There are additional features and accessories that can make a leaf blower more suited for one type of job than another.
Variable speed control
Some leaf blowers have manual controls that allow you to change the air speed and air volume levels. That way, you can use high power for clearing driveways and open spaces and a more delicate setting around gardens that you don't want to damage.
If you have a lot of tight spaces or sensitive areas (gardens and such that you don't want to damage), variable speed control will make leaf blowing easier for you.
Nozzle shape
Leaf blower nozzles come in two basic shapes: flattened and round.
Flat nozzles are good for sweeping away loose leaves.
Round nozzles can dislodge stubborn leaves that get stuck in the grass.
If you think you might need both shapes, look for a leaf blower that comes with multiple detachable nozzles.
Vacuum kit
Some leaf blowers double as a vacuum. Usually, you'll attach an extra hose and a bag that holds the leaves and debris you vacuum from your yard or driveway.
You also can use a leaf blower and vacuum tool to clean your gutters, garage, or another outdoor structure.
Reputable Leaf Blower Brands
There are a million different leaf blowers out there. As with anything else, some makers will be more high-quality than others. In general, these are some of the most well-known and trusted makers of leaf blowers.
Black+Decker
Craftsman
DeWalt
Echo
Ego
Husqvarna
Kobalt
Stihl
Toro
Worx
You can find most of these brands in hardware stores and home supply stores such as Lowe's or Home Depot. Many leaf blower models and accessories are also available online.
Alternatives to Leaf Blowers
You might not want to spend extra money on a leaf blower you know you'll use only once or twice a year. But that doesn't mean you have to let the tide of leaves take over your yard. You have other options.
Rake
One alternative is the good old-fashioned rake. If you don't mind rolling up your sleeves and sweating a little, you can always rake up your leaves instead of using a blower.
Rakes are much less expensive than leaf blowers, and you probably already have one hanging in your garage.
Mulcher
If you have a riding lawn mower with a mulcher kit, you can use that in place of a leaf blower, too.
With a mulcher kit, you replace your mower's regular blades with mulching blades. These will grind up your leaves (along with grass clippings) and recycle them into mulch. That mulch can make your soil healthier.
Leaf removal service
If you want to save yourself the hassle of leaf blower shopping and removing the leaves yourself, remember you can always call a leaf blowing team near you to take care of that fall chore for you.
How to Choose Your Leaf Blower
Whatever size job you need done when the leaves start to fall, there's a leaf blower (or alternative) out there for you. Hopefully, with help from this guide, you have a better idea of the choices, options and accessories to select the right leaf blower for your yard.
And if you'd rather spare your back and let a local LawnStarter crew remove your leaves, we're happy to let you leave the rake in the garage and save you the expense and storage space for a leaf blower.
Main Image Credit: Cbaile19 / Wikimedia Commons / CC0 1.0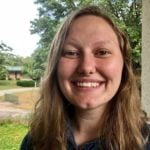 Jordan Ardoin
Jordan Ardoin is a writer, editor, and classical literature student based in Colorado. When she isn't reading or writing, she enjoys goofing off with her cats and spending time in nature.