Even though Phoenix is well-known for its generous supply of warm days and sunny weather, it's still nice to enjoy a shady spot in your yard. And creating a nice shaded retreat is possible with a little investigation and know-how. In this article, we'll talk about how to create an enjoyable, shaded area in your Phoenix yard with landscaping.
Step 1: Examine Your Current Landscape
This is where a little investigation comes in. You'll want to look for shade patterns that naturally occur based on things like the sun's path, existing structures in your yard (and neighboring yards), and existing plants and trees. (Note, however, that these patterns can change based on the season and position of the sun).
As you examine the shade patterns, some things that you will want to look for are:
Partial shade – part of the yard that receives 5 or fewer hours of shade per day.
Open shade – areas that are open, but shaded due to a tall building, wall, or other obstruction.
Full shade – where there is no direct sunlight.
Filtered shade – includes areas under trees that could be bright, but don't receive direct sunlight.
Step 2: How Will You Use Your Shade?
Once you have an idea of the shade patterns in your yard, you'll want to decide how you plan to use them. Do you want to use the area for relaxing and reading a book? Or perhaps for dining and entertaining? Or, it may be a spot that you want to turn into a recreational part of your yard.
Any changes that you make to your yard to add more shade should take into consideration what you intend to use the space for as this could help you narrow down the options of hardscapes, plants, and other landscaping additions.
Step 3: Create Your Space
The steps to take to create your space will depend on your shade needs and your purpose. If you need more shade, then a combination of hardscapes and plants will do the trick. For example, you could add a wall or trellis with vines running up it to create your shady space.
And if you need to eliminate some shade and let the beautiful Phoenix sun gleam through, you may want to do the opposite. That is, take down a trellis wall, or relocate plants to a different area, or both!
Step 4: Incorporate Plants
With your physical structures in place, it's time to choose the right plants for the job. In Phoenix, this can be a little challenging. You need to find ones that can handle the Arizona summer heat, but also do well in low lighting conditions. While this may involve some trial and error, here are a few things you can try to get started.
Vines
If you've decided on a trellis wall to offer shade, or you want to create a lush, green outdoor space, vines are a great addition. Some vines that work well in Phoenix include creeping fig, Carolina jessamine, Arizona grape ivy, old man's beard, and English ivy.
Shrubs
Shrubs of all different shapes and sizes can be incorporated into your shady landscape. Some hearty shrubs that work well here include bears breech, poinsettia, blue sage, cape honeysuckle, Sprenger asparagus, and trailing indigo bush.
But you don't have to stop there. You can add seasonal plants, perennials, and even accent plants like Agave for added interest. Your shady spot can be both functional and aesthetically appealing.
Trees and palms
Various types of trees, including palm trees, make a great shade addition to a yard, making a big difference in the landscape quickly. A few good options for Phoenix are Indian laurel fig, strawberry tree, Carolina cherry, pindo palm, and sago palm.
However, as Maricopa County Cooperative Extension agent Michael Chamberland warns, "A common error is favoring the fastest-growing tree, in order to get a shade tree as soon as possible. Fast-growing trees often produce weak wood, prone to breakage or wind damage later. Also, trees don't grow fast and then stop. Most want to keep growing and will become too large and/or need regular maintenance pruning to keep them to size."
Michael also recommended Arizona Municipal Water Users Association's tree guide as a resource for Phoenix residents on tree selection.
Keeping Your Space Cool
The shade is great, but during some months it still may not be enough to make your outdoor space enjoyable. Fortunately, today there are so many options for Phoenix backyards. If you have a covered patio, you could install a ceiling fan (or two). You could use a mister system to keep you cool outdoors, or even keep a portable cooling unit handy. This is especially useful if you move around to different outdoor spaces.
And if you really want to stay cool, you could just put in a pool! But even if you don't go that far, making a few simple shifts in your landscape design can help you enjoy your backyard space all year long.
Main image credit: Renee Grayson, CC 2.0.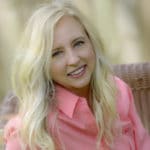 Jennifer Lester
Jennifer Lester is a freelance writer and social media strategist who covers a variety of home and garden topics. She's a graduate of Texas A&M University and the proud mom of three boys. In her spare time, she volunteers in her community and her children's schools.