Living in Charlotte, you'll want your home's curb appeal to match the majesty of the Queen City itself. Already known for its trees — we're at 47% tree canopy now — CLT's environment is perfect for an array of species.
Here's how to choose the best trees that will have your landscape design reigning supreme.
1. Use Trees to Add Texture
Depending on the arrangement and variety of evergreen and deciduous trees in your outdoor spaces, you can make small yards feel bigger or large yards seem cozier and more inviting.
Experts suggest planting landscape trees with fine textures along your property's perimeter and trees with coarse textures closer to your home to create a feeling of more space. To make a space seem smaller, plant coarse-textured trees along the perimeter and fine-textured trees close to the home.
Trees with coarse textures include:
Japanese maple trees
Carolina silverbell
Southern magnolias
Tulip poplar
Trees with fine textures include:
Willow oaks
Deodar cedar
Moss white silver birch tree
Peppermint willow
2. Create a Focal Point with a Tree
Whether it's a large tree in the middle of your front yard or an ornamental tree designated to add oomph to your garden design or draw attention to a walkway, trees used as focal points can tie all parts of a landscape together.
Think about the mood you want to set and the statement you want to make when choosing such an attention-grabber. Opt for trees with colorful flowers or distinctive shapes, leaf colors, or textures. A few to try:
Flowering dogwood tree (cornus florida)
River birch tree (betula nigra)
Japanese zelkova (zelkova serrata)
Crape myrtle (lagerstroemia indica)
"Bracken's Brown Beauty" magnolia (magnolia grandiflora)
Depending on the type, specimen trees may also double as shade trees, flowering trees, privacy trees, food and shelter for wildlife, and sources of fall color.
3. Raise Trees for Fruits and Nuts
There's no need to sacrifice your preference for city life to harvest your own foods. Besides urban gardening, trees can also provide the healthy eats you crave. Before deciding on a fruit tree or nut tree, make sure you have ample space in your yard, and select a spot that gets full sun for at least six hours a day.
The best fruit and nut trees to grow in the Piedmont are:
Apple trees
Chestnut trees
Fig trees
Pecan trees
Asian and European pear trees
American and Asian persimmon trees
Plum trees
Southern crabapple
4. Plant Trees for Privacy and Screening
Hide unattractive utility boxes in your side yard, or establish living fencing between your home and your neighbors' with privacy trees. Besides blocking certain parts of your property from view of others, these trees can also aid in blocking wind and reducing noise pollution.
Evergreens, including conifers, are the best options for screening, as they maintain their leaves or needles year-round. A few examples:
"Green Giant" arborvitae
Eastern red cedar
Loblolly pine
"Nellie R. Stevens" holly
Position privacy trees in groups, keeping them uniform or mixing different varieties to add interest.
5. Plant the Right Tree in the Right Place
Of course, choosing beautiful trees for their colors, shapes, and other physical features is important. You want to be able to enjoy the way your yard looks. But, be wary of choosing a tree based on looks alone. Trees Charlotte experts recommend taking into account the following environmental factors first:
Soil type
Water availability
Full sun or partial shade needs
Maintenance
Mature height/spread
Hardiness zone
Location of utilities
Line of sight
Mature trees already in your yard
Also think about the type of tree and where it would grow best. Is it deciduous or evergreen? How fast or slow will it grow? For example, Trees Charlotte suggests planting large, canopy trees along the south and west sides of your home for shade. Situate smaller trees underneath canopy trees or power lines.
Considering these factors along with a tree's aesthetics will help prevent major problems from arising down the road.
Landscaping with Trees in Charlotte: Other FAQs
Which trees grow best in Charlotte?
Located in the Piedmont, Charlotte's Plant Hardiness Zones are 7b and 8a. Many trees will thrive in this region, be they deciduous or evergreens, and can serve several purposes — from focal points to privacy to wildlife food and shelter to shade. Here's a sampling of large and small trees to plant on your Queen City lot:
Bald cypress
Bosque elm
"Autumn Gold" ginkgo
American hornbeam
Oakland holly
Red buckeye
Japanese snowbell
Okame cherry
Kousa dogwood
What are the best shade trees to plant here?
Various deciduous trees provide shade in the summer, which helps lower cooling costs. A few top choices for shade trees in Charlotte include:
Red maples (acer rubrum)
American beech trees (fagus grandifolia)
Black gum trees (nyssa sylvatica)
American yellowwood (cladrastis kentukea)
Bonus: When they lose their leaves in autumn, these trees then help lower heating costs by allowing sunlight to filter in and warm up the home.
When to Call a Landscaping Professional
DIY tree planting is always an option, but if you're looking to design a full landscape with your selected trees, it's best to call in the landscaping pros.
A landscape architect will do all the hard work for you — locating utilities, narrowing the list of appropriate trees for your yard, hauling those trees from your local garden center, and planting them in the perfect spots.
Your only task? Lording over your newly landscaped queendom or kingdom from your front porch "throne."
Main Photo Credit: Kevin Ruck / Adobe Stock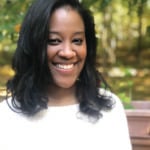 Andréa Butler
Descendant of the Fulani tribe, Gettysburg-obsessed Marine Corps brat, and lover of all things writing and editing, Andréa Butler launched Sesi magazine and has penned articles for sites, such as LivingSocial, Talbot Digital, Xickle, Culturs magazine, and Rachel Ray. Andréa holds a B.A. in English from the University of North Carolina at Greensboro and an M.A. in magazine journalism from Kent State University.