Real estate is booming in the Queen City, as a burgeoning economy brings more and more people to the financial hub that is Charlotte.
And with all that new construction, renovation of old houses and extra spending money around town, people are customizing their outdoor spaces to turn backyards into cozy getaways.
Those new Charlotte homeowners are looking for anything they can incorporate to add their own touch to the home's outdoor space, and it helps more than just their backyard, says Preston Stewart of Stewart's Lawn and Landscaping Inc.
The personal backyard touches "improve property value," Stewart says. When a neighbor sees the new addition next door, it makes them want to add something and soon enough the value of the whole neighborhood is on the rise.
"They want to modernize their outdoor living space because they're going to be there for a while," Stewart says. And updating the backyard with features including a new concrete pool, pavers, veranda or outdoor kitchen will make for a valuable and well-used backyard in Charlotte.
Whether that backyard needs a comfortable outdoor seating space for a Plaza Midwood bungalow or NoDa duplex, or a pool and outdoor kitchen for a huge new house in the suburbs, everybody wants something, Stewart says.
He's installed 650-foot retaining walls just to carve out some more space in a backyard, he says, and has to buy pavers by the truckload for backyard patios.
1. Pavers and More Pavers
"Pavers are very popular," says Stewart. One of the most asked-for features is simply an outdoor patio space, a place to sit and enjoy the outdoors without too much overhead.
A simple flat area of pavers provides an outdoor area to entertain, Stewart says, and one that can really be taken to the next level with just a few simple tweaks.
Installing outdoor lighting means the space can be used anytime and water features or landscape plantings add interest.
The increasing popularity of these hardscaped spaces is such that Stewart tells builders on a new project not even to pour a concrete slab for a patio space, just to save the work of ripping it up to put down pavers.
2. Fire Pits
"I always like to incorporate a fire pit," says Stewart. And he's not alone in his liking because let's face it, it gets cold in Charlotte.
But just because the mercury is plummeting outside doesn't mean the backyard should be off-limits.
Fire pits are another very popular request, says Stewart, more so than the more finished-looking attached outdoor fireplaces with chimneys.
And they usually lead to other features, such as stone patios and benches to make the most of the fire pit.
"There's no sense in doing a new landscape and then it getting dark and not being able to use it," Stewart says.
3. Cooking Outdoors
From full backyard cooking areas that include refrigerators, stovetops and even the sink, to simple permanent tables and grill housings, more and more people in Charlotte are taking their kitchens outside.
Stewart says most of the projects homeowners request from his company take a minimal approach to outdoor cooking areas, compared to the full outdoor kitchens of some higher-end properties.
Many simply want a permanent home for their Big Green Egg with some extra table space for those Panther away games. Some just need a gas line run out to a permanent grill space.
Many times, the outdoor cooking spaces also come with areas of pavers to provide a space to enjoy those wings that just came off the grill.
However far you take it, an outdoor kitchen or cooking area can take your next barbecue to the next level.
4. Retaining Walls
Retaining walls may seem like something only installed in backyards out of necessity, but Stewart and Charlotte-based Sunmar Construction say more and more homeowners are utilizing retaining walls for other reasons.
They can serve as stepped planters, benches for fire pits, design features that add visual interest and can be used to carve out some more flat space from a sloped area.
The latter reason was the impetus for two recent retaining walls built by Stewart on Lake Wylie and Lake Norman, where more yard space equals more lakeside fun.
Stewart even recalled one 650-foot wall that made a flat yard from a steep hillside.
5. Taking the Living Room Outside
Sunmar Construction lists this as the top trend for North Carolina yards, saying that couches, cushioned chairs and even canopied beds adorn yards across the Old North State.
Combined with covered pergolas, canopies or cabana shades, these spaces can be comfortable spots to relax even when the summer heat sinks in.
And with breweries on the rise in Charlotte, Stewart says many people are looking for a nice outdoor space to entertain.
"People don't want a basic concrete slab when they want to entertain guests," he says. "They want something nice."
Charlotte's Unique Character
No matter which features start popping up in Charlotte yards this year, one thing is for sure: the city's colorful characters will add their own spin, and Stewart has seen it all.
Plaza Midwood yards will be different from those in Myers Park. In NoDa, Stewart's even seen a statue of a yeti at home off the side of a patio.
So whether you carve out some extra square footage with a retaining wall, add a fire pit for those Charlotte snows or create a backyard living room, the new year should bring lots of new life to the city's open spaces.
Main image credit: Bill Wilson, CC2.0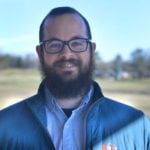 Derek Lacey
Formerly the agriculture writer for the Hendersonville Times-News, Derek Lacey's articles have appeared in U.S. News & World Report, The Charlotte Observer, News & Observer, and The State. He has won 15 awards from the North Carolina Press Association and GateHouse Media, for pieces ranging from news features and investigative reporting to photography and multimedia projects.