Trees are the focal points of any home landscape. They can be towering old oaks that lend legitimacy and shade or small, new trees that bring color, life and animals into your yard.
But no matter what you're trying to accomplish with those tallest, longest-lasting members of your plant family, astute Kansas City homeowners think carefully about which trees to plant.
Tree care and more at the click of a button
With LawnStarter
Questions to Answer Before Planting
Whether you're looking for a tree that will grow into something that could sport a tire swing for the kids or explosions of fall color along your driveway, there are a few things you need to consider first. Before you head to the nursery or grab a shovel, get answers to these questions:
Is the tree native? If so, it will already have a headstart on weathering that Kansas City climate.
How much water will it need?
How much fertilizer or other maintenance?
Do you want a large round tree or a pyramid-like evergreen?
Do you want it to bloom in the spring or show amazing colors in the fall?
There are plenty of factors to consider, but if you're ready to get planting, fear not. We've taken all those into account and rounded up the five best trees for Kansas City:
1. Eastern Red Cedar
(Juniperus virginiana)
Looking to block out the neighbor's rowdy pool parties, or add some evergreen interest to the front lawn? A great choice for Kansas City is the Eastern Red Cedar, or Juniperus virginiana, a native evergreen tree species.
The Kansas State University Research and Extension's Master Gardener program at Johnson County says the trees make great windbreaks or screens, have a textured trunk and dense but very fine foliage. Useful, the Extension says, as an "all-around utility tree that is tolerant of many adverse conditions; best used in low-maintenance evergreen plantings." So want that lovely hedge without having to take on a part-time job keeping it up? This is your tree.
2. Oak
(Quercus)
Looking for that tree that will one day be the tallest, mightiest specimen on the block? You're looking for an oak. They're slow-growing but pay big dividends eventually, especially if you're looking to create some shade in those hot Kansas City summers. The Kansas State extension lists half a dozen oak species that are recommended for Kansas City yards.
All grow taller than 60 feet, though some can take up to 30 years to reach full maturity. Bur Oak, English Oak, Red Oak, Swamp White Oak, Shumard Oak and White Oak are all listed as good options for the ambitious Kansas City homeowner, described by the Extensions with adjectives like "large and stately" (Bur Oak), "massive and grand" (English Oak), and "symmetrical and round-topped" (Red Oak). Depending on your specific goal, each oak has something to offer. For those more impatient planners, Red Oaks grow the fastest, are one of the best trees for the midwest and sport russet to bright red leaves in the fall, says Kansas State.
3. Amur Maple
(Acer ginnala)
One of the best features of having a tree-filled landscape is seeing the leaves change to bright hues of orange, yellow and red every fall. The Extension says this small, hardy tree shows "superior fall color," and is perfect for tight spaces like patio gardens, courtyards and containers. So if you're planning to get some trees in the ground, but don't want to wait a decade or two to see some results, amur maples are a great option.
One cultivar, "Flame" maples, show such spectacular color in the fall to give the strain its name. They're a favorite of well-manicured shopping centers or public spaces thanks to their small stature, hardiness and that blaze of intense color in the fall. Sound nice? They'll do the same thing for your yard.
Get the best tree care service at an affordable price
With lawnStarter
4. Ginkgo
(Ginkgo biloba)
According to Powell Gardens, Kansas City's botanical garden, there are dozens of trees that can thrive in Kansas City gardens, but homeowners in the city have some common issues to deal with. That includes sidewalks and other areas of impervious pavement that cover trees' roots and cause plenty of slow-developing headaches for those who planted them.
A perfect option for those tricky urban conditions is the ginkgo. It's an ancient tree with fan-shaped leaves that turn a spectacular gold color in the fall, the extension explains. They only get better-looking with age and love full sun. Make sure to plant male trees only, though, as they won't produce the smelly, messy fruit.
5. Kentucky Coffeetree
(Gymnocladus dioicus)
Local botanical garden Powell Gardens, Kansas State and Reece Nichols Real Estate in Kansas City all list the Kentucky coffeetree as a great pick for Kansas City yards. Reece Nichols says the Kentucky coffeetree makes a great shade tree, sporting leaves that add interest by starting out with a tinge of pink or purple in the spring and growing into a rich, dark green.
And they can provide a lot of shade, growing up to 75 feet tall with a canopy 50 feet wide.
The Extension says the tree provides a handsome bark and is known for winter interest, with its intricate bark and clusters of large seed pods while other trees remain bare. But if you'd rather not deal with those pods, a cultivar "espresso" is available, according to the extension, which grows without them.
6. Flowering Dogwood
(Cornus florida)
The Missouri state tree, the flowering dogwood, is a favorite choice for home landscapes thanks to its small stature and beautiful flowers. Kansas State says the trees, grown mainly for those lovely, white, cross-shaped flowers, can still show spectacular fall colors, too. The flowering dogwood, says the Missouri University Extension, "is unquestionably the most popular of our native flowering trees."
Described as rounded to upright, open with horizontal branching, the dogwood has a slow to moderate growth rate. It sports its spectacular white bracts with flowers in the spring, before the leaves appear to obscure them from view.
They're especially useful in areas of light shade, like beneath larger trees, which can add layer and interest to your landscape. Want to take it a step further? The extension lists some other strains that provide a little extra pop:
Apple blossom: Flowers take on an apple-blossom pink hue.
Cherokee chief: Flowers themselves are pinkish to dark red.
White Cloud: Flowers are white, but show at an early age.
Xanthocarpa: Fruit that appears in the fall is yellow instead of red.
Mix and match these flowering dogwoods to add an extra layer of interest and color to your yard.
So whether you're looking for shade in the summer, color in the fall or interest in the bleak midwinter, there are trees that thrive in Kansas City that can cover all those bases. Take into account how much sun your yard gets, how much room the tree has to grow, your soil conditions and nearby impediments such as sidewalks or power lines. If you do so, any of these trees can be a fantastic addition to your yard in the City of Fountains.
Order top-notch tree care service with easy online booking
With LawnStarter
Main Photo Credit: Derek Ramsey (Ram-Man) / Wikimedia Commons / CC BY-SA 2.5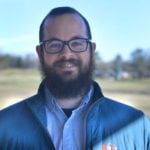 Derek Lacey
Formerly the agriculture writer for the Hendersonville Times-News, Derek Lacey's articles have appeared in U.S. News & World Report, The Charlotte Observer, News & Observer, and The State. He has won 15 awards from the North Carolina Press Association and GateHouse Media, for pieces ranging from news features and investigative reporting to photography and multimedia projects.