Your yard is your canvas. But, instead of using paint to design your scene, you use landscape trees to add texture, shape, and bursts of color.
Beautifying your curb appeal, though, is just the beginning. These towering plants can also define your outdoor spaces, slow stormwater runoff, and provide shade, among other benefits.
Let's take a look at the best small trees and best large trees to use in your Panther City landscaping.
5 Ways to Landscape with Trees in Fort Worth
1. Define an outdoor space
Line your Fort Worth driveway or establish a front yard focal point with ornamental trees. Or create an outdoor oasis with privacy trees in your garden design. The possibilities abound.
Ornamental trees to include:
Mexican plum trees
Crepe myrtles
Texas redbud trees
Yaupon holly
Goldenball leadtree
Lacey oak
Desert willow
Hawthorne tree
Cherry laurel
River birch trees
The best trees for privacy are:
Eastern red cedars
Pinyon pines
Ashe junipers
"Little gem" magnolia trees
Loblolly pines
Bald cypress trees
2. Lessen the effects of flash flooding
Stormwater runoff resulting from more frequent flash floods is a problem in North Texas, and recently, Fort Worth developed a plan including increasing the tree canopy to 30% coverage.
You, too, can take control of the effects of flash flooding on your property by planting trees. You can even coordinate with other people in your neighborhood to request free trees to plant in the street parkway.
How do trees help mitigate stormwater runoff? In conjunction with other solutions, trees draw moisture from the soil using evapotranspiration (the process of turning water into vapor and releasing that vapor back into the air); leaves, branches, and bark catch and store rainfall before it reaches the ground; canopies reduce erosion; and roots can help minimize water overflow on land.
The best trees for managing stormwater runoff, according to the Integrated Stormwater Management Program for Construction and Development Program, include:

Box elders
Red maple trees
American sycamores
Eastern cottonwoods
Black willows
Bald cypress trees
American elms
Roughleaf dogwood trees
Common persimmons
Green ash trees
Sweetgum trees
Overcup oaks
3. Shade outdoor and indoor living spaces
Spending time with nature contributes to a host of health benefits — both mental and physical. Just the sight of trees helps reduce stress and anxiety, lowers blood pressure, allows us to breathe easier, and may even benefit our immune system.
But the sweltering heat of a Texas summer can deter people from enjoying the open air. Adding shade trees to your landscape design can change that by lowering area temperatures up to 6 degrees. Besides cooling outdoor spaces, shade trees can also work with summer breezes to cool the inside of your home, lowering energy bills by up to 50%.
Deciduous trees planted on the south side of your home will block up to 90% of the sun during summer, and when the leaves drop in autumn, they'll allow light to filter through and warm up your home naturally. Evergreen trees, including conifers, will provide shade all year long. Take a look at the following examples of both types of shade trees:
Texas red oak
Eastern red cedar
Bigtooth maple tree
Sawtooth oak
Goldenrain tree
Eldarica pine
Drummond red maple
Green ash tree
Cedar elm
Southern magnolia tree
Pecan tree
Ginkgo tree
Texas buckeye
Chinese pistache
4. Harvest homegrown fruits and nuts
What's more satisfying than watching something you've planted grow up well? Being able to literally enjoy the fruits (or nuts) of your labor. In addition to the pecan tree (the state tree,) check out these fruit trees recommended for Texas:
Crabapple trees
Texas persimmons
Apple trees
Pear trees
Peach trees
Apricot trees
Fig trees
Plum trees
5. Plant the right tree in the right place
While determining which trees to incorporate into your landscape design, keep the following in mind, as these considerations will give your trees the best chances of good health and long life:
Plant hardiness zone
Appropriate planting location
Full sun or shade needs
Height and spread of mature trees
Soil type and water access
For your front yard, plant small, ornamental trees. This way, you won't have to worry about their canopies conflicting with powerlines. The front yard is also the perfect spot for establishing a specimen tree as a focal point — a flowering tree, such as the Southern magnolia. Windbreaks and privacy trees work well in the backyard.
Landscaping with Trees in Fort Worth: Other Things to Know
What are the best landscape trees to grow in Fort Worth?
Crepe myrtles (lagerstroemia indica)
Texas redbud trees (cercis canadensis)
Eastern red cedars (juniperus virginiana)
Southern magnolia trees (magnolia grandiflora)
Dogwood trees (cornus florida)
Crabapple trees (malus)
Elm trees (ulmus)
Maple trees (acer)
And these, too.
What are the fastest-growing shade trees for this area?
Netleaf white oak
Shumard oak
Texas ash
American sycamore
American elm
What trees give off the best fall color?
Crepe myrtles
Chinese pistache
Japanese maple trees
Ginkgo trees
Shantung maples
When to Call a Fort Worth Landscaping Pro
DIY tree planting involves more than simply purchasing the plant at your local garden center, digging a hole, and putting the tree in it.
You've also got to plant during the right season (fall, in the case of Fort Worth), dig a hole that's not too deep, locate underground utilities, apply the appropriate amount of mulch, and understand which type of tree — potted, burlapped, or bare root — is best for you.
A landscape architect can help with each of those things. And, even after your beautiful trees are planted, these pros can stay on to help with their continued care.
Main Photo Credit: Tree-lined entrance of the Kimbell Art Museum by Kent Wang / CC BY-SA 2.0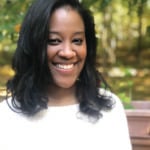 Andréa Butler
Descendant of the Fulani tribe, Gettysburg-obsessed Marine Corps brat, and lover of all things writing and editing, Andréa Butler launched Sesi magazine and has penned articles for sites, such as LivingSocial, Talbot Digital, Xickle, Culturs magazine, and Rachel Ray. Andréa holds a B.A. in English from the University of North Carolina at Greensboro and an M.A. in magazine journalism from Kent State University.