Having a lush lawn is as much a part of the American dream as having a white picket fence. We here at LawnStarter aren't going to let brown spots and weeds impede yards across New Orleans, LA, from reaching their full potential.
Check out our handy guide below and be ready to start seeing a greentastic lawn in no time.
Know Your Lawn
Believe it or not, there's more than one type of grass out there. According to Thomas Koske, an agriculture professor at Louisiana State University, the secret to a beautiful lawn is "to consider what you want, what you need and what you are willing to do."
With Louisiana's warm and sunny climate, warm-season grasses such as Bermuda, Zoysia, Centipede, Carpet and St. Augustine are the most suitable options. However, the most popular grass in Louisiana traditionally is St. Augustine, thanks to its dark green color and level of coarseness.
Know The Rules
As more areas nationwide experience periods of drought-like conditions, local government officials are combating water usage issues by putting in place watering schedules. Currently, New Orleans doesn't have these limitations in place, but you should stay vigilant regarding any new rules that could affect your lawn.
Know the Watering Recommendations
Most experts suggest not sticking to a regular watering schedule but instead watering the lawn when it shows signs that it is "thirsty." For St. Augustine grass, thirsty signs include a pale or grayish cast and folding blades of grass.
During the height of summer, over-watering becomes another concern that homeowners need to be aware of. Dan Gill, an agriculture professor at LSU, recommends applying one-half inch of water twice every seven to 10 days, or 1 inch of water once every seven to 10 days.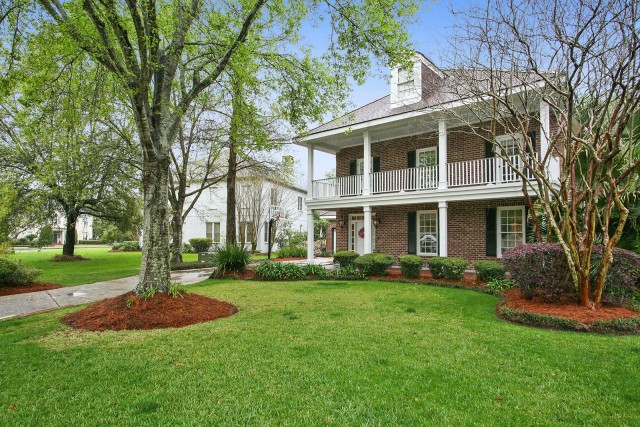 Know the Cutting Recommendations
Experts recommend the following mowing heights for the most common grasses in Louisiana:
Augustine: 3.5-4 inches
Bermuda: 1-2 inches
Zoysia: 1-2 inches
Centipede: 1.5-2 inches
Carpet: 0.75-2 inches
If you enjoyed our handy guide, please visit our New Orleans lawn care page for information about our service offerings in New Orleans. Be sure to visit our lawn care page to learn more about best practices for lawn care.
Top Picture: Pesche's (here)