After scrutinizing thousands of landscape designs in the Raleigh-Durham area, here at the six most stunning, most incredible designs we could find. This collection is a combination of waterscapes, landscapes, and hardscapes, to present you with landscape designs we could find and the proud designers that made them possible.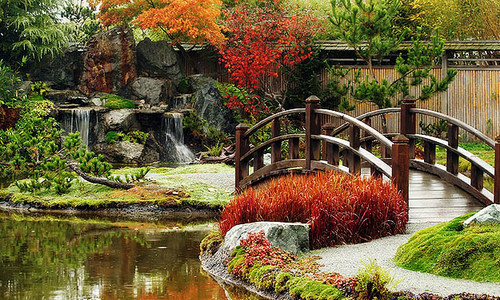 Very rarely does a water feature harmonize so naturally with the surrounding landscape. More often than not, ponds and fountains seem forced, awkward, placed with the sole purpose of owning a water feature. This space serves more than to look expensive, but to bring you to a place of serrenity. The people at Kiper and Raleigh Landscape Arictects truly outdid themselves with this design.
It takes an incredibly amount patience, dedication, and elbow grease to get an arbor that looks as good as this one does. J A L A and Winsten Salem Landscape Architects did an amazing job on this piece, turning an overgrown backyard into a masterpiece. The functionality of the design is what really pushed this patio to the top, offering a picture perfect spot to relax with family and friends, get cozy on the crisp autumn nights by the fireplace, and share great moments. With scenery like this, it is hard to not enjoy yourself.
It seems so easy to design a backyard with a view as stunning as this, but designers still seem to do an inadequate job with a space like this. The simplicity of this design is what struck us the most. Pinehurst and Ramsey managed to obtain a great deal of privacy and intimacy in such a wide open space. Truly impressive.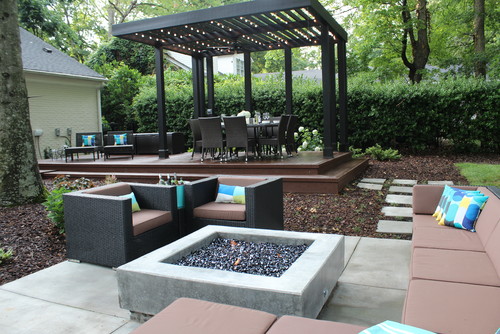 A space that just screams 'entertainment', Brent Skelton and Greensboro Landscape Architects seem to have crafted the perfect outdoor guest space. Smooth stone is a great compliment to the modern furniture and dark flooring. This very in-style look was done extremely well in this design.
Hands down the best example of a traditional garden entry in the Raleigh area. LandVision hits the top of the list with an amazing display of artistry and restraint that we have come to expect from them.
Have a beautiful yard you want maintained? Book lawn service in Raleigh online with LawnStarter!