A cold Dr Pepper in hand, jamming to your favorite Sixth Street band's tunes, tracking the Longhorns score, and all with your feet in the water –– that's a picture perfect afternoon poolside in Austin. Is it in your backyard?
With these tips and tricks for landscaping around a pool, you can turn your forgotten Austin poolscape into a space destined for fantastic pool parties, grilled hamburgers, and a true Texan.
10 Ways to Landscape Around Your Austin Pool
1. Install an outdoor kitchen
Poolside breakfast tacos? Count us in. You'll spend more time enjoying the pool party with an outdoor kitchen than stuck inside the house washing dishes. With a sink, dishwasher, refrigerator, grill, and pizza oven right outdoors, you'll have everything you need to make the perfect Texas meal and clean up afterward without missing out on the fun.
An outdoor kitchen also helps save on utility bills and eliminate grilling odors. A hot stove and oven will heat up any cook's kitchen, causing the air conditioner to work overtime. And when you've got burning onions in an enclosed space, your party guests won't like what it does to their noses.
So keep the cooking outdoors, and your air conditioner (and wallet) will take a much-needed break, and those burning smells won't ruin the air.
Effort: High. Expect to work closely with your landscape designer to communicate your expectations. Your kitchen may take three weeks to four months to design and build, and you may have to close the pool.
Cost: High. A luxury kitchen may cost up to $100,000. But a typical outdoor kitchen ranges between $5,000 and $21,000.
2. Spruce up the patio
Aging patio or pool deck damage, such as cracks, holes, and chipped concrete, can make any quality pool look forgotten and unattractive. Give your Austin poolscape a makeover with a stunning patio design that makes your pool look good as new.
A fresh, sleek, spotless patio shows you care about maintaining your in-ground pool. It also provides a relaxing, comfortable pool area for your guests to enjoy themselves without worrying about cutting their foot on a chipped tile.
Your pool deck or patio can be made from various materials, including wood, pavers, natural stone, and poured concrete. For the best look, consider coordinating your patio material with hardscape textures already surrounding your poolscape. If natural stone retaining walls or raised garden beds surround your pool, then a flagstone patio will add a cohesive aesthetic to your landscape.
Effort: High. Construction for your new pool decking may take between one to two weeks to complete. Keep in mind; you may need to hold off from using the pool.
Cost: High. A pool deck costs between $3,000 and $12,000.
3. Landscape for your pup
We love Austin for being one of the most dog-friendly cities in the U.S. Why not have your poolscape be the same way? Whether Fido is welcome to swim in the pool or you need to protect him from the water, consider landscaping around your pool with him in mind.
Dog-friendly plants
When choosing your favorite plants to have around the pool, it's important to remember that some plants are toxic to our four-legged friends. If your pup likes to chew on everything in sight or loves to dig in the garden, keep those harmful plants off the list.
Poisonous plants for dogs include, but are not limited to, lily of the valley, sago palm, tulips, azaleas, and hydrangea. Pet Central by Chewy offers a complete guide on plants poisonous to dogs.
Walking paths
Dogs love walking paths as much as we do, and they can add a great aesthetic to the poolscape. Paths allow your dog to navigate their territory and act on their instincts to patrol the space. Paths also help establish boundaries for your pup and lead them safely from one part of the yard to another.
Window bubbles
If you keep your dog away from the pool with a fenced barrier (maybe they're a lousy swimmer) but don't want them to feel separated from the pack, consider installing a window bubble. Install these curved windows near the bottom of the fence. Your dog can then poke his or her head through the window's opening and get a clear view of the action.
Effort: Low-Medium. Avoiding harmful plants, building a walking path, or installing a window bubble may take some time and energy, but nothing too strenuous.
Cost: Low. Window bubbles generally cost between $30 and $60. Pavers and stepping stones for a walking path typically range from $1 to $15 each, and they can be bought at your local home improvement store. If you prefer a pebble walkway, beach pebbles cost approximately $1 per pound.
4. Plant low-maintenance gardens
A high-demand garden by the pool means less swimming in the cool water. Your pool area isn't the place to pull weeds, apply fertilizer, and drag the hose. It's your space for relaxation, a cold Dr Pepper, and sunbathing.
Unless you can hire the help (in which case LawnStarter can help with that), a low-maintenance garden by the pool is the way to go. Succulents, cacti, DIY rock gardens –– these can all add the perfect dose of nature to your Austin poolscape.
Succulent gardens
A succulent garden is easy to maintain, and the exotic textures and shapes of cacti, jade, and agave will pop in your landscape. Fleshy leaves help these succulents conserve water, making them the perfect plants for first-time plant owners who would much rather swim in the pool than spend the afternoon looking for the watering can.
Rock gardens
Rock gardens are another excellent, low-maintenance garden near the pool. Design your rock garden with xeriscaping, and you'll make those maintenance requirements even lower.
Rock gardens accentuate stones of various shapes, sizes, and colors and go great with drought-resistant plants like cacti and succulents. You won't have to spend much time pulling weeds or watering, and you can carefully arrange all of your favorite stones, like river rocks, pea gravel, or large boulders.
When designed right, a rock garden can provide a calming space that soothes you at the end of a stressful day. After an afternoon in Austin's unbearable traffic congestion, coming home and meditating in the rock garden can help put your mind back at ease.
Plants to avoid
Before adding a garden or greenery, it's helpful to know which plants to keep away from the pool. You may want to avoid adding pine trees to the poolscape, as their pointed needles may poke your skin on your way to the pool.
You'll also want to avoid planting a garden with lots of flowering plants. Crepe myrtle, azalea, honeysuckle, ash trees –– these flowering plants will litter your pool. They may add a splash of color to your landscape, but they'll soon fill your pool water with a blanket of debris.
Effort: Low. If your pool garden is making you sweat, then it's likely not a low-maintenance garden. We want you relaxing by the pool –– not pulling weeds.
Cost: Low-Medium. Landscaping rock projects cost an average of $600 to $700. But there are plenty of ways to find free rocks for your rock garden. Succulent prices may vary, depending on size. A miniature succulent plant can cost between $2 and $6.
5. Cheer on the team on a poolside TV
Turn your Austin pool party into a watch party and cheer on the Longhorns. Fire up the grill, pop open a cold drink, and keep track of the score. Just because your pool party is outside doesn't mean you have to miss cheering on your favorite college football team with your Hook' Em Horns!
Not a sports fan? A TV by the pool is still a great addition to the landscape. While the kids occupy themselves in the swimming pool, you can get ready for family movie night by popping the popcorn, stirring the Kool-Aid, and surprising them with Finding Nemo. Sit on the outdoor couches and enjoy the show, or stay in the pool resting on floaties.
Effort: Medium. Before installing an outdoor TV, make sure you've read all instructions. Installing an outdoor TV is different from installing an indoor TV and should be done correctly. Hiring help is also an option and requires much less physical effort on your part.
Cost: Medium-High. An outdoor TV typically ranges between $1,000 to $12,000 depending on quality and size.
6. Turn up the speakers
As an Austinite, you know a thing or two about music. After all, you're living in the Live Music Capital of the World. So let's crank up your favorite tunes around your Austin pool. With landscape speakers, you can transform your pool area into a space with jamming pop songs, your favorite country music, or even ramp up the volume of the sports game you've got on TV.
If you'd prefer not to have visible speakers in your natural landscape, consider opting for speakers designed to look like rocks. They blend in with the landscape and won't distract from the surrounding nature. And if you really want to increase the natural life around your pool, you may like playing nature sounds, like birds, wind, and streams, from your new rock speakers.
For optimal sound, a professional can help determine the best areas to install your landscape speakers. Some yard areas may be more suitable than others as nearby landscape structures, like hedges, may absorb and affect the sound.
Effort: Low. This backyard landscaping project will likely require little backache from you, as speaker installation is usually done by a professional.
Cost: Medium. Speaker installation cost typically ranges between $670 and $1,370. Prices will vary depending on the quality and number of speakers you buy.
7. Landscape for pool privacy
Large hedges, tall trees, a curtained pergola –– these can all provide privacy in the landscape. Nothing ruins a romantic evening by the pool like your neighbor's googly eyes or the view of overflowing trash cans on the street.
Privacy landscaping also helps keep out intruders and prevent your pup from digging in the neighbor's flower beds. Some privacy landscape designs, like tall hedges or ivy walls, can help absorb sound.
So, if your neighbors are complaining about the loud music coming from your pool parties (or their music is too loud for you), privacy landscaping may provide an excellent solution.
Effort: Low-High. The effort spent developing your privacy landscape will vary depending on its design, whether you hire help, and how closely you work with the landscaper.
Cost: Low-High. Costs will vary depending on many project elements, including materials, design, and labor.
8. Light up your pool at night
Light up the night with glittering string lights hanging above the pool. Your landscape will twinkle like stars, pool parties will carry on long after the sun goes down, and romantic evenings will stay cozy and warm.
If you want a significant landscape lighting design that highlights your pool's architectural features, the surrounding trees, or walking paths, a professional landscaper can help execute your vision. Well-done lighting design can also provide a sense of security at night and provide a safe route to and from the pool.
Effort: Low. If you're adding landscape lighting yourself, you can make a quick trip to the store for some string lights to hang around your pool landscape. Otherwise, call a professional to help with installation and design.
Cost: Low-High. Hiring a professional to create a lighting design for your home may cost between $2,000 and $6,000.
For string lights costing between $1 and $50, head to a dollar store, outlet store, or even the seasonal aisle of your grocery store for cheap outdoor string light sales.
9. Build a pool house
A pool house needn't break the bank. It can make a great addition to your pool, serve many purposes, and be built into any shape or size to match the landscape.
So, why build a pool house in your Austin backyard?
CHANGING ROOM: If you're tired of mopping up your hallway floors after guests come into your home to change out of their swimsuits, then a changing room right by the pool may be just what you need.
GUEST HOUSE: If friends and family like to visit on the weekends, they may love a cozy stay in your pool house. They can have easy access to the pool, and you all get to have control over your own space.
BATHROOM: A bathroom in the pool house reminds your party guests that your pool is not a toilet (you can finally take down that warning sign).
STORAGE: You finally have a space to store those wandering floaties, beach balls, and water volleyball nets.
SAUNA: A pool house can double as a sauna. End a stressful workday by sitting in the sauna and then taking a refreshing dip in the pool. Keep in mind that while a sauna is an entertaining feature to have in your backyard oasis, it should always be used safely, just like your pool.
OUTDOOR SHOWER: After a long morning bike ride or yoga workout, don't delay your swim by running indoors and taking a shower. Just throw on your swimsuit, rinse under the outdoor shower, and jump straight into the pool.
OUTDOOR LIVING SPACE: A pool house can provide extra coverage and shade to your outdoor kitchen or outdoor living space.
Effort: High. For your pool house to exceed your expectations, you'll likely want to work closely with your landscape designer. You may also need to acquire a building permit.
Cost: High. Building a pool house will vary in costs depending on its design, materials, location, size, and special features. Homeowners should expect to spend between $160 to $600 (or more) per square foot.
10. Time for new turf?
Give your Austin landscape a refreshing lawn that contrasts swimmingly with your sparkling blue pool. But before spending big bucks on new green, you'll want to take note of Austin's climate and your lifestyle.
If you're always on the road or have a full schedule, then a high-maintenance grass may not be the best choice for your lawn. Remember, grass types have different levels of drought, heat, salt, disease, pest, shade, and foot-traffic tolerance, so it's essential to know what conditions your grass type can withstand.
These are the six grass types the Texas A&M AgriLife Extension recommends for Austin lawns. Keep in mind that each grass type has different tolerance levels and may require more maintenance than others.
Bermudagrass
Buffalo grass
Seashore paspalum
St. Augustine grass
Zoysiagrass
Texas bluegrass
When to Call a Landscaping Professional
Call a landscaping professional near you to turn your backyard pool into the getaway of your dreams. Working with a professional landscaper or landscape designer can help ensure your design ideas exceed your expectations and meet your needs.
Need a whole new pool? Whether you want negative edges, a spa, or a sun shelf, a professional can help develop swimming pool designs (in-ground or above-ground pools).
Swimming in pool landscaping ideas but don't want to spend all of your annual bonus? No worries. Many landscapers market themselves as budget-friendly and are happy to work within a set price range to give you the affordable landscape of your dreams.
Main photo credit: Helena Lopes / Pexels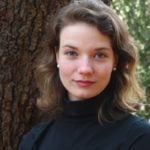 Jane Purnell
Jane Purnell is a freelance writer and actor in New York City. She earned her B.A. from the University of Virginia and enjoys a warm cup of French press coffee.