San Diego CA, Hedge Trimming Service at the Click of a Button
Easy to order bush trimming from top-rated pros in San Diego, CA
What services are you looking for?
As seen in...
These San Diego bush trimming professionals are ready for work
Top Performer

Falling Waters Landscape
2911 Adams Ave 8, San Diego, CA 92116
"Specializing in residential landscape design and construction, the team at Falling Waters Landscape are experts in creating harmony between homes and their surrounding outdoor areas. They focus on using simple, honest materials and uncluttered plant palettes. "
34 yrs experience
130 Employees
In High Demand
Hare Associates
4181 Adams Ave Ste A, San Diego, CA 92116
"Based in San Diego and operated by a registered ASLA Landscape Architect, Hare Associates Landscape Architecture has been in operation since 1983. From tiny pocket gardens to multi-million dollar commercial properties, the firm focuses on creating functional, sustainable, and attractive outdoor spaces. "
32 yrs experience
4 Employees
Fast Response

Happy Roots Landscape
4465 Felton St, San Diego, CA 92116
"Happy Roots Landscape provides full landscape design, installation, and maintenance services. The owner holds a degree in Landscaping and Horticulture from California Polytechnic and brings a wealth of knowledge to bring out the best in plant's foliage and design water-wise landscapes. "
3 yrs experience
2 Employees
San Diego, CA - Dec 8, 2023

San Diego Bush Trimming Facts
Demand for Bush Trimming by Month
| | |
| --- | --- |
| January | |
| February | |
| March | |
| April | |
| May | |
| June | |
| July | |
| August | |
| September | |
| October | |
| November | |
| December | |
Bush Trimming Services & Avg Pricing
| | |
| --- | --- |
| One-Time Bush Trimming | $86 |
| Quarterly Bush Trimming | $77 |
| Monthly Bush Trimming | $78 |
| Biweekly Bush Trimming | $69 |
| Bush Removal Per Bush | $103 |
| Deep Root Fertilization | $190 |
| Planting Per Shrub | $40 |
| Trimmings Haul Off | $60 |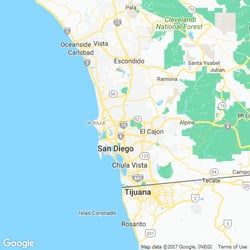 Neighborhoods we service in

San Diego

,

CA
Carlsbad, CA
Escondido, CA
Del Mar, CA
Chula Vista, CA
San Marcos, CA
Poway, CA
Solano Beach, CA
Kate Sessions
Scripps Legacy
Park Village
O'Farrell
Normal Heights Central
Rancho Bernardo Rd
Maddox Park
Logan Heights
Chollas View
Fox Canyon
San Carlos-East
Zip Codes
92101
92102
92103
92104
92105
92106
92107
92108
92109
92110
92111
92112
92113
92114
92115
92116
92117
92118
92119
92120
92121
92122
92123
92124
92126
92127
92128
92129
92130
92131
92132
92134
92135
92136
92137
92138
92139
92140
92142
92143
92145
92147
92149
92150
92152
92153
92154
92155
92158
92159
92160
92161
92162
92163
92164
92165
92166
92167
92168
92169
92170
92171
92172
92173
92174
92175
92176
92177
92178
92179
92182
92184
92186
92187
92190
92191
92192
92193
92195
92196
92197
92198
92199
Other Services