Jacksonville FL, Hedge Trimming Service at the Click of a Button
Easy to order bush trimming from top-rated pros in Jacksonville, FL
What services are you looking for?
As seen in...
These Jacksonville bush trimming professionals are ready for work
Top Performer

Professional Touc
7056 Tampico Road South, Jacksonville, FL 32244
"My name is James Body. I grew up in Illinois. I've worked for a landscaping company and have decided to start servicing lawns on my own. You will find that I have a dedication to excellence that is most welcome in this day and age. Allow me to take care of your lawn and you will not be disappointed. "
In High Demand
That Lawn Gu
6680 Bennett Creek Drive, Apt 537, Jacksonville, FL 32216
"Family-owned and Daddy-operated. My goal is to provide efficient and reliable service consistently. I don't view customers as a number or dollar amount. Instead, I see them as a neighbor with the value of a relationship. Lastly, it's HOT out, let "that lawn guy" be your guy!"
Fast Response

KN
2595 Carson Oaks Drive, Jacksonville, FL 32221
"KNG is now your neighborhood lawn team. We value our customers' needs and always put you first. It is an honor to work with each one of you. We strive for excellence, and we are simply the best. We take pride in your lawn every time we visit! We hope to hear from you soon!"
Jacksonville, FL - Dec 10, 2023

Jacksonville Bush Trimming Facts
Demand for Bush Trimming by Month
| | |
| --- | --- |
| January | |
| February | |
| March | |
| April | |
| May | |
| June | |
| July | |
| August | |
| September | |
| October | |
| November | |
| December | |
Bush Trimming Services & Avg Pricing
| | |
| --- | --- |
| One-Time Bush Trimming | $88 |
| Quarterly Bush Trimming | $80 |
| Monthly Bush Trimming | $75 |
| Biweekly Bush Trimming | $70 |
| Bush Removal Per Bush | $101 |
| Deep Root Fertilization | $200 |
| Planting Per Shrub | $40 |
| Trimmings Haul Off | $61 |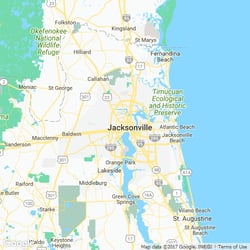 Neighborhoods we service in

Jacksonville

,

FL
Sandalwood
Jacksonville Beach
Golden Glades-The Woods
East Arlington
Beach Haven
Chimney Lakes
Jacksonville Heights
North Beach
Windy Hill
Mandarin Station-Losco
Del Rio
Highlands
Murray Hill
Atlantic Beach
Southsuide Estates
Zip Codes
32099
32201
32202
32203
32204
32205
32206
32207
32208
32209
32210
32211
32212
32214
32216
32217
32218
32219
32220
32221
32222
32223
32224
32225
32226
32227
32228
32229
32231
32232
32234
32235
32236
32237
32238
32239
32241
32244
32245
32246
32247
32254
32255
32256
32257
32258
32260
32277
Other Services