Richmond homeowners are looking to spice up their outdoor spaces with much more than grass.
"The green, perfect lawn is passe," says Kathy Brooks, owner of Bloomin' Gardens in Richmond. It's a drain on the environment and takes a lot of upkeep. Her clients are starting to notice, and they're changing it up.
Here are some of the landscape features you're likely to start seeing in Richmond's landscapes this year.
1. Bring in the Natives
The first thing she mentioned is the increasing popularity of native plants. More and more of her clients are starting to see the value in planting those native species, says Brooks.
Native plants need less work, less water, fewer if any soil amendments and there are so many to choose from, there's no need to tamper with your perfect landscape plan to include them.
According to a guide from the Virginia Department of Conservation and Recreation, native plants require less money and maintenance while they attract local wildlife, birds and pollinators.
And you don't have to sacrifice the look you're going for when choosing native plants.
Some recommended in the guide include flowering vines like the purple passionflower (pictured above) and Atlantic wisteria, shrubs such as wild hydrangea and swamp azalea, and trees including bald cypress and Eastern red cedar.
With native plants, homeowners can get everything they're looking for in a sustainable way without encouraging the spread of exotic or invasive species.
2. Sustainable Landscaping
Richmond homeowners are starting to come around to more sustainable landscaping practices beyond native species, too, Brooks says.
Native plants are one piece of that puzzle, but there are many tactics to employ to lessen your yard's environmental impact.
According to Master Gardeners of Northern Virginia, a sustainable home landscape restores the soil, protects water resources, attracts songbirds and pollinators and the native plants themselves thrive without excessive fertilizing or irrigation.
And all it takes are some simple changes, from composting your clippings to catching rainwater and reducing impervious surfaces.
3. Easy Edibles
Homeowners in the capital area are also starting to get into growing their own herbs and vegetables, Brooks says, and she encourages them to mix up the classic idea of the home garden.
Most folks envision the farmer in the country with big machinery and crops in rows, she says, but growing your own food doesn't have to be that intense.
"My thing is always to advise my clients in a way that makes vegetable gardens easier than they perceive," she says.
Many Richmond homeowners are also hamstrung by their homeowners associataions. HOAs often forbid raised beds or the traditional rows of tomatoes or cucumbers.
Brooks encourages her clients to mix in their vegetables in with their flower beds, like adding squash next to a gardenia shrub.
"Squash plants have giant green leaves and huge yellow flowers," she explains. "So there's a visual benefit to it being in your garden." An extra benefit? You'll get the freshest of summer salads.
4. Cooling Off
The swimming pool is not a new invention, but homeowners in Richmond are starting to see the value in a place to cool off on those hot summer days.
"There are more people putting swimming pools in than in the past," says Brooks.
And just because pools aren't new doesn't mean homeowners aren't starting to put new spins on the old backyard favorite.
Terraced hardscaping with flower beds or other plantings can turn a boring pool into a backyard escape of water and greenery.
Homeowners can take it even further with full outdoor kitchens, fireplaces or seating areas. Hardscaping has been a mainstay in Richmond for years, and adding those touches around a pool turn a backyard into an oasis when the summer heat starts to take hold.
5. Lighting Up
Outdoor lighting can bring a lot to a landscape, and her clients are starting to come around to it in their outdoor spaces, Brooks says.
"Subtle landscape lighting really does enhance a property," she says. Why not enjoy all that hard work at night, too?
It also has an added security benefit, she notes.
Local landscaper Stone, Earth and Water says outdoor landscape lighting is an important part of any landscape plane, yet one that most people overlook.
The right type of lighting can even deter trespassers or burglars, according to the company, and if there are no lights, your kids or pets can't enjoy that space after dark either.
And lights can go pretty much anywhere in the landscape, from sidewalks and stairs to the exterior of the house or a light posted in the ground to illuminate your prize azaleas.
Keeping Up
A new planting season in RVA may take the shape of native plants mingled with vegetables in a sustainable landscape, or it may be that new pool you promised the kids.
Whichever it is, Richmond homeowners are sure to make it their own.
Main photo credit: Purple passionflower, Andrew Cannizzola, CC 2.0.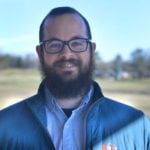 Derek Lacey
Formerly the agriculture writer for the Hendersonville Times-News, Derek Lacey's articles have appeared in U.S. News & World Report, The Charlotte Observer, News & Observer, and The State. He has won 15 awards from the North Carolina Press Association and GateHouse Media, for pieces ranging from news features and investigative reporting to photography and multimedia projects.