The Austin metro area has been ranked near the top of just about every survey and metric for fastest growing cities in America. With the large influx of people coming to town, including many young professionals, few things are more important when considering your move than the neighborhood in which you move in to. Families are looking for good schools, safety, outdoor activities, proximity to business areas and entertainment. We took all of those factors into account when creating this ranking.
The average homebuyer we considered was between the ages of 25-35 with at least one child, and in the market to purchase a home for $300,000 or less.
Need help with your new lawn?  LawnStarter provides reliable landscaping services in Austin, TX.
1) Olympic Heights
Location: South Austin
Schools: Baranoff Elementary, Bailey Middle and Bowie HS or Akins HS

Facebook.com/OHHOA
A newer subdivision just south of Austin, Olympic Heights provides a great option for a young family possibly purchasing their first home. The home prices range from the $140s to $175s and the community has many things to offer. Because they're relatively new, these homes are move-in ready and have many modern fixtures. The surrounding area boasts many family-friendly restaurants and entertainment including parks and a roller rink.
Ask an expert: "There is a community pool where you'll find many of the residents during the Summer months, and the HOA is very active in getting home owners together with activities. Schools are highly rated. There is a section that is zoned for Bowie HS, which makes sense for buyers with older kids. There are also several ways to get Downtown, so if MoPac or 35 are backed up, you can take the streets and still get there in 30 minutes." – Rebecca Williamson, Eleven Oaks Realty
2) Windsor Park
Location: Northeast
Schools: Blanton Elementary, Pearce Middle School and Reagan High School

http://www.modernaustin.com/
There has been a recent boom in this area the last few years as families that have lived in Austin for a while and new transplants discover the small neighborhood once forgotten because it was next to an airport. The area boasts many older houses that may need some TLC to pick them back up to their fighting weight. The neighborhood is conveniently located near downtown and has many eclectic restaurants and shops for anyone looking for a developing neighborhood. New shopping seems to be added nearby almost every day, so there is something for everyone.
3) Brentwood
Location: North
Schools: Brentwood Elementary, Lamar Middle School and McCallum High School

http://move-to-austin.com/
A fast neighborhood on the rise that a year from now may become so trendy that the young families in this price range will be priced out of the area. Conveniently located near other trendy neighborhoods like Hyde Park, Brentwood provides many of the cities best shopping and restaurants including Threadgill's and Stiles Switch. Young professionals that work downtown will find an easy commute by car or they can jump on the Cap Metro Rail that runs alongside the neighborhood.
4) Avery Ranch
Location: Far Northwest
Schools: Leander ISD – Rutledge Elementary, Henry or Stiles Middle, Vista Ridge HS

jgrandall.com
Avery Ranch is perfect for a family with older kids around middle school and high school age. It's a great suburban community for those types of families, filled with top rated schools, youth sports organizations, Lakeline Mall and movie theaters like the Alamo Drafthouse – Lakeline. There is also a popular golf course for anyone in the family that enjoys hitting the links. The area is a little further away from downtown than the other neighborhoods listed, but families make up for that with great schools, safety and suburban amenities.
Ask an Expert: "Avery Ranch is similar to Olympic Heights in its age, but dissimilar in that Avery Ranch has a range of home sizes and prices. Young families can find smaller homes for less than $250k and still enjoy all of the great amenities Avery Ranch has to offer. When they are ready to move up, they don't necessarily have to leave the neighborhood. If someone is looking for the best amenities and a newer home, Avery Ranch is the place for them." – Rebecca Williamson, Eleven Oaks Realty
5) Walnut Creek
Location: North Austin
Schools: Walnut Creek Elementary, Dobie Middle School and Lanier High School

remaxtexas.com
Families wanting mid-century homes with large yards will love Walnut Creek and its classic design. This neighborhood is centrally located in north Austin near major shopping areas like The Domain, adjacent to Walnut Creek Park with its hiking trails and swimming pools, all while being just a short drive away from downtown. The Copperfield nature trail is also nearby. Outdoor enthusiasts will love the nearby parks and large backyards in a neighborhood that fits right in their price range.
Ask an Expert: "One of North Austin's oldest communities, Walnut Creek was previously a dairy farm before homes were developed here in the 1950s and 60s. Homes here are mostly one story, ranch style properties which still retain their original design, along with a few modern touches." – Reilly Realtors
6) Brushy Creek
Location: Far Northwest Austin
Schools: Great Oaks Elementary or Brushy Creek Elementary, Cedar Valley MS, McNeil or Round Rock HS

http://www.bettysellsaustin.com/
Brushy Creek is the ideal location for families wanting more of a small town feel while still being in the Austin metro area. This neighborhood is as much Round Rock as it is Austin, and for now there is still a little bit of a distinction. Conveniently located near the Dell Diamond where the Round Rock Express play and the Cedar Park Center where many concerts and sporting events are played, this area has so much to offer.
Ask an Expert: "Brushy Creek is a more established area with easy access to 45, Parmer Lane and Sam Bass Road. A section of it is in Round Rock, but the majority is in Austin. This one is ideal for someone looking for a little more character and bigger lots with mature trees. Various sections have community pools, parks and nature trails, so even though homes are well priced, owners don't sacrifice amenities." – Rebecca Williamson, Eleven Oaks Realty
7) Milwood/Rattan Creek
Location: Northwest
Schools: Jollyville, Pond Springs, Live Oak and Summit Elementary; Murchison and Deerpark Middle Schools and McNeil, Anderson and Westwood high schools

http://tours.tourfactory.com/
If you were making a venn diagram of homes looking for affordable prices, a safe neighborhood and excellent schools, then you probably can't do much better than this neighborhood. Milwood also offers a location a short drive away from two Whole Foods stores; shopping at The Domain, the Arboretum and Lakeline Mall as well as entertainment options like Main Event. The homes in this neighborhood include early 90s construction all the way to more recently build houses and includes tree-lined streets and large parks.
8) Crestview
Location: North Central
Schools: Brentwood Elementary, Lamar Middle School and McCallum High School

austin.about.com
Situated between Burnet Rd and Lamar Blvd, just south of Anderson Ln sits Crestview neighborhood and its mid-century homes built in the 1940s and 50s. The neighborhood has classic charm and large lawns that young families will love for their kids, and are still only a short drive away from downtown and other major Austin attractions. Crestview residents can visit the historic Top Notch drive in for some hamburgers while recreating their favorite scene from Richard Linklater's "Dazed and Confused." Or they can travel a little bit north on Mopac for shopping at the Arboretum and The Domain.
Ask an Expert: "Although Crestview once occupied the outskirts of Austin, it now offers the convenience of living centrally while retaining the peaceful charm that attracted its original residents. The wide, tree-lined streets and park areas make it ideal for families, while the homes appeal to buyers looking for older pier and beam houses at more affordable prices." – Reilly Realtors
9) Falcon Pointe
Location: Pflugerville
Schools: Murchison Elementary, Kelly Lane Middle School and Hendrickson High School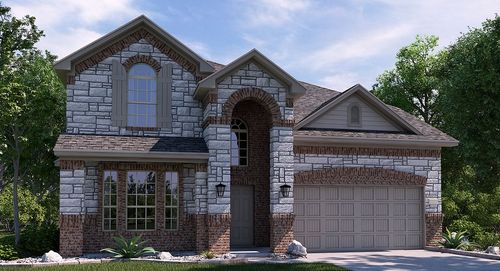 Lennar.com
Located just north of suburban Austin in Pflugerville, this master planned community has everything a growing family could want in a residential neighborhood. The area boasts affordable housing and safe communities with good schools and lots of activities for every member of the family. Enjoy the 11 miles of walking trails throughout the community or take part in the neighborhood BBQ cook-off and group trips to the wine country. Residents are also just a short drive away from Lake Pflugerville or the new Hawaiian Falls Water Park.
10) Crystal Falls
Location: Leander
Schools: Winkley and Whitestone Elementary, Running Brushy and Leander Middle Schools, and Leander High School.

http://www.grandhavenhomes.net/
Nestled in the Texas Hill Country with stunning vistas and a golf course community, Crystal Falls is the ideal surrounding for a family that doesn't want to feel like they're in a city while being close enough for everything Austin has to offer. Home prices range from the mid $200s to over $1,000,000 so there's room for you to grow with the neighborhood as you move up in your career. Residents that love the outdoors will feel at home fishing at the local lakes or playing 18 holes at the Crystal Falls Golf Course. It's also just a quick jump over to Lake Travis so it'll give you an excuse to purchase the boat you've always wanted.
LawnStarter provides lawn care in Hutto, Buda, Round Rock, Pflugerville, Georgetown, and Lakeway – try us today!