Are you more interested in a pest control company that offers a wide range of services or that focuses on environmentally friendly methods? That's the choice you have between LawnStarter's No. 1 ranked pest control company, Orkin, and the No. 3 ranked company, Aptive Environmental. This side-by-side comparison will give you a detailed look into how they stack up.
Find more top-ranked options in our reviews of the 8 Best Pest Control Companies of the year.
Our Verdict: Orkin
After comparing results, customer service, online reputation and pricing, we have determined that Orkin is the best option for pest control.
Orkin vs. Aptive Environmental: Side-by-Side
| | | |
| --- | --- | --- |
| | Orkin | Aptive Environmental |
| | | |
| Pests Treated | | |
| Ants | ✓ | ✓ |
| Bed bugs | ✓ | ✓ |
| Beetles | ✓ | ✓ |
| Carpenter ants | ✓ | ✗ |
| Centipedes & millipedes | ✓ | ✓ |
| Cockroaches | ✓ | ✓ |
| Crickets | ✓ | ✓ |
| Earwigs | ✓ | ✓ |
| Fleas | ✓ | ✓ |
| Flies | ✓ | ✗ |
| Mites | ✓ | ✓ |
| Mosquitoes | ✓ | ✓ |
| Moths | ✓ | ✓ |
| Pantry pests | ✗ | ✓ |
| Rodents (mice, rats, etc) | ✓ | ✓ |
| Scorpions | ✗ | ✓ |
| Silverfish | ✓ | ✓ |
| Spiders | ✓ | ✓ |
| Stinging pests (bees, wasps, etc) | ✓ | ✓ |
| Stink bugs | ✓ | ✓ |
| Termites | ✓ | ✗ |
| Ticks | ✓ | ✓ |
| Wildlife (raccoons, opossums, etc) | ✓ | ✗ |
| How many states serviced? | 47 (Not available in AK, SD, WY) | 30 (Not available in AL, AK, AR, CT, DE, HI, IA, LA, ME, MI, MT, NV, NH, NM, ND, RI, SC, SD, VT, WY) |
| Serves commercial properties? | ✓ | ✗ |
| Service plans offered | | |
| One-time service | ✓ | ✗ |
| Monthly service | ✓ | ✗ |
| Quarterly service | ✗ | ✓ |
| Eco-friendly options? | ✓ | ✓ |
| Customer service | | |
| Better Business Bureau rating | A+ | A- |
| Online instant quotes? | ✓ | ✗ |
| Online portal for scheduling, billing, etc? | ✓ | ✓ |
| 24/7 customer support? | ✓ | ✓ |
| Additional services offered | | |
| Attic insulation | ✓ | ✗ |
| Moisture control | ✓ | ✗ |
| Sanitation | ✓ | ✗ |
| Gutter guards | ✓ | ✗ |
| Lawn treatments for pests, weeds, and diseases | Only available in FL | ✗ |
When choosing between these two companies, the deciding factor is going to be how concerned you are with the environmental impact of your pest control. Aptive Environmental specializes in eco-friendly methods, but Orkin has the advantage in every other regard.
Orkin has a much wider service area, with technicians in 17 more states. It also offers treatments for most common household pests, including bed bugs and termites, which require special training and equipment. On top of basic pest control, Orkin provides other home services that can help prevent pests and correct other issues.
As a much newer company, Aptive's range is limited at this time (though services may expand as the company grows). Technicians are only available in 30 states, and those technicians are only trained to handle a handful of pests. Plus, Aptive doesn't offer one-time visits, only quarterly service.
It's worth noting, however, that Aptive covers pantry pests (such as flour beetles, grain beetles, and Indian meal moths that get into stored foods) and Orkin doesn't. Aptive's treatments also work for some common garden pests.
One thing that makes comparing these companies a little trickier is the fact that Aptive doesn't give instant quotes online. The cost of pest control varies widely based on your exact situation–where you live, what kind of pest you're dealing with, the size of your home, etc–so you won't be able to compare the price of Orkin vs. Aptive Environmental without talking to a representative from Aptive directly.
Orkin's Highlights
With Orkin, you get service backed by more than 120 years of experience and a tried-and-true technician training program that Training magazine calls one of the best in the country. Orkin takes its reputation as the oldest and largest pest control company in the US seriously, so every technician undergoes 160 hours of hands-on simulations before going in the field.
Those years of experience have given Orkin plenty of time to perfect its methods for eliminating all kinds of pests, but that expertise comes at a price. For starters, Orkin's initial inspections aren't free. From that point on, services tend to be more expensive compared to similar companies.
But you get what you pay for. After their inspection, Orkin's technicians will develop a customized plan for your property to get rid of current pests and keep pests out in the future. If your pest problem comes back in between your regular services, a technician will come and handle it for free. You're pretty much guaranteed a pest-free home for as long as you're with Orkin.
Orkin also offers the option to set up an Integrated Pest Management (IPM) program as opposed to traditional pest control methods. IPM means developing ways to control pests using fewer pesticides and minimizing risk to non-target organisms (such as bees, butterflies, and wildlife).
Orkin's services are available for homes and commercial properties, including but not limited to offices, schools, foodservice providers, and healthcare facilities. In addition to pest control, Orkin offers a sanitation service that can help prevent the spread of diseases, including COVID-19.
How to get an instant quote and order service online:
You can get an instant quote on Orkin's website pretty easily for most services. Some services–such as bed bug and termite treatments–are more complicated and will require an inspection of your home before you can get a price estimate.
For those services that have instant quotes available, you just have to put in a little information to see how much your treatment would cost.
First, you'll have to answer some basic questions about your home. Where do you live? How many rooms does your house have? How big is your yard?
The next screen will ask if you need treatment for a specific pest problem or if you're looking for a general prevention plan. If you just need a prevention plan, you're done, and you'll see your quote at this point.
If you select a specific pest treatment, though, you'll need to give a few more details about the infestation. Where have you seen the pests? At what time of day are they most active?
After this screen, you'll get a quote for both the single treatment option for your specific issue and the general prevention plan, so you can compare the costs and decide which is better for you.
Here are examples of a single pest quote and an annual plan quote so you can see the relative costs. The house in this example is a 3-bedroom/2-bathroom house with a medium-sized yard. You can expect your costs to be higher if your house is larger or lower if your house is smaller.
Select your plan, and then you'll be able to put in your billing information and schedule your technician's first visit. In the future, you can use Orkin's online customer portal for scheduling and managing your plan.
Note: A representative from Orkin will call you within a few minutes if you get an instant quote but don't order service right away.
States Covered:
47; not available in AK, SD, or WY
Pests Covered:
Ants, Bed Bugs, Beetles, Centipedes & Millipedes, Cockroaches, Carpenter Ants, Crickets, Earwigs, Fleas, Flies, Mites, Mosquitoes, Moths, Rodents, Silverfish, Spiders, Stinging Pests, Stink Bugs, Termites, Ticks, Wildlife
Pros:
120 years in business
Extensive hands-on training for all technicians
Covers most household pests
Offers several services besides pest control
IPM plans available to reduce use of pesticides
Cons:
Can be expensive compared to other companies
Initial inspections aren't free
Customer Reviews:
"If I ever had any questions, I can call the Lincoln office and get some commentary from them, and the technicians that come to visit. They've upped their game in terms of communication to the customer."
"They always take care of the problem and they've done a very effective job at helping to control pesky ants. One of their best features, besides controlling pests, is when they're walking around the house, they notice things that need to be fixed."
"When the techs came, they ran around the whole house, did everything, and gave me written instructions as to what things I should do to help. They were very nice, cordial, and left their note. Everything went well."
Aptive Environmental's Highlights
Aptive Environmental is the new kid on the block in the world of pest control, and it's garnered a reputation pretty quickly. Founded in 2015, it's now the fastest-growing pest control company in North America, with more than a million customers.
Aptive's main appeal is its eco-friendly approach to pest control. Its technicians use a natural pesticide called pyrethrin, which is derived from chrysanthemums. Pyrethrin breaks down quickly, so it doesn't remain in the environment, and it's considered non-toxic or low in toxicity for humans. It's one of the most common pesticides used in organic gardening.
While pyrethrin is generally safer than many traditional pesticides, it will still kill beneficial insects such as bees, butterflies, and ladybugs if they come in contact with the chemical.
At this time, Aptive offers only one plan: The Four-Seasons Protection Plan. The plan includes an initial inspection and four regular pesticide applications each year. If your pests come back in between visits, Aptive will send a technician to get rid of them at no extra cost. Aptive doesn't offer one-time service.
In addition to the household pests listed in the side-by-side chart above, Aptive can help you get rid of some common garden pests, including aphids, pill bugs, and snails.
Aptive's customer service is available by phone or through online live chat 24/7, and you can schedule visits and set up paperless billing through the online portal once you're an established customer. For your first service, though, you'll have to speak to a representative over the phone.
When you click "Buy Online" or "Get a Quote" on Aptive's website, you'll be asked for some contact information. A representative will call you later that day–and they'll call several times if you don't answer. Some customers have noted that Aptive's sales team can be a little too aggressive.
States Covered:
30; not available in AL, AK, AR, CT, DE, HI, IA, LA, ME, MI, MT, NV, NH, NM, ND, RI, SC, SD, VT, or WY
Pests Covered:
Ants, Aphids, Cockroaches, Crickets, Earwigs, Fleas, Millipedes, Pantry Pests, Pill Bugs, Rodents, Silverfish, Snails, Spiders, Stinging Insects
Pros:
EPA-approved as an environmentally responsible company
24/7 customer support online and over the phone
Treats some garden pests
Offers a referral incentive
Cons:
Doesn't treat termites
No instant quotes
Sales team can be too pushy at times
Customer Reviews:
"This service is very effective and friendly. The tech that performed the service today was fantastic. … She was very friendly, upbeat, and thorough with what needed to be done along with making sure I was comfortable with what was being performed and if I had any concerns. Since we have used Aptive we have had no pest issues."
"[The technician] took his time carefully inspecting and treating not only the areas that I had concerns about but also the areas that he believed needed to be treated regarding the information that I had given him. [He] listened to my concerns and gave me educational feedback as well!"
"They are pet and environmentally friendly. We have German shepherds, and the techs are always mindful of them, and for their well being. Their people are always friendly, professional, kind, and caring. We've used other services, and Aptive is by far a 10."
Buyers Guide to Choosing a Pest Control Company
Still having trouble deciding between Orkin and Aptive Environmental? Here are some of the most important factors for you to consider in your choice.
Service Area
The first question to answer is: Which company serves your area? Orkin has technicians in almost every state (excluding only Alaska, South Dakota, and Wyoming), while Aptive is only available in 30 states at this time.
You need to dig deeper than the state level, though. Just because a company has technicians in your state doesn't mean they serve your specific city or subdivision. It's always best to enter your address into the company's website to be sure service is available for you.
Pests Treated
Next, you need to know that the company can handle the type of pest infestation you're dealing with. Many general pest control companies don't have the means to treat bed bugs or termites because those jobs require specialized equipment and knowledge. Out of Orkin and Aptive, only Orkin covers bed bugs and termites.
Even though Orkin covers far more pests than Aptive, there are some pests listed in Aptive's specialties that aren't listed in Orkin's.
The following pests are treated by Orkin but are not treated by Aptive Environmental:
Bed bugs
Beetles
Carpenter ants
Flies
Mites
Mosquitoes
Moths
Stink bugs
Termites
Ticks
Wildlife
On the other hand, these pests are treated by Aptive Environmental but are not treated by Orkin:
Aphids
Pantry pests
Pill bugs
Snails
Customer Reviews
Always read customer reviews before hiring a contractor who will come inside your home. Yelp, Nextdoor, and the Better Business Bureau are some good sources of unbiased third-party reviews. There, you can find out about other homeowners' experiences with your local branch of national companies like Orkin and Aptive.
Environmental Impact
If you're concerned about how your pest control treatments affect the environment, you'll want to look into the eco-friendly options each company offers. As we already covered, all of Aptive Environmental's technicians use pyrethrin pesticides, which have minimal environmental impact.
For details about Orkin's eco-friendly options, you'll have to talk directly to a technician about what Integrated Pest Management (IPM) methods are available for your specific situation.
Cost
Finally, consider the value of the pest control service you'll receive compared to the price you'll pay. The cost of pest control depends on the size of your home, the cost of living in your area, the type of pest you're dealing with, and countless other factors, so it's important to get a quote for your specific situation to compare the prices of two different companies.
For comparison, our quote from Orkin shows that an annual plan for a 3-bedroom/2-bathroom house would cost about $733 per year (including the initial inspection fee), and online sources suggest that Aptive's annual plan for a house of similar size would cost about $560 – $620 per year.
Pest Control FAQs
Can I do my own pest control?
Yes, in some cases, DIY pest control is a good option that will save you a lot of money. But you should only attempt simple pest control treatments, such as sprays or baits for ants or roaches.
Some pests–mainly, termites and bed bugs–require specialized professional treatments. Wildlife removal is also best left to the pros, as many animals can be dangerous when you're trying to trap them.
How much do pest control companies charge?
Different companies and even different services within the same company have diverse price ranges. In general, you can expect an annual plan to cost between $30 – $50 per month and a single service to cost about $200 – $300. A larger home or a more severe infestation will result in higher costs.
What are some organic pesticides?
Organic pesticides include:
Pyrethrin, made from extracts of chrysanthemum flowers
Neem oil, pressed from neem trees
Diatomaceous earth, a powder made of the crushed fossils of microscopic organisms called diatoms
Insecticidal soaps, which use fatty acids to break down insects' exoskeletons
Aside from natural pesticides, there are also living biological controls you can introduce into your yard to get rid of outdoor pests. Biological controls include things like beneficial nematodes, predatory insects, and milky spore.
DIY Pest Control
You can handle many household pest infestations on your own with a pesticide purchased from the store or supplies you already have in your pantry–no need to call a pest control company! You could save yourself a lot of money if you manage to wipe out the critters with DIY methods.
For information on how to get rid of many common pests in the home, lawn, and garden, peruse LawnStarter's Pest Control page.
A few examples of the advice you'll find there:
When the DIY sprays, baits, and traps prove not to be enough, you can always fall back on the pros. This comparison will help you decide whether you should call Orkin or Aptive Environmental to come to your rescue.
Main Photo Credit: Pixabay / Pexels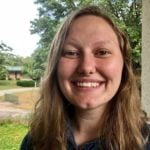 Jordan Ardoin
Jordan Ardoin is a writer, editor, and classical literature student based in Colorado. When she isn't reading or writing, she enjoys goofing off with her cats and spending time in nature.