It's an idyllic summer afternoon. Your family just moved into a new house with an in-ground pool, and you're ready to enjoy it. There's just one problem: Instead of having fun, you're thinking about how dingy the pool looks surrounded by dead grass and empty space.
You can save yourself from this fate by making your new pool area fun and fabulous with these effective techniques for landscaping around your in-ground pool.
(If you have an above-ground pool, check out these helpful tips!)
Privacy
Maybe you have nosy neighbors, or maybe you want a few moments' refuge in the pool without the kids noticing. Whatever your reasons for wanting privacy while you swim, here are some suggestions on how your landscape can help you achieve your goal.
The most obvious solution is a privacy fence around your backyard. Before you put up a fence, make sure it meets your state's regulations for swimming pool barriers. You'll also want to check your city and homeowners association's fence height rules. The U.S. Consumer Product Safety Commission has laid out thorough guidelines for keeping your pool as safe as possible with fencing.
Aside from fencing, there are more creative and natural ways to create a private swimming pool environment, as well.
You could plant boxwood shrubs around your pool or set up a trellis with vines growing through it. If you live in a tropical climate, you can grow a grove of palm trees around your property. These will give your pool the feel of a tranquil island resort while blocking the view of prying eyes.
For an even more aesthetically pleasing privacy screen, adventurous homeowners can build a terraced landscape around their pool area with retaining walls and colorful plant beds.
Trees
Strategically planting trees around your in-ground pool can make it feel and look like an integral part of your backyard's landscape. You don't want to plant just any tree near your pool, though. Many trees shed leaves, flowers, and fruit that can litter your pool and clog cleaning equipment.
To save yourself the trouble of cleaning up after messy trees every time you want to use your pool, look for species that won't shed during swimming season.
You also have to be careful about the size of trees you plant near your in-ground pool. If the tree's roots expand too much, they could damage the pool's plumbing or concrete structure. If they aren't rooted enough, they could topple over onto your screened-in pool (or even your home).
Here are a few examples of trees that are good for in-ground pool landscaping:
Palm tree (Arecaceae)
Citrus trees
Fruitless olive tree (Olea europaea 'Wilsonii')
Japanese maple (Acer palmatum)
Cascalote tree (Caesalpinia cacalaco)
And a few trees that'll have you skimming more often than swimming:
Crape myrtle (Lagerstroemia)
Flowering cherry tree (Prunus)
Honeysuckle (Lonicera)
Tulip tree (Liriodendron)
Pine tree (Pinus)
Shrubs and Flowers
When adding bushes or flowering plants to your in-ground pool area, it's always a good idea to look for vibrant, colorful plants that will complement the bright blue of the pool water. Choose plants of several different colors and textures to take your pool's landscape from monotonous to audacious.
Some common favorites for a poolside pop of color include hydrangeas, hibiscus, and the bird of paradise.
For a natural look that's easy to care for, try lining your pool with a "bed head"-style garden, a garden that grows wildly and randomly, just like a scenic field of wildflowers.
A container garden (potted plants arranged in a cohesive design) might be a good layout choice if your pool is surrounded by hardscapes that make planting in the ground difficult or impossible.
Succulent Garden and Other Plant Options
There are even more great plants to complement your in-ground pool that don't fall under the category of trees or shrubs. Succulents and ornamental grasses are relatively low-maintenance options that can make a statement when used effectively with the rest of your landscape.
Creeping plants (also known as ground cover) such as vines are an easy way to add greenery without drawing focus away from the more fascinating plants.
If you want to turn your pool into a spa-like backyard oasis, you might consider planting fragrant herbs. For instance, lavender, jasmine, or sage can enhance your pool area's visual appeal while simultaneously releasing a soothing musk into the air.
Hardscapes
From gazebos to rustic stone pathways, hardscapes can improve your pool landscape just as much as plants can. If you entertain guests often, you may want to build an outdoor living space, such as a pool deck or patio.
You might also center your in-ground pool landscaping around a conversation-starting piece such as a sculpture or water feature.
For a more natural look, surround your pool with boulders and river rocks. Complement them with a bubbling fountain or simple waterfall to give your pool the peaceful feel of a mountain spring.
If you have a geometric-shaped pool, pavers could be the perfect accessory to create a modern landscape design with clean lines and a minimalist look.
Lighting
Especially if you live in a hotter climate, you may want to enjoy your pool even after the sun goes down. Don't worry, lighting your pool doesn't mean sacrificing the artful scenery you've built.
The best lighting for your pool depends on the theme of your landscape. If your design features tropical plants, you might accent them with tiki torches.
Going for a softer, more romantic look? Try hanging a string of lights across your poolside patio or through the overhanging trees.
For something less noticeable during the day, you could install small solar-powered lights around the pool's perimeter.
FAQ About Landscaping Around an In-Ground Pool
How much does it cost to landscape around a pool?
The price tag of a swimming pool landscape is highly customizable. If you're working on a budget, you can choose cheaper features and building materials.
For example, if you want a pool fence, you can save money by using wood or aluminum instead of glass. It all depends on the look you want and the amount of money you're willing to spend.
The overall cost also depends on whether you plan to DIY your landscape or hire a professional. Obviously, you'll save money by installing it yourself, but a professional landscaper's work will probably be more reliable.
According to Forbes, installing a new in-ground pool and its surrounding landscape typically costs between $50,000 and $100,000 altogether.
Can I put sand around my pool?
Contractors often use sand to backfill swimming pools, but in certain conditions, it can cause issues such as wall bulges if it gets too wet. If you have soil that retains a lot of water, you might want to consider gravel or another alternative for backfilling.
If you want to use sand around your pool for decoration, just keep in mind that adding sand to your soil can make it uninhabitable for some plants. It can also get messy inside the pool and out. Unless you really have your heart set on a beach-like pool setting, using sand probably isn't worth the trouble.
When to Call a Landscaping Professional
Some pool landscaping projects might be DIY, but calling a professional is a good idea if you have a more complicated pool design in mind, such as a terraced landscape or a new patio. After all, if you already have professionals handling your lawn and pool care, why not add a landscaper to the list?
Pros have construction capabilities and botanical knowledge that you probably don't have on your own. They can take your wildest dreams for your backyard pool landscape and make them a reality.
With these landscape design ideas and tips, you can take your in-ground pool from drab to dramatic. The next time you go swimming, you'll enjoy the view.
Main Image Credit: Pixabay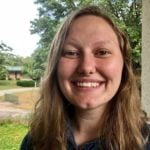 Jordan Ardoin
Jordan Ardoin is a writer and indoor plant enthusiast hailing from Florida. In her spare time, she enjoys chasing her two cats around the house and trying to keep her houseplants alive.