Though our primary concern is with lawn mowing and outdoor home maintenance, we're equally fascinated with the world of landscaping. Now, there are a ton of great landscapers in the area — a simple drive through any neighborhood here will tell you that. But we wanted to highlight some of the best and most inspiring designs. So taking to Houzz, we sifted through and delivered 7 amazingly inspiring landscape designs in Washington, D.C. Enjoy!
1. This is a traditional pool design done by Inviting Spaces based in Hamilton, Va.
2. This landscape was done by The Sharper Cut, Inc. Landscapes based in Bowie, Md. It features stamped concrete in a Vermont Slate pattern with a cool gray and dark charcoal color.
3. This garden, done by Allentuck Landscaping in Bethesda, Md., features daffodils, tulips, and a rolling gravel pathway.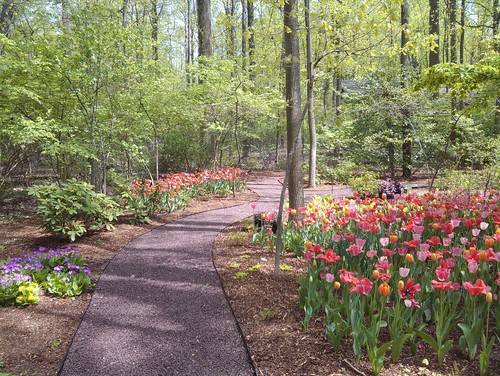 4. This job was done by M&M Landscaping in Ashburn, Va., and it is basically a case study in how to add curb appeal to your property using landscaping.
5. This beautiful boulder pathway was constructed by Main Street Landscape in Haymarket, Va.
6. Hughes Landscaping constructed this beautiful Flagstone Patio in Washington, D.C., in 2012. It also features new lights and a water feature.
7. This excellent patio was designed by Greensward LLC, a lawn service in Leesburg, Va. Its mountain views and rolling backdrop are great complements to the expert design of the patio.
Need help tending to your lawn? Visit our Washington lawn care page for more info! In addition to Washington, we also provide lawn care service in Alexandria, Arlington, Woodbridge, and Fairfax.
Alex Birkett
Alex Birkett is marketer and writer. Aside from mowing lawns, he loves snowboarding, eating sushi, and lifting heavy weights. He moved to Austin, TX after graduating from the University of Wisconsin.