Clogs can be cute on your feet, but never in your gutter. Gutter cleaning tools enable you to keep leaves and debris from piling up, creating clogs, and causing water damage to your roofing, foundation, or landscaping.
Among the gutter cleaning tools we'll cover in this piece (and which you'll need to keep your gutters clean) are:
We assume you already have buckets around your house or in your shed in which to put the leaves and muck you scoop out of your gutters.
When choosing which gutter cleaning tool to purchase, there are a few important things to consider:
Does your home have one or two stories?
Are you comfortable working from a ladder, or would you rather keep your feet on the ground?
However you answered these questions, we can help you to find the best gutter cleaning tools for your needs.
Gutter Cleaning Tools: Factors to Consider
A gutter-cleaning tool that works for an experienced DIY-er with a one-story home might not be the best fit for a first-time homeowner with two stories. As you explore the wide world of gutter cleaning, here are some points to keep in mind:
Length
How high up are your gutters? If you aren't comfortable on a ladder, make sure you select a tool long enough to reach your gutters from the ground. There are many options that allow you to clean even second-story gutters without a ladder.
Weight
How's your upper body strength? Remember that whatever tool you use, you'll have to lift it for anywhere from one to three hours, depending on how large your house is. You want a tool that isn't too heavy for you and that won't be too difficult to maneuver.
Warranty
Does the product come with a warranty? Often, a substantial manufacturer's warranty is the mark of good craftsmanship. You don't want to buy a tool now only to have it fail on you next season. If possible, look for products with at least a one-year warranty.
Now that you know what to look for, let's dive into your many options for gutter cleaning tools.
Grab Tool/Tongs
If you've ever eaten from a salad bar, you already understand the concept of this first tool. Essentially, it works just like kitchen tongs. Two arms squeeze together and grab all leaves and debris within their grasp.
The difference is that gutter cleaning tongs are attached to the end of an extension pole, and you operate them by pulling a rope. Depending on how long of a pole you use, you could use this tool from the ground or a ladder, for a one- or two-story house.
Grab tools are great for wet, soggy debris that a vacuum just can't seem to un-stick. Since they don't use pressurized air or water, they also pose less risk of damage to your gutter and roof than some other tools.
Here are some popular grab tools you might want to try:
Gutter Sense Gutter Cleaning Tool
Length: Pole not included; attach to a standard broom pole or extension pole of whatever length you need
Weight: Varies depending on what pole you use
Good for second story?: Yes, with the right accessories
Warranty: 1 year
Special features: 14-inch tongs for extended reach; tongs lay flat in the gutter even if you hold the pole at an angle
GutterWhiz GW1 Cleaning Tool
Length: GutterWhiz brand pole sold separately; can also use extension poles of other lengths
Weight: Varies depending on what pole you use
Good for second story?: Yes, with the right accessories
Warranty: Limited lifetime warranty
Special features: Comes with free safety goggles
Gutter Scoop
This next tool is exactly what it sounds like: a scoop used to shovel out packed-in gunk one chunk at a time. Gutter scoops are low-tech and easy to use. The only step is right there in the name: scoop.
Gutter scoops are typically handheld or attached to a short pole, so you have to climb a ladder to clean your gutter with one of these. For this reason, a gutter scoop probably isn't the best choice for a two-story home unless you're confident working from an extension ladder.
If the gutter scoop piques your interest, try these models:
Gutter Getter 00-612 TRV147537
Length: 4.8 ft
Weight: 1 lb.
Good for second story?: No
Warranty: Request warranty information
Special features: Uses pressurized air for powerful cleaning; scraper tool loosens heavy debris and brings it closer to you for scooping
The Gutter Tool – Gutter Cleaning Spoon and Scoop
Length: 16 inches (handheld); can connect to an extension pole for added length
Weight: 9.6 oz. without extension
Good for second story?: No
Warranty: Request warranty information
Special features: Hook shape can pull debris out from under and behind gutters
Telescoping Gutter Cleaning Wand
This option is an attachment that can connect to a regular garden hose or a power washer. It's a long pole with a curved end to insert into your gutter from the ground. It sprays water to blast away grime and tough stuck-on debris. The wand's water pressure depends on the pressure of the water source you attach it to.
Telescoping wands usually have an adjustable length, so they're good for one or two-story homes. They're lightweight and easy to carry as you walk along the length of your gutter.
One drawback: You tend to get a little wet while using these wands. You shouldn't use them in freezing temperatures.
Do you think the telescoping gutter cleaning wand might be the tool for you? Here are some high-quality ones:
Orbit 58543 Telescoping Gutter Cleaner
Length: 40-70 inches
Weight: 1.3 lbs.
Good for second story?: Can reach your second story from a stepladder
Warranty: 6 years
Special features: 180-degree rotating spray nozzle; non-slip foam grips
GutterMaster Classic Curved Telescopic 12-Foot Extending Water Fed Pole
Length: 12 ft
Weight: 2.49 lbs
Good for second story?: Yes
Warranty: Request warranty information
Special features: Foam grips; flow-through brush attachments available
Gutter Cleaning Kits for Wet/Dry Vacuums and Leaf Blowers
If you already own a wet/dry vac or a leaf blower, this could be the gutter cleaning tool for you. Tubes of varying lengths attach to your vacuum or leaf blower, with a curved apparatus on the end. Simply place the curved end into your gutter and suck away the debris.
The length of the attachment depends on which product you use. These kits are designed specifically to use from the ground, so you won't need a ladder, no matter what. Some come with enough attachments to reach two-story gutters.
Gutter cleaning attachments are usually easy to assemble and even easier to use. They're good at removing dry debris such as pine needles, twigs, and dry leaves.
Check out these gutter cleaning kits from some of the industry's top brands:
Worx Universal Fit Gutter Cleaning Kit
Length: 11 ft
Weight: 3.31 lbs
Good for second story?: Yes
Warranty: 3 years
Special features: Fits most major brands of cordless, electric, and gas vacuums/blowers
Toro Gutter Cleaning Kit
Length: 5 extension tubes of 20.6″ each
Weight: 3.5 lbs
Good for second story?: Yes
Warranty: 2 years
Special features: Includes shoulder strap for easy carrying
Ladder
Our last gutter cleaning tool is one you've definitely heard of before. That's right: the trusty old ladder.
If none of these modern extendable tools that you can use from the ground tickle your fancy, you can always roll up your sleeves and clean your gutters the old-fashioned way: by hand.
For a one-story home, a standard A-line ladder should do just fine. If you have a second story, you'll want to use an extension ladder (with a ladder stabilizer for safety).
Should you choose this method of gutter cleaning, you'll need safety equipment such as goggles and work gloves. You'll also need a handy-dandy garden hose to flush out your gutter once you've removed the debris.
The best ladder for gutter cleaning (or any home improvement job, at that) is the Werner MT-22 Telescoping Ladder. It has 28 different working heights and positions. You can use it as a step ladder, an extension ladder, and everything in between. No matter how high off the ground your gutters are, this ladder can help you reach them.
What About Gutter Guards?
Gutter guards are another good tool for keeping your gutters clean. There are several different styles: screen, mesh, metal grate, and others. You can install them yourself or have a professional install them for you.
Gutter guards keep leaves, twigs, and other large materials from getting into your gutter in the first place. However, dirt and fine sediment can still get through most gutter guards. Even if you have them, you should still check and clean your gutters regularly.
When to Hire a Professional Gutter Cleaning Service
Maybe none of these tools seem like the right fit for you. Maybe they all seem too difficult or time-consuming. Even so, you don't want to leave your gutters unattended. Remember, clogged gutters can cause water damage and other issues for your home and garden.
The solution: Hire a professional gutter cleaner. Let someone else do the work for you. This option is probably the most expensive … but it's also the most convenient.
Whatever tool you choose to clean your gutters, make sure you do it at least twice a year. That way, you'll keep clogs where they're meant to be: on your feet and away from your gutter.
Main Image Credit: Tim Evanson / Flickr / CC BY-SA 2.0 with text overlay

LawnStarter participates in the Amazon Services LLC Associates Program and other affiliate advertising programs. LawnStarter may earn revenue from products promoted in this article.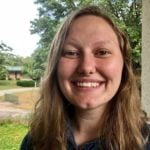 Jordan Ardoin
Jordan Ardoin is a writer, editor, and classical literature student based in Colorado. When she isn't reading or writing, she enjoys goofing off with her cats and spending time in nature.