Life is always better here in Jacksonville, especially when you've got a clear blue pool to dip in. But an uninviting poolscape with yellow grass, poor lighting, and a cracked patio says otherwise.
With these pool landscaping tips and tricks, not only will you have your swimming pool restored, you'll be snacking on your favorite foods, watching the game, and listening to your favorite tunes –– poolside.
10 Ways to Landscape Around Your Jacksonville Pool
1. Patch up the pool deck or patio
Give your Jacksonville pool patio or deck a makeover with a quality design. Choose from a wide variety of materials, including wood, poured concrete, natural stone, and pavers.
For a look that brings the whole backyard together, coordinate your new patio with the same materials already surrounding the pool. If wood retaining walls already accentuate your poolscape, then wood may be the best material for the pool deck.
Effort: High. Your new pool decking will be ready in one to two weeks. The hardest part here is patience, and having to wait to use the pool again.
Cost: High. A pool deck's cost ranges between $3,000 and $12,000.
2. Watch the Jacksonville Jaguars
Invite your friends, fire up the grill, and keep track of the score. Your cookouts will be the talk of the town when you've got a TV by the pool. Whether you're sinking your teeth in a hamburger, popping open the cooler, or playing water volleyball, you'll love watching the Jacksonville Jaguars on an outdoor screen.
And if you're more of a golf or baseball fan, then by all means, grab that remote!
There will be no more questions about family nights, either. While you prep the popcorn, the kids will occupy themselves with the pool. Once the last kernel has popped, snuggle up on the outdoor couches and enjoy movie night outside.
Effort: Medium. Installing an outdoor TV may take a bit of sweat. Ensure you've done the proper installation research and read all instructions before installing an outdoor TV. Keep in mind that hiring help is an option and requires much less physical effort on your part.
Cost: Medium-High. An outdoor TV typically ranges between $1,000 to $12,000 depending on quality and size.
3. Prep five-star meals
Here in Jacksonville, we love our southern comfort food. That's why an outdoor kitchen is a must when it comes to revamping your pool's landscape. So chop those tomatoes, sprinkle the salt, toast the buns, and get ready for outdoor entertaining. Your friends and family will never want to leave your pool after eating your poolside mac and cheese.
Having an outdoor kitchen offers more than just outdoor entertainment. It can help save on utility bills and also eliminate those burning smells. A hot stove and oven will heat up any small kitchen, causing the air conditioner to work even harder. Cooking outdoors may help reduce this stress on your air conditioner, possibly lowering your utility bills.
No dinner guest likes to smell burnt food in a tight space. By having the food prep outdoors, you can help keep those burning smells away from sensitive noses.
Effort: High. You may find that with an outdoor kitchen, you need to work closely with the landscaper in order to communicate your expectations. You may also have to wait three weeks to four months before using your pool and new kitchen.
Cost: High. A typical outdoor kitchen ranges between $5,000 and $21,000. A luxury kitchen may cost up to $100,000.
4. Disguise landscape speakers
As a Jacksonville local, you've likely been to a music festival or two (or three). Why not bring the music to your own backyard? With landscape speakers, you can transform your pool area into a space with jamming dance songs, your favorite jazz, or even commentary on the sports game you've got on TV.
Consider working with a landscaping professional to determine the right speakers for you and where to place them in the landscape. A professional can offer expertise on where the sound will be most optimal and which places to avoid, as some parts of your landscape may absorb the sound.
If you'd prefer not to have visible speakers near your pool, then speakers designed to look like rocks may be perfect for your natural landscape.
Effort: Low. This landscaping project will likely require little backache from you, as speaker installation is usually done by a professional.
Cost: Medium. Speaker installation cost typically ranges between $600 and $1,300. Costs will vary depending on the number of speakers you buy and how much you pay for labor costs.
5. Lay down new turf
You'll love the soft cushion a grass lawn can bring to your poolscape. But first, you'll need to consider Jacksonville's climate and your lifestyle before shopping around for new turf.
The University of Florida IFAS Extension recommends Zoysiagrass, bermudagrass, St. Augustine grass, centipedegrass, and bahiagrass for the best looking and easiest turf to maintain in Northern Florida.
Warm-season grasses
For your Jacksonville lawn, you'll want to go with a warm-season grass type. These grasses grow best in the South, where temperatures remain warm throughout most of the year.
Cool-season grasses, like tall fescue, won't survive in Jacksonville's heat. They thrive best in cooler areas where they won't experience as much heat stress.
Wear-tolerance
With pool guests coming and going, the last thing you want is for their feet to ruin your new turf. If you're typically the host of the neighborhood pool parties, then you'll likely want to opt for a foot-traffic tolerant grass.
Effort: Easy-Medium. When it comes to laying down a new turn, you can buy sod or plant from seed. Sod will have your new turf ready to go; no waiting-period is needed. If you're growing your grass from seed, you'll need to spend time watering your turf and waiting for the seeds to germinate, which can take between five and 30 days.
Cost: Medium. Depending on the type of turf you want, rolls of sod cost about 28 to 45 cents per square foot. If you have a professional install your sod, then the cost may increase to about $1 to $2 per square foot. Seeding a lawn will generally cost between $400 and $1,500.
6. Swim under the stars
You don't have to say goodnight to your pool when the sun goes down. Install landscape lighting, and with a flip of the switch, you can have the party carry on after sunset. Landscape lighting can accentuate your pool's architectural features, provide security, and offer a safe path from your pool to your home.
Landscape lighting, such as string lights, can also add a cozy aesthetic around your pool –– enjoy a romantic dinner or warm conversation under the twinkling lights.
Effort: Low. For safety reasons, you'll likely need to hire a professional landscaper to install your new lights close to your pool.
For simple string light, you can make a quick trip to the store to hang around your poolscape.
Cost: Low-High. A professional landscape designer may charge between $2,000 and $6,000 for a complex lighting design and installation.
But simple outdoor string lights may cost as low as $15 to $50. Or head to a dollar store, outlet store, or even the seasonal aisle of your grocery store for cheaper outdoor string light prices.
7. Great (and not so great) gardens
What you need is more relaxation hours by the pool. What you don't need is a high-demand garden expecting you to bend over backward for it. Low-maintenance gardens, potted plants, and DIY gardens (like rock gardens) can be the perfect fit for your pool landscape. They add a splash of color and texture, bring you closer to nature, and don't ask for too much attention.
Succulent gardens
Succulents are easy to maintain. Their fleshy leaves allow them to retain water, making them the perfect plants for first time plant-owners who don't have too much time to spend watering a garden. Their exotic textures and shapes will pop in your Jacksonville pool landscape.
While succulents typically exist in arid or semi-arid climates, you can still have these low-maintenance plants surround your pool deck. The University of Florida IFAS Extension recommends growing your succulents in containers to control their irrigation and soil better.
Rock gardens
Rock gardens highlight stones of various shapes, sizes, and colors and are another excellent, low-maintenance garden to have near the pool. Because they mainly feature stones and drought-resistant plants, like succulents and cacti, you won't have to spend much time watering or maintaining your rock garden.
A rock garden can also provide a calming space that soothes and relaxes you at the end of a stressful day.
Plants to avoid
Before building a garden around your pool, you'll want to know which plants to avoid. Pass on the pine trees –– their needles may poke your skin on your way to the pool.
Flowering plants, such as crape myrtle, azalea, honeysuckle, or ash trees, often create debris and are best planted away from the pool. Unless you like swimming in flower petals, these plants will litter your pool landscape and make a thick blanket over your pool water.
Effort: Low. That's why we're recommending low-maintenance gardens. We want you relaxing by the poolside instead of pulling weeds.
Cost: Low-Medium. Landscaping rock projects cost an average of $600 to $700. But there are plenty of ways to find free rocks for your rock garden. Ask a farmer or construction worker if they have any rocks they plan to throw away or hunt in your yard for small stones.
Succulent prices may vary, depending on size. A miniature succulent plant can cost between $2 and $6.
8. Plant palm trees
For a tropical landscape, plant stunning palm trees in your backyard oasis.
Many palm trees are hurricane-resistant, making them an excellent tree to add near a Jacksonville pool. According to the University of Florida IFAS Extension, palm trees can survive hurricanes better than woody, broad-leaved trees and conifers. Yet some palm trees, like Washington and Queen, may not survive a hurricane. Storm-resistant palm trees recommended by the University of Florida include:
Pindo palm
Date palm
Pygmy date palm
Areca palm
Canary Island date palm
Sabal palm
Palm trees have minimal root spread, but it's always a good idea to grow these tropical plants at least 5 to 6 feet away from your inground pool. Speaking to your local arborist can help you determine the safest planting distance to ensure there is no root damage done to your pool.
Effort: Low-Medium. Your palm tree may require regular maintenance for optimal growth.
Cost: Low-Medium. A palm tree can cost anywhere between $15 to $2,000 depending on your tree's species and height.
9. Landscape for privacy
Onlookers, nosy neighbors, and the wandering eyes from that nearby apartment complex –– these can all ruin a good time. Consider landscaping for privacy to ensure any googly eyes don't spoil your pool party or sunbathing.
Privacy landscapes help create an intimate space, absorb sound, and keep out unwanted visitors. Privacy barriers like trees and hedges are excellent at blocking out noise. So, if your neighbors complain about the ball game cheers coming from your yard (or you're complaining about their loud parties), privacy landscaping may be just what your poolscape needs.
Effort: Low-High. The time and commitment invested in your private pool landscape will vary depending on the type of barrier you install.
Cost: Low-High. Privacy landscaping will vary in cost depending on many project elements.
10. Create an outdoor living space
Last but not least, your new poolscape will need a stylish living space that invites you, family, and friends to sit back and relax. Nothing beats taking in the Jacksonville sun while laying back in a comfortable lounger with a sweet iced tea in hand.
Cozy couches, comfortable bar chairs, shady umbrellas –– let's turn your pool into a space where you don't just swim, but also laugh, play, and celebrate.
Pick out your favorite couches to place around the outdoor TV, or install a fire pit that has you roasting marshmallows on the weekends. If you want Sunday brunches by the pool, then you'll certainly need to go shopping for fashionable outdoor dining furniture.
Effort: Medium-High. Your time and energy may vary here. If shopping is your favorite activity, you'll love going from store to store to find your pool furniture. If shopping is the last thing you'd want to do, picking outdoor furniture may take a bit of energy.
Bringing the furniture back home yourself or having it delivered to your home will also affect the energy spent.
If you wish to landscape around your outdoor living space, such as adding a pergola, gazebo, or rooftop, you may need to speak with a landscaping professional.
Cost: Medium-High. Your outdoor living space costs will vary depending on the quality of furniture you buy, how much you wish to buy, and whether you choose to work with a landscaper.
A Pool Perfect for Jacksonville
Music playing, burgers grilling, lights twinkling –– life is always better in Jacksonville. And with these landscaping design ideas, you'll have a pool that makes life here even better. So take in the sun, turn on the game, and jump in that pool.
When to Call a Professional Landscaper
Call a landscaping professional near you to turn your backyard pool into the getaway of your dreams. Consider working with a professional designer to ensure your vision exceeds your expectations.
Need a whole new pool? Discuss potential swimming pool designs with a professional. Hiring a professional to design your landscape or pool may help save time, energy, and money.
Swimming pool landscaping with a budget? No worries. Many landscapers market themselves as budget-friendly and are happy to work within a budget to give you the landscape of your dreams.
Main image credit: Shutterstock photo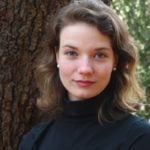 Jane Purnell
Jane Purnell is a freelance writer and actor in New York City. She earned her B.A. from the University of Virginia and enjoys a warm cup of French press coffee.